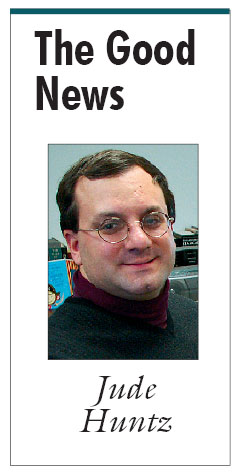 Whenever we leave loved ones for an extended period of time, it is customary for us to give them a memento that reminds them of our love and presence in their lives. This token item is very often a picture or some object that reminds others of us. In some way the object makes them present to us – their memory, what they mean to us, and the love we share from afar. Today's feast and readings reflect this theme in many ways.
While journeying in the desert the Israelites feared that they would suffer starvation and thirst. In response to this need, God sent them manna each day. Not only did the manna provide the people with the necessary nourishment for each day, but also it represented a pledge of God's presence and care for his people in their pilgrimage to new life in a new land. For this reason the people of Israel placed manna in the Ark of the Covenant alongside Aaron's staff and the tablets of the Law. These objects were mementos – reminders – of God's love for His people, and they became God's very presence on earth as the shekinah of the Ark.
In reminding the people of Israel of the manna, Moses stated, "He therefore let you be afflicted with hunger, and then fed you with manna, a food unknown to you and your fathers, in order to show you that not by bread alone does one live, but by every word that comes forth from the mouth of God." The Lord Jesus will use these very words to rebuke Satan during his own temptations in the desert. Jesus' complete and total dependence on God during these trials in the desert stand in contrast to the grumblings of Israel during the Exodus.
We hear echoes of this grumbling in the Gospel text. Jesus had multiplied loaves and fishes to provide for the people in the wilderness. This good deed is met with a large crowd who follows Jesus about the area, demanding that they have this bread always, just as their ancestors who had manna in the desert. Jesus, however, connects the Exodus event with His own experience in the desert. He would not give them physical bread, but His own presence will be His pledge to us. We will survive our journey in the wilderness and desert not with physical food, but with the presence of Christ in our midst. For His presence will sustain us against the temptations of Satan in the desert as we journey to new life in a new land.
This feast of Corpus Christi reminds us that we are to become what we eat. God had pledged his presence and care for Israel with the manna in the desert. The Lord Jesus pledged His very life as His presence and care for us in the Eucharist. Every time we celebrate the Eucharist we are reminded of His saving words and deeds, and His very presence comes among us just as the shekinah of God descended among His people in the symbol of the Ark of the Covenant. God cared for His people in real and concrete actions. The Lord Jesus cared for people in real and concrete actions. Our participation in the Eucharist reminds us that we must do likewise – to become Eucharist for others and to care for them in real and concrete situations.
The act of God in Exodus was an act of providing food for a hungry people. The act of Jesus in the multiplication of the loaves and fishes was also an act of providing food for a hungry people – an act that becomes the criterion by which we are to be judged on the final day (cf. Matthew 25). Participation at the table of the Lord should then lead us to this divine act of providing food to a hungry people in real and concrete acts. The Eucharist and care for the poor represent a fundamental truth and obligation of the Christian life. We cannot pledge faith in the Eucharist if we fail to carry out its obligation to us in the Christian life, nor can we separate our care for others from our sacramental and spiritual life.
As we discern how we might live out this Eucharistic reality and obligation of care for others in our own life, we gather together around the table of the Lord to be inspired once again to the live the life of God in being His presence and care for others in the world. And we pray together for God's continual help to live this life more worthily: "Let us pray for the willingness to make present in our world the love of Christ shown to us in the Eucharist. Lord Jesus Christ, we worship you living among us in the sacrament of your body and blood. May we offer to our Father in heaven a solemn pledge of undivided love. May we offer to our brothers and sisters a life poured out in loving service of that kingdom where you live with the Father and the Holy Spirit, one God, for ever and ever. Amen."
Jude Huntz is Chancellor of the Diocese of Kansas City – St. Joseph.
Daily Scripture Readings
For complete daily Scripture texts, click here. http://www.usccb.org
Monday, June 23
2 Kings 17:5-8, 13-15a, 18
Psalms 60:3, 4-5, 12-13
Matthew 7:1-5
Tuesday, June 24
Isaiah 49:1-6
Psalms 139:1b-3, 13-14ab, 14c-15
Acts 13:22-26
Luke 1:57-66, 80
Wednesday, June 25
2 Kings 22:8-13; 23:1-3
Psalms 119:33, 34, 35, 36, 37, 40
Matthew 7:15-20
Thursday, June 26
2 Kings 24:8-17
Psalms 79:1b-2, 3-5, 8, 9
Matthew 7:21-29
Solemnity of Most Sacred Heart of Jesus, Friday, June 27
Deuteronomy 7:6-11
Psalms 103:1-2, 3-4, 6-7, 8, 10
1 John 4:7-16
Matthew 11:25-30
Saturday, June 28
Lamentations 2:2, 10-14, 18-19
Psalms 74:1b-2, 3-5, 6-7, 20-21
Luke 2:41-51
Solemnity of Saints Peter and Paul, Sunday, June 29
Acts 12:1-11
Psalms 34:2-3, 4-5, 6-7, 8-9
2 Timothy 4:6-8, 17-18
Matthew 16:13-19
Monday, June 30
Amos 2:6-10, 13-16
Psalms 50:16bc-17, 18-19, 20-21, 22-23
Matthew 8:18-22
Tuesday, July 1
Amos 3:1-8; 4:11-12
Psalms 5:4b-6a, 6b-7, 8
Matthew 8:23-27
Wednesday, July 2
Amos 5:14-15, 21-24
Psalms 50:7, 8-9, 10-11, 12-13, 16bc-17
Matthew 8:28-34
Thursday, July 3
Ephesians 2:19-22
Psalms 117:1bc, 2
John 20:24-29
Friday, July 4
Amos 8:4-6, 9-12
Psalms 119:2, 10, 20, 30, 40, 131
Matthew 9:9-13
Saturday, July 5
Amos 9:11-15
Psalms 85:9ab and 10, 11-12, 13-14
Matthew 9:14-17
Thirteenth Sunday in Ordinary Time, Sunday, July 6
Zechariah 9:9-10
Psalms 145:1-2, 8-9, 10-11, 13-14
Romans 8:9, 11-13
Matthew 11:25-30
Monday July 7
Hosea 2:16, 17c-18, 21-22
Psalms 145:2-3, 4-5, 6-7, 8-9
Matthew 9:18-26
Tuesday, July 8
Hosea 8:4-7, 11-13
Psalms 115:3-4, 5-6, 7ab-8, 9-10
Matthew 9:32-38
Wednesday, July 9
Hosea 10:1-3, 7-8, 12
Psalms 105:2-3, 4-5, 6-7
Matthew 10:1-7
Thursday, July 10
Hosea 11:1-4, 8e-9
Psalms 80:2ac and 3b, 15-16
Matthew 10:7-15
Friday, July 11
Hosea 14:2-10
Psalms 51:3-4, 8-9, 12-13, 14 and 17
Matthew 10:16-23
The full text of the Scripture readings for this week and next week can be found here: http://www.usccb.org/
Click on the "Daily Readings" tab on the right hand side of the page.