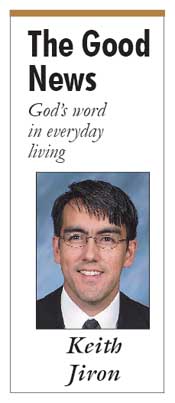 Our family was recently invited by some very good friends to witness the baptism of their first-born son. My wife and I had our children in tow and, in typical Catholic fashion, gravitated toward the back of the Church. The priest invited all present to move toward the front in order to fill up the mostly empty pews there. With great hesitation, I gathered up most of the coats, gloves, hats, and boys and moved with my wife to the second row. The priest did a wonderful job of personalizing things and even directed some questions to the children present. He explained that supernatural life enters the soul at baptism and how this is symbolized by igniting the flame on the baptismal candle from the Easter candle. Pointing to the flame, he asked if any of the children knew the most important part of the Easter candle. Without missing a beat, my son raised his hand and politely said, "The Cross."
My son's response threw him a bit of a curve ball because, even though it wasn't the answer the priest was looking for, it wasn't too far off target. The divine life within always involves the cross. Without the cross there is no resurrection. And it was only after the resurrection and ascension that Jesus sent the Spirit in the form of "tongues as of fire." (Acts 1:8; 2:3 – 4) The Holy Spirit of Pentecost lit a fire in the hearts of the frightened disciples who then courageously went forth proclaiming the gospel. Those who heard it "were cut to the heart," repented, were baptized and received the gift of the Holy Spirit. (Acts 2)
Sometimes it seems that the miraculous wonders and ardent zeal of those first disciples was meant for another age, far removed from our day-to-day reality. Nothing is farther from the truth. In J.R.R. Tolkien's epic Trilogy, Lord of the Rings, the Hobbits, quite comfortable with their warm, tunnel-like homes, rich ales, parties, and numerous daily meals, are naively unaware of the dangers brewing in the greater world around them. It is said that our worst enemy is the one who lulls us into thinking he doesn't exist.
The great battle rages, but I daresay it takes place primarily within our own hearts. This Sunday's second reading says: Do you not know that you are the temple of God, and that the Spirit of God dwells in you? The challenge is not merely to keep dimly lit the flame of the Holy Spirit within. Jesus said, "I came to set the earth on fire and how I wish it were already blazing." (Luke 12:49)
The winds of temptation continually press in upon us, threatening to extinguish the divine life within. The universal call from Leviticus is clear: Be Holy, for I, the LORD, your God, am holy. And again in Matthew: Be perfect, just as your heavenly Father is perfect. This is the real battle, the interior one. Love your neighbor as yourself. Turn the other cheek. Love your enemies. Sometimes I find that I can barely act virtuously in even the most ordinary situations. It is humbling to know that three boys, age seven, five and almost two, have vigilant ears and eyes watching and often imitating my every move, reminding me that I am still far from perfect.
I remember a homily given by a bishop several years ago. He related how after reading the account of some great martyr, he too felt resolved to lay down his life for Jesus, come what may. Not long after his inspiration, caught off guard, he found himself humbled over his lack of zeal when confronted with a measly paper cut. He took consolation in the words of St. Peter Julian Eymard: "The sure sign of holiness is the willingness to grow in it slowly."
Change does not come easily and rarely overnight. The struggle is inevitable yet we are not alone. In Christ we live amidst the mystery of a battle that is won "already and not yet." The divine flame is lit at Baptism. May the heavy wood of the crosses we carry enkindle a blaze within our hearts.
The wisdom of this world is foolishness in the eyes of God. It knows nothing of the cross. Sometimes it takes the simple wisdom of a child to remind us of our real target, heaven.
Keith Jiron is Director of the Vocations Office for the Diocese of Kansas City – St. Joseph.
For complete daily Scripture texts, click here.
Daily Scripture Readings
Monday, February 21
Sirach 1:1-10
Psalms 93:1ab, 1cd-2, 5
Mark 9:14-29
Tuesday, February 22
1 Peter 5:1-4
Psalms 23:1-3a, 4, 5, 6
Matthew 16:13-19
Wednesday, February 23
Sirach 4:11-19
Psalms 119:165, 168, 171, 172, 174, 175
Mark 9:38-40
Thursday, February 24
Sirach 5:1-8
Psalms 1:1-2, 3, 4 and 6
Mark 9:41-50
Friday, February 25
Sirach 6:5-17
Psalms 119:12, 16, 18, 27, 34, 35
Mark 10:1-12
Saturday, February 26
Sirach 17:1-15
Psalms 103:13-14, 15-16, 17-18
Mark 10:13-16
Eighth Sunday in Ordinary Time, February 27
Isaiah 49:14-15
Psalms 62:2-3, 6-7, 8-9
1 Corinthians 4:1-5
Matthew 6:24-34
The full text of the Scripture readings for this week and next week can be found here:
Click on the "Readings" tab at the top of the page.
END