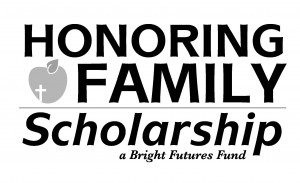 By Marty Denzer
Catholic Key Reporter
KANSAS CITY — As parents sit down to begin the application process for their children to attend Catholic high schools in the fall, they should be aware of a new program available to students who attend diocesan high schools.
Called the Honoring Family Scholarship, it provides a partial tuition grant to students enrolled in one of the four diocesan high schools, if at least one younger student in the family is also enrolled in a diocesan elementary or high school. Applications are available through the high school principals or online at www.BrightFuturesFund.org. The deadline for submission of applications is March 4.
The program is part of the Strategic Plan for Catholic Schools, unveiled in the fall of 2010 as a roadmap for strengthening education in the Kansas City-St. Joseph diocesan schools. Along with a commitment to strong Catholic identity, continued academic excellence and fiscal stability for the schools, the diocese set a goal to make the schools affordable for all who wish to attend them. Out of the Strategic Plan grew the Bright Futures Fund, a key initiative toward achieving fiscal stability and affordability. The fund was created to broaden community, corporate and philanthropic support for the preschools, elementary schools and high schools in the diocese.
Kerry Essmann, executive director of the Bright Futures Fund, said that enrollment in diocesan schools reached its peak in the 1950s and has been declining since then. Economics is a big factor in that decline.
Families who choose to enroll their children in diocesan Catholic elementary and high schools make sacrifices to do so. It's a double sacrifice, Essmann said. They pay state taxes that support public education while paying tuition to support Catholic education for their children. Those who also tithe to their parish are the hardest hit, she added. "Many people just can't afford to send their kids to Catholic high schools," she said.
In recognition of that commitment to Catholic education, the diocese established the Honoring Family Scholarship, which will be available for the 2011-2012 school year. Dan Peters, diocesan Superintendent of Schools, said the scholarship "is a great opportunity to honor families who sacrifice to send their children to Catholic schools by easing the burden of paying the tuition. It also will encourage enrollment in diocesan Catholic high schools," he said. The amount of the scholarship will be announced soon.
The scholarship is not need-based, but families must have a younger student enrolled in a diocesan school, either elementary or high school, for an older student to be eligible to receive the scholarship. The scholarship is available for the older student for each year he or she attends a diocesan high school, as long as a younger student in the family continues to attend a diocesan grade or high school. Private Catholic schools are not part of this program.
"This is true stewardship," said Essman. "Supporting Catholic education by enhancing stewardship toward diocesan schools."
She will be working on raising funds for the scholarships in the coming months.
For more information or to obtain an application for the Honoring Family Scholarship, contact the high schools directly. The four diocesan high schools are Archbishop O'Hara in Kansas City, (816) 763-4800, Bishop LeBlond in St. Joseph, (816) 270-1629, St. Mary in Independence (816) 252-8733 and St. Pius X in Kansas City (816) 453-3450.
Parents may also download an application for the scholarship by visiting www. BrightFuturesFund.org. To give a gift to the Honoring Family Scholarship fund or for additional information, visit the Web site. Alumni of diocesan Catholic schools may register at the Web site also.