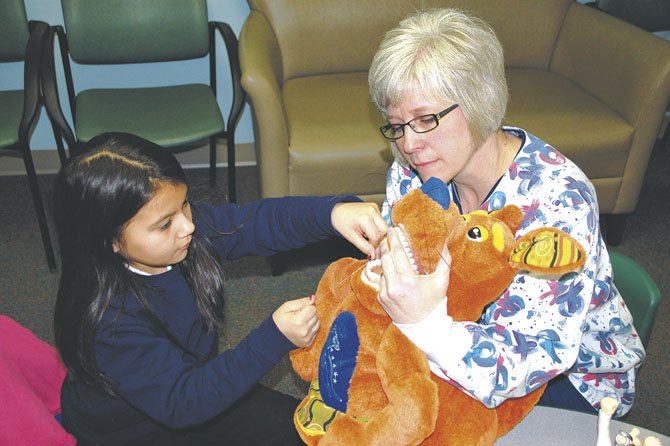 By Marty Denzer
Catholic Key Reporter
KANSAS CITY — As part of National Oral Health Month, "Doc Bear," known as Bryan Love to his family and friends, paid a visit to children at the Seton Center Dental Clinic on Feb. 15. Doc Bear is a symbol of Health Care USA, a health insurance company that works with private insurers to ensure coverage for lower income families.
Several children and parents from Holy Cross Catholic School waited to see the clinic dentists. Yolanda Adams, Holy Cross school nurse, brought several students. Doc Bear strolled through the room, high-fiving children and adults, passing out hugs and information about free dental screenings and the Seton Center clinic. Along with Doc Bear, the center's registered dental hygienist, Sally Cook, with her helper Mr. Kangaroo, coached children on flossing and brushing their teeth.
After their visit to the dentist, the children, including Holy Cross third grader Ashley Burch and second grader Paola Fierro, received Doc Bear rings. A face painter and balloon artist were there to complete their visit. Paola said she was a little scared before she saw the dentist, but kindergartner Santino Avitia could hardly wait. The balloon artist made him a motorcycle when the boy's visit to the dentist ended, and Santino "rode" his new toy all around the waiting room.