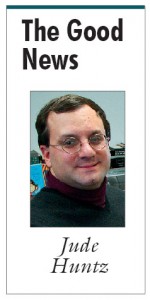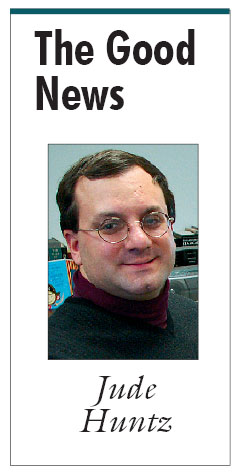 By Jude Huntz
Key Scripture Columnist
In the movie The Empire Strikes Back, Luke Skywalker continues his training to become a Jedi knight under the tutelage of the ancient master Yoda. Yoda repeatedly warns him about the dangers of the dark side of the force, and in typical male bravado he boasts, "I'm not afraid." To which Yoda replies, "You will be. You will be!" There is a tendency to think that courage is the absence of fear, when in reality it is the willingness to do what is right and necessary in spite of our fears. The readings for today's Mass highlight this point clearly.
The first reading from the prophet Isaiah is set within the context of exile in Babylon. The Jewish people had just lost their homeland and they were led away into bondage by the powerful empire of Babylon. There was no expectation that they would return one day to their homeland or that they would receive any beneficial treatment while in exile. They came to lose their homeland because they saw it as an end in itself and not a means of serving God. Israel fell into idolatry, disunity, and acts of injustice against the poor. Yet God does not forget his people, and he reminds them of his love for them in some of the most tender images possible. The prophet could not conceive of a mother forgetting or neglecting her child – born or unborn – and yet even if such were to happen God would never forget his people. Reassuring this is for us in an age that sees such levels of child abuse and abortion.
Paul reminds his audience at Corinth that they are called to be servants of Christ and stewards of the mysteries of God. In this community there was the belief that since the kingdom of God had been entrusted to the Christian community that they were then entitled to certain liberties since their salvation was almost assured. Paul knows all too well from Jewish history that this very attitude led to the Babylonian captivity and subsequent punishments from God at the hand of other empires. By reminding us that we are servants of Christ Paul seeks to instill the authentic Christian vocation of service to others within this community. A servant serves others and a steward oversees property that is not his own. We are not masters but servants; the kingdom of God does not belong to us by right but rather is entrusted to us as a gift.
In the Gospel reading, Matthew relates further Jesus' Sermon on the Mount, and this passage focuses on the choices we need to make in our lives. Matthew's community was struggling with great pressure: the Jewish authorities were beginning to expel Christians from the synagogues. This expulsion carries a grave consequence: the Christians no longer have protection from the exception from Roman law requiring religious tribute to the Roman emperor. Such an exemption was granted only to the Jewish people. Now that the Temple has been destroyed and their status as Jews revoked, the Christian community has to choose its loyalties: will they succumb to the pressures and return to the synagogue to receive the Roman exemption, or will they follow Christ who was rejected by his own people for the sake of the kingdom of God? Matthew encourages his people to choose Christ by providing for his readers this sermon of Jesus that relieves the fear and encourages us to be courageous in our choice.
The people of Isaiah's time had a great deal of fear. What would the future bring? What pressures will there be in remaining faithful to the one true God? Matthew's community faced similar fears and pressures. Both communities found the courage needed to overcome their fears and to be faithful to God. Both communities chose service and the role of a steward as the path of an authentic follower of God, and Christ provides us with the example to follow in bearing with love the opposition from hostile crowds.
As we seek the strength to follow the example of Christ and our ancestors in faith, we pray that God would help us in our journey:
"Let us pray that the peace of Christ may find welcome in the world. Father in heaven, form in us the likeness of your Son and deepen his life within us. Send us as witnesses of gospel joy into a world of fragile peace and broken promises. Touch the hearts of all men with your love that they in turn may love one another. We ask this through Christ our Lord. Amen."
Jude Huntz is Director of the Human Rights Office for the Diocese of Kansas City – St. Joseph.