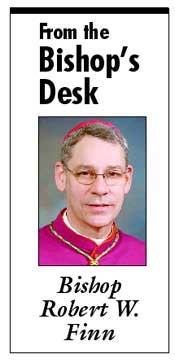 Wednesday, Catholics will line up in their parishes and other close-by churches to receive ashes on their foreheads: the external sign of an interior commitment. Various formulas or words are still used. The first choice listed in the ritual is "Turn away from sin and be faithful to the Gospel." A suitable second is "Remember, you are dust and to dust you will return."
Conversion from sin means that we not only walk away from sin, but we turn toward Jesus Christ and walk to meet Him again. It is likely that He Himself hurries to meet us more than half way. His love for us is the primary and sufficient motivating force by which we could ever hope to make such a change in our lives.
The first order of business is that we must stop believing in lesser solutions. We must end our romance with material things. They never sustain us for long. We must end our infatuation with drink, or pornography, or with gambling, or with whatever else is occupying too much of our time and an inordinate amount of our human energy. Conversion calls us to love where there may be indifference or even hatred. Our pet sins may differ one from another, but most of us know immediately what it is that is standing in our way to loving God and neighbor. It is not always easy to put these things aside, even for a period of forty days. With the support of the whole Church, we begin again.
The traditional practices of Lent provide some occasion for breaking old habits and establishing new ones, so that Lent's observances might have a lasting positive effect on our lives. Penances are necessary. We have to build up our moral muscle. We have to learn to freely say "no," to simple and valid pleasures, if we are to grow in our ability to say "no" to the things that are capable of destroying us. Anyone who has trained for a physical event, or tried to lose a few pounds, knows that these disciplines are real. They must be acquired slowly, with persistence, and sometimes with the guidance and encouragement of a coach. As Church we undertake them together for mutual support. The Gospel itself inspires our efforts.
In place of the old habits we must cultivate some new values and motives and activities. Over all we must strive to become more spiritual persons. We must grow in an interior life. We will relate better to God and to the goodness of others by becoming more recollected, becoming people of prayer. We are believers. We have been given a supernatural gift of faith, and it is time for us to start living more and more by faith.
"Almsgiving" is the traditional name for the third pillar of Lent, after Penance and Prayer. It is charity toward others that flows from a renewed sense that we are loved by God. These external signs of generosity must be the overflow of the interior life. The life of Penance gets our selfishness under control. Prayer brings a greater serenity. Now we share this faith and love of God with others we encounter, seeing them in a new way.
The second admonition of the Ritual of Ashes bids us "Remember!" We do not know how long we have. The time of salvation is now, and the grace of Jesus Christ is flowing in the Church so that we will live a new life in Him.
Let us pray that this holy season of Lent will be a time of grace for us all. Mary, teach us to trust your Son and follow Him more completely in our life.