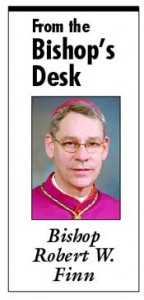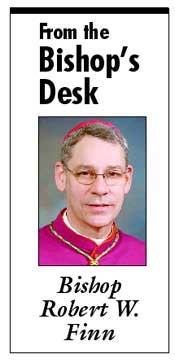 This weekend will be busy with three celebrations of the Rite of Election. Two large gatherings at the Cathedral in Kansas City and one at the Cathedral in St. Joseph will be the opportunity to welcome more than 500 persons (most are adults) seeking to be baptized or otherwise enter full communion in the Catholic Church at the Easter Vigil. Additional Candidates and Catechumens are preparing in their parishes, but may not be able to attend.
As bishop I want to give "the elect" a message of hope and encouragement. I will welcome them, tell them a little bit about the life of the Catholic Church, question them and their sponsors about their readiness, and lead prayers on their behalf.
The names of the Catechumens, persons who have never been baptized, will be written in a Book of the Elect in the sanctuary of the Cathedral. Candidates, persons already baptized in some Christian denomination but now preparing to enter the Catholic Church, will be similarly presented to the Church and called to continuing conversion. Each year, in the midst of the Rite the Catechumens and Candidates come forward and I greet them individually and promise them our prayers and best wishes.
Evangelization is not about numbers; rather it is about human hearts won over by Christ. But one cannot help but be encouraged and amazed by the large groups of faithful souls who come to the Catholic Church year after year. By comparison with some denominations, I would say we Catholics do not stand out as proselytizers: we don't go door to door, or run TV ads very often. Most of us are a bit shy about sharing our faith.
One by one people come – most always through the love of another Catholic. They persevere through a program which frequently takes nine or ten months and requires them to read, study and pray, go to weekly meetings and become involved with other members of their parish. The culmination of the program is a joyous welcoming on Easter Sunday, and the celebration of the sacraments of Baptism, Confirmation and Holy Eucharist. Parishes enjoy the addition of new Catholics who sometimes put us "cradle Catholics" to shame for their knowledge of and faithfulness to the Church and her teachings.
The majority of the New Catholics come to the Church through a program called RCIA, the Rite of Christian Initiation of Adults, though some still take convert instructions more directly with a priest or deacon or other parish designate. The RCIA is a more complete program which seeks to not only instruct and form the inquirers in the faith, but also provides a means to introduce them into the life of the parish community. The sponsors and parish directors I have met are often "repeat customers." They give long hours and sometimes wish to be involved year after year. The spiritual rewards are great.
An historic theme of Lent has been to make some Lenten offering – prayer, fasting, almsgiving – not only for our own growth in holiness, but additionally, for the sake of those preparing to enter the Church at Easter. On behalf of these elect whom I will welcome this weekend in your name, I humbly ask you to make a significant spiritual offering: that God, who has begun a good work in them, will bring it to fulfillment.
Welcome new catechumens and candidates. God bless you!