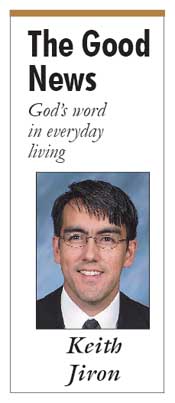 My wife and I are expecting the birth of our fourth son at the end of this month. The anticipation of this new arrival to the Jiron family brings a wide range of emotions. Our two oldest boys are filled with excitement and can't wait to meet him. Our third son doesn't really know what's coming and likely will be a bit jealous. My wife and I are thrilled about this newest gift, but also aware of the impending reality of sleepless nights and all the demands that this helpless little human being will bring.
Being the oldest of five children myself, I helped my parents out with my younger siblings and thought that parenthood would be a piece of cake. Little did I know, I was in for a huge shock. The first night home from the hospital with our first son, between crying, nursing and diaper changing, I think I literally got a total of five minutes sleep.
In addition to that, he had colic for the first four months of his life. The definition of colic goes something like this: a baby who cries non-stop at least three hours a day for no known reason. Our particular version of this was that every time we tried to put him down he would cry, including at bed time. I must admit that those were some of the roughest months of my entire life.
The challenges that come with parenthood are nothing new. Amidst the difficulties, God's grace is abundant. This Sunday's first reading from Genesis describes how God, in spite of Abram and Sarah's infertility, promises them children. I will make of you a great nation, and I will bless you…I will make your name great…All the communities of the earth shall find blessing in you. God's pledge to them marks the beginning of a long, arduous journey. They are to endure suffering as they strive to follow God's plan.
The more we try to imitate Jesus and to follow his plan for our lives, the more likely we are to endure the cross and suffering. St. Teresa of Avila once said, "If this is how you treat your friends, no wonder you have so few of them!"
Despite all the advances of modern medicine and technology, we have not found a way to completely eradicate suffering. We need only take a look at the world around us. Whether the recent disaster in Japan, the political upheaval occurring in parts of the world, or the illness of loved ones, suffering abounds.
As Christians we are able to find meaning in the midst of suffering. Pope John Paul II in Salvifici Doloris stated, "[I]n the mystery of the Church as His body, Christ has in a sense opened His own redemptive suffering to all human suffering. Insofar as man becomes a sharer in Christ's suffering – in any part of the world and at any time in history – to that extent he in his own way completes the suffering through which Christ accomplished the redemption of the world."
St. Paul, after having been stoned to within an inch of his life, comes forth, battered and bruised, bearing the message of this Sunday's second reading. Beloved: Bear your share of hardship for the gospel with the strength that comes from God. What profound encouragement for the early Christians who were to undergo great persecutions! Suffering, when endured for the sake of the gospel, takes on rich new meaning and perspective.
At the Transfiguration, accompanied by Peter, James, and John on the mountain, Jesus' face shone like the sun and his clothes became white as light. It's as if Jesus were preparing them by giving an eternal perspective to his imminent suffering and death.
As for me, my first inclination is to run from suffering. I have a hard enough time keeping my meager Lenten resolution. But, God continues to offer me opportunities to practice uniting myself to the cross. Whether I am ready for it or not, a good amount of hardship awaits me in terms of lack of sleep, soiled diapers, and countless other assaults to my selfishness. In some mysterious way, these little "deaths to self" increase my capacity to love.
With my heart's expanded capacity thanks to my wife and three boys, I have glimpsed the radiant glory on the other side of those sleepless nights. The sufferings pale in comparison with the splendour of another eternal soul whose beautiful face will shine forth, piercing to the depths of a father's heart who will echo that of Peter's on the mountain: Lord, it is good that we are here.
Keith Jiron is Director of the Vocations Office for the Diocese of Kansas City – St. Joseph.
Daily Scripture Readings
For complete daily Scripture texts, click here.
Monday, March 21
Daniel 9:4b-10
Psalms 79:8, 9, 11 and 13
Luke 6:36-38
Tuesday, March 22
Isaiah 1:10, 16-20
Psalms 50:8-9, 16bc-17, 21 and 23
Matthew 23:1-12
Wednesday, March 23
Jeremiah 18:18-20
Psalms 31:5-6, 14, 15-16
Matthew 20:17-28
Thursday, March 24
Jeremiah 17:5-10
Psalms Ps 1:1-2, 3, 4 and 6
Luke 16:19-31
Solemnity of the Annunciation of the Lord, Friday, March 25
Isaiah 7:10-14; 8:10
Psalms 40:7-8a, 8b-9, 10, 11
Hebrews 10:4-10
Luke 1:26-38
Saturday, March 26
Micah 7:14-15, 18-20
Psalms 103:1-2, 3-4, 9-10, 11-12
Luke 15:1-3, 11-32
Third Sunday of Lent, March 27
Exodus 17:3-7
Psalms 95:1-2, 6-7, 8-9
Romans 5:1-2, 5-8
John 4:5-42 or 4:5-15, 19b-26, 39a, 40-42
The full text of the Scripture readings for this week and next week can be found here:
Click on the "Readings" tab at the top of the page.
END