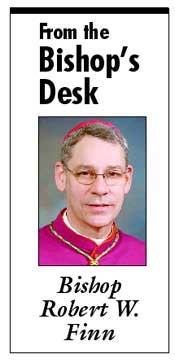 For the last two weeks at the Chancery we have been working out of boxes. This week we will have a brief prayer service perhaps the last as "the Diocese" in the majestic brick and stone house at Gillham and 36th Street.
The mansion, built more than 100 years ago as a private home – was acquired in the 50's to serve as the headquarters for the Catholic Church in Northwest Missouri. Within about ten years an annex was added for more office space. In 1999, the Diocese began to lease more room in the Gillham Plaza office building to the North of 300 East 36th Street. Over the years there were several renovations. I cannot even imagine how many people have worked here with great dedication and love for the Church.
I remember coming to the "back door" of the diocesan offices for the very first time in the early evening of March 8, 2004. The next day I was to be introduced to the community as the new Coadjutor Bishop, and my presence at that moment was a secret not yet announced. As far as I was concerned the place was beautiful. It was my new home. As time progressed I have become very familiar with its walls and creaks, stairways and meeting rooms. I have some slight melancholy about turning the key for the last time.
On Thursday, March 24, 2011, the Eve of the Annunciation, we are set to close at noon and vacate the premises. The moving company goes to work, transferring furniture, crates and boxes, each with labels indicating its destination at the Chancery Offices of the Catholic Center at 20 W. 9th Street in downtown Kansas City. The movers will work all weekend.
On Monday, March 28, Chancery staff will gather in the Lobby of the Center for a prayer. We will have a little breakfast together in our cafeteria and begin an orientation meeting. Then, off we will go to our new offices and cubicles to start unpacking. We hope to be up and running by Tuesday morning. Our phone numbers, P.O. Box, and email addresses are exactly the same. I sense that the Chancery staff is pretty excited and eager. Catholic Charities "Caritas Center" has been at work in the Catholic Center since early February. We are looking forward to being closer neighbors and co-workers.
While I have learned that property transactions are never "over til they're over," we are cautiously optimistic that the 36th Street building that has served us so well for so long may have a new owner soon. The Diocesan Finance Council and Priests College of Consultors have unanimously given approval for a contract to a non-for-profit entity. If all goes well, 300 East 36th will remain an active workplace.
Join me in giving thanks to God for all He has done in our midst: in every parish and Catholic institution in our diocese of Kansas City-St. Joseph, and from the Chancery! With joy we look to continue that work with the same faith, hope, and love, but from a new location.
The Blessing, Dedication, and first Open House for the Catholic Center at 20 W 9th will take place on Thursday, April 28, beginning at 3:00 p.m. A weekend Open House will soon be announced.
I commend our efforts to our Blessed Mother and St. Joseph —patrons of our Diocese — that they may keep us on a safe path to Jesus Christ.