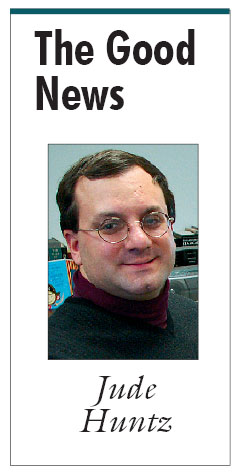 Whenever a natural disaster occurs or when a terrible evil like the Holocaust afflicts a great number of people, one of the first reactions people have is, "Where was God? How can there be a God when such calamity and evil occurs?" In a certain sense, both Martha and Mary fall victim to such thinking in today's Gospel reading. They have lost their brother Lazarus, and in their grief they say to Jesus, "Lord, if you had been here my brother would not have died."
The Gospel story presents an interesting contrast. Jesus was absent from Martha and Mary, and Lazarus died. Yet, after Lazarus died Jesus is present to them and he raises Lazarus to life. The presence of Jesus makes all the difference in the world. When Jesus is absent from our lives there is only death, grief, and despair. In our anguish we make the same statement as Martha and Mary: Lord, if you had been here. On the other hand, when Jesus is present in our lives, anything becomes possible. There is life, joy, and hope. In our joy we make the same statement of the Samaritan villagers from the Gospel text two weeks ago: We know that this is truly the savior of the world.
This Gospel passage is the final piece in the threefold scrutinies of catechumens before receiving the sacraments of initiation at the Easter vigil. Each Gospel text has brought us closer to the font and to the reality of Jesus Christ. In the first text two weeks ago we met the Samaritan woman at the well who came to draw water and found that only Christ could quench her thirst. Last week we encountered the man who was blind from birth and discovered that only through Christ can we see aright in our lives. This week we encounter the most dramatic encounter of all.
Death is the ultimate evil from which no one escapes. In the ancient world there was a great fear of death, for the vast majority of souls were brought to Hades, the place of shadows, where they would spend all of eternity. Only the very few men who struggled against the gods – found their way to the Elysian Fields. In this Gospel text, there is no struggle against God, no struggle against Christ. There is only faith that Jesus can do what he promises, and it is this faith that enables all men and women to find their way to paradise.
In each of these Gospel texts, faith brought satisfaction, sight, and life. Yet, faith is not something we can provide for ourselves. In each story faith is an invitation from Jesus, and it is Jesus who brings us to faith through a series of conversations and encounters. He does not impose faith upon us and we do not come to faith on our own power. Faith only comes through an invitation and encounter with Christ.
We have encountered Christ in the sacraments and in the experiences of our lives. The phrase of Martha and Mary — Lord if you had been here makes no sense to us. Christ is present to us always: in our moments of joy and our moments of sorrow, in our hope and in our despair, in our life and in our death. In the life of faith there are no conditional statements. We cannot barter with God, nor can we impose upon Him our own conditions and demands. Rather, it is Christ who sets the conditions and demands upon us, but no longer in the language of commands but in the invitation of a conversation and encounter. Faith means that our entire being belongs to Christ such that he is never absent from us nor we from Him.
As we journey together to the conclusion of Lent, may we give ourselves completely to Christ in the celebration of the Paschal mysteries. May our prayer today be that of the Church for the catechumens during this third scrutiny: "Lord, may your people be one in spirit and serve you with all their heart. Free them from all fear. Give them joy in your gifts and love for those who are to be reborn as your children. We ask this through Christ our Lord. Amen."
Jude Huntz is Director of the Human Rights Office for the Diocese of Kansas City — St. Joseph.
Daily Scripture Readings
For complete daily Scripture texts, click here.
Monday, April 11
Daniel 13:1-9, 15-17, 19-30, 33-62 or 13:41c-62
Psalms 23:1-3a, 3b-4, 5, 6
John 8:1-11
Tuesday, April 12
Numbers 21:4-9
Psalms 102:2-3, 16-18, 19-21
John 8:21-30
Wednesday, April 13
Daniel 3:14-20, 91-92, 95
Daniel 3:52, 53, 54, 55, 56
John 8:31-42
Thursday, April 14
Genesis 17:3-9
Psalms 105:4-5, 6-7, 8-9
John 8:51-59
Friday, April 15
Jeremiah 20:10-13
Psalms 18:2-3a, 3bc-4, 5-6, 7
John 10:31-42
Saturday, April 16
Ezekiel 37:21-28
Jeremiah 31:10, 11-12abcd, 13
John 11:45-56
Palm Sunday, April 17
Matthew 21:1-11
Isaiah 50:4-7
Psalms 22:8-9, 17-18, 19-20, 23-24
Philippians 2:6-11
Matthew 26:14-27:66 or 27:11-54
The full text of the Scripture readings for this week and next week can be found here:
Click on the "Readings" tab at the top of the page.
END