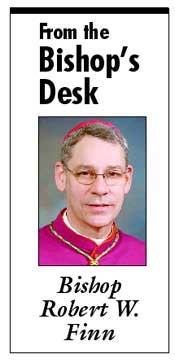 I recently had the good fortune to chat with Cardinal Baum, retired Archbishop of Washington D.C. and Emeritus "head" of various significant posts in the Vatican. A recent article by George Weigel, printed in the Catholic Key, (March 18, page 10) noted an extraordinary milestone in the life of this holy Churchman who was raised in Kansas City, Missouri, and was a priest of the Diocese of Kansas City, later Kansas City-St. Joseph. Cardinal Baum has now served longer than any other American cardinal in history. I was a student in Rome at the time of the May, 1976 Consistory in which William Wakefield Baum and Joseph Ratzinger became Cardinals. It doesn't seem so long ago to me!
George Weigel's article recounts many of the things that distinguish His Eminence, much more than mere longevity. He served as a theological expert during the Second Vatican Council. He was Bishop of Springfield-Cape Girardeau for just three years before becoming Archbishop in the nation's capitol. He served in Rome as Prefect of the Congregation for Catholic Education, and then as Major Penitentiary, head of the Tribunal which oversees internal forum deliberations in the Universal Church. Most of all Cardinal Baum is regarded as a dear and good man, brilliant and holy, whose humility in the service of Popes and all the Faithful is an inspiration to all of us who want to follow Jesus Christ more faithfully.
And — Kansas City is his "home." Every time I have ever had the opportunity to visit with him, he speaks with affection about the Diocese. He loves Kansas City-St. Joseph. We are always close to his heart. In 2006 when I led a pilgrimage to Rome to celebrate the 50th anniversary of the Diocese, one of the highlights of our trip was a Mass at the Church of St. Ann. Cardinal Baum attended with us, spoke to our group, and then sat and received each person. He asked "what parish do you attend?" and then would mention something about that good place or someone that he knew from there. It was a moment that we will not forget.
The occasion that prompted my recent conversation with the Cardinal was an upcoming special anniversary: May 12, 2011, will mark the 60th anniversary of the priesthood ordination of Fr. William Baum by Archbishop Edwin O'Hara, at the Cathedral of the Immaculate Conception. Months ago, he and I had spoken about him coming for a special Mass on or near that day. Though the Cardinal's voice and spirit remains young and engaging, because of His Eminence's back ailment he will not be able to make the visit. On May 12 there will be a special anniversary Mass at the Basilica of the National Shrine of the Immaculate Conception in Washington D.C. to mark his diamond jubilee. I hope to attend and I will certainly carry with me your well wishes and prayers.
This past week we moved into our new offices at the Catholic Center downtown. With his permission I have named the primary meeting room off the lobby "The Cardinal Baum Room." Signage and a portrait will be placed there. I know it will be a place where many will gather over the next years. We will always do well to think of this Good Shepherd who grew up in our community and went on to give such exemplary service to the universal Church.