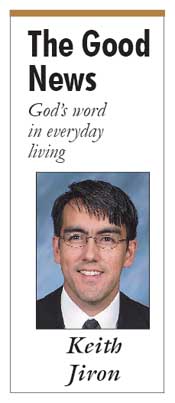 For the fourth time now, my wife has given birth to one of our sons. Baby Peter Jiron was born on April 3. When a child is born, an indelible change takes place in the depths of the heart and the world is forever changed.
When it was time to take my wife and newborn home from the hospital, I was bringing in the baby car seat accompanied by my three older sons. I noticed several raised eyebrows while folks did the math. One lady even walked out of her way to say to me in a sort of disgruntled manner, "You sure have your hands full."
Logically it would seem that now I have less space in my heart for my wife and each of my young sons. But love isn't always logical. In his Ascent of Mount Carmel, John of the Cross explains, "It is regrettable that a soul, having as it were an infinite capacity, should be fed, because of its limited spirituality and sensory incapacity, with morsels for the senses."
Ours is a culture in which, for the most part, we are deceived into believing we"ll find contentment by satisfying our worldly appetites or senses with morsels that can be obtained with the slide of a credit card. Pope Paul VI, in Gaudete in Domino, put it this way. "Technological society has succeeded in multiplying the occasions of pleasure, but finds great difficulty in giving birth to happiness. For happiness has its origin elsewhere: it is a spiritual thing."
These past nine months have been a long journey. We had several scares along the way, fearing we'd lose the baby. The physical, emotional, and spiritual trials that my wife endured throughout have been immense. Pregnancy and childbirth, while they bring forth the blessing of another eternal soul, no doubt, bring their share of the cross and suffering. Again, St. John of the Cross offers insight. In his Spiritual Canticle he says that "[t]he soul cannot enter into these treasures, nor attain them, unless it first crosses into and enters the thicket of suffering, enduring interior and exterior labors."
As I watched my wife enter into the thicket of suffering amidst the excruciating agony of labor pains and contractions, I saw her countenance change from anguish to tears of joy when she held our newborn son for the first time. She later told me that the joy and gratitude in her heart at that moment erased the months of suffering that preceded it.
There is no resurrection without the cross. When Jesus was hanging there, they jeered at him, saying: Come down from the cross! They did not realize that, in fact, this very act of Jesus was the means by which he was saving them.
The road ahead is not an easy one. Remaining patient, loving, and generous amidst the never-ending demands of four boys under the age of seven can be a real cross. Sometimes our house is like one big land mine with toys, clothes, shoes, blankets, and stuffed animals strewn all over. In the middle of the night, pacing the floor trying to rock the baby to sleep, I almost tripped over a Lightning McQueen car. On the verge of "losing it," the voice of the tempter whispered, "Come down from the cross. Why do you have to have all these kids anyway?"
But the warm, peaceful, resting baby in my arms, to which my wonderful wife had just given birth, reminded me of what really matters, what brings me true happiness.
The crosses that we carry each day are, indeed, what help to save us. With a tendency to "multiply the occasions of pleasure," filling ourselves in attempt to satisfy our longing, we inevitably fall short. Jesus shows us another way. He emptied himself—becoming obedient to the point of death, even death on a cross. It seems ironic, but by emptying ourselves, we make space for God to fill. We do so by following the command of Jesus to take up our cross and follow him (Mt 16: 24-27). May our own lives find resonance in the prophecy of Isaiah. Morning after morning he opens my ear that I may hear; and I have not rebelled, have not turned back. I gave my back to those who beat me, my cheeks to those who plucked my beard; my face I did not shield from buffets and spitting. The Lord GOD is my help, therefore I am not disgraced; I have set my face like flint, knowing that I will not be put to shame.
Keith Jiron is Director of the Office for Vocations in the Diocese of Kansas City — St. Joseph.
Daily Scripture Readings
For complete daily Scripture texts, click here.
Monday, April 18
Isaiah 42:1-7
Psalms 27:1, 2, 3, 13-14
John 12:1-11
Tuesday, April 19
Isaiah 49:1-6
Psalms 71:1-2, 3-4a, 5ab-6ab, 15 and 17
John 13:21-33, 36-38
Wednesday, April 20
Isaiah 50:4-9a
Psaslms 69:8-10, 21-22, 31 and 33-34
Matthew 26:14-25
Holy Thursday, April 21
Exodus 12:1-8, 11-14
Psalms 116:12-13, 15-16bc, 17-18
1 Corinthians 11:23-26
John 13:1-15
Good Friday, April 22
Isaiah 52:13-53:12
Psalms 31:2, 6, 12-13, 15-16, 17, 25
Hebrews 4:14-16; 5:7-9
John 18:1-19:42
Easter Vigil, Saturday, April 23
Genesis 1:1-2:2 or 1:1, 26-31a
Psalms 104:1-2, 5-6, 10, 12, 13-14, 24, 35
Genesis 22:1-18 or 22:1-2, 9a, 10-13, 15-18
Psalms 16:5, 8, 9-10, 11
Exodus 14:15-15:1
Exodus 15:1-2, 3-4, 5-6, 17-18
Isaiah 54:5-14
Psalms 30:2, 4, 5-6, 11-12, 13
Isaiah 55:1-11
Isaiah 12:2-3, 4, 5-6
Baruch 3:9-15, 32C4:48
Psalms 19:8, 9, 10, 11
Ezekiel 36:16-17a, 18-28
Romans 6:3-11
Psalms 118:1-2, 16-17, 22-23
Matthew 28:1-10
Easter Sunday, April 24
Acts 10:34a, 37-43
Psalms 118:1-2, 16-17, 22-23
Colossians 3:1-4
or 1 Corinthians 5:6b-8
The full text of the Scripture readings for this week and next week can be found here:
Click on the "Readings" tab at the top of the page.
END
John 20:1-9