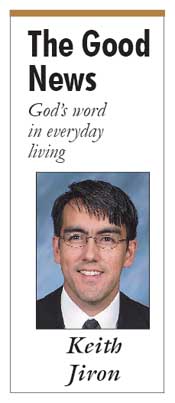 It is often easier to see God's hand at work in hindsight. St. John Baptiste de la Salle said, "The sure sign that God is active in your life is that you will be led where you did not plan to go." This rings true in my own experience of forty-two years.
As a Colorado native, I never dreamed I'd end up in the Midwest. Fly fishing, skiing, camping, and mountains are all things that I took for granted. Until, at age twenty-two, two decades ago, I packed up my things and headed to a Benedictine-run seminary in the northwest corner of Missouri. I thought that God was calling me to the priesthood. In fact, I was quite sure of it. But God had other plans. Hence, my plans and the de la Salle quote.
I count my years in seminary as some of the best of my life. It was a tremendous time of growth. The monks of Conception Abbey opened up a whole new world for me. Many of these good men I consider friends and mentors to this day. The spiritual, intellectual, and human formation I received there was invaluable and I am forever grateful.
One of the things that I learned in my seminary years was to listen for God's voice with the ear of my heart. This sounds simple enough, but it is easier said than done. Whether to the priesthood or some other big decision in life, discerning God's will can be very difficult and even gut-wrenching at times.
Sometimes we are unable to hear God's voice when, perhaps even unconsciously, we already have our minds made up, thinking we know best. Scripture tells us that God's ways are not our ways nor are our thoughts God's thoughts. The prophet Samuel, in this Sunday's first reading, is sent by God to anoint the future king whom God has chosen from among Jesse's sons. Samuel, with mere human vision, notices the lofty stature of one son and thinks he has spotted him. Samuel looked at Eliab and thought, "Surely the LORD's anointed is here before him."
My experience with discernment and vocations over the years resonates with that of God's subsequent admonition to Samuel. Not as man sees does God see, because man sees the appearance but the LORD looks into the heart. Only God, who knows us better than we know ourselves, is the master of our hearts and knows what is best for us. The closer we get to Christ, the more we come to know the impediments that keep our hearts in darkness. St. Paul says: You were once in darkness—Live as children of light, for light produces every kind of goodness and righteousness and truth.
The man who had been blind from birth in the gospel was healed of his inability to see. He is so overjoyed at having gained his sight that he thinks nothing of his unintentionally bold retort to the Pharisees. Blinded by their pride and envy, they refuse to hear the truth that is shouting out at them loud and clear. The blind man responds. I told you already and you did not listen. Why do you want to hear it again? Do you want to become his disciples too?
Jesus Christ wants to illuminate the darkness that blinds us and to give us true vision. His gentle, yet persistent voice resounds in the depths of our hearts. The difficult part is opening our hearts to God's voice and responding with a free and loving "yes."
When we say "no" to his inspirations we stifle God's voice. These little disobediences are like little pebbles that we throw into the backseat of our car. We think to ourselves, no big deal. After all, it's just one little pebble. One pebble here, one pebble there. Eventually our backseat is full of little pebbles such that we think nothing of the boulder that finds its way onto the pile.
In the same way, when our hearts are cluttered with all the competing voices of worldly allure, our spiritual ears are deafened. I heard an analogy once that trying to discern God's will while in serious sin is like trying to hear a conversation in the middle of a "Metallica" concert.
To help us hear God's voice in our own lives, we must first "clean out the backseat." The Sacrament of Confession reconciles us to God so we will not be blind and deaf. The Eucharist can also act as a spiritual amplifier to help us hear God's will. May we be like the blind man who, with humility, is able to say, "One thing I do know is that I was blind and now I see."
Keith Jiron is Director of the Office for Vocations in the Diocese of Kansas City — St. Joseph.