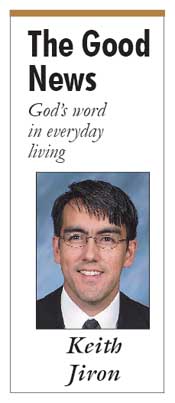 Our two-year-old seems the most apt to be the mechanical one in the family. Last summer he spent about an hour tenaciously deciphering the straps on his life jacket. The other day he figured out the knob on our bedroom door and locked himself in. A bit panicked, my wife kneeled by the door trying to coax/coach him into unlocking it. I ended up picking the lock with a knife by turning the mechanism from the outside.
Growth in the spiritual life involves discovering the many rooms in which we have managed to lock ourselves. In the course of life, we inevitably experience hurts in one form or another: betrayal, insult, neglect, to name a few. As a result, for fear of being hurt again, we build protective walls around our hearts.
Perhaps unaware of their paralyzing effect, at times we even prefer to remain behind them. An excellent illustration of this can be found with the character Edmond Dantes (Jim Caviezel) in the movie, The Count of Monte Cristo. He is betrayed by his best friend and ends up in prison. Worse than this, while he is locked away in the dreaded prison called the Chateau dif, Dantes' fiancé marries his betrayer.
Nearly two decades later, having escaped the bars of the prison, he nonetheless remains imprisoned by the bars of his hate and lust for revenge. As the plot nears its climax, his long-lost love reveals her heart to him with stunning vulnerability. Rather than embracing her, he shows how powerfully intact are the walls he has built around his heart. He exclaims, "Don't rob me of the only thing I have left. Don't rob me of my hate."
We, too, struggle in the normal course of everyday life to keep our hearts open. In marriage, due to an unkind word or a selfish act, we put up a wall between ourselves and our spouse and bear a grudge. We become distant and choose to keep this distance rather than making amends.
Several years ago, after having been gone from home for over a week, when I returned, I noticed walls around the heart of my toddler. There was an awkward distance between us. His little heart was saying, "Where have you been? Why did you leave? Will you leave again? I missed you and I'm afraid to open my heart again for fear that you"ll leave again and hurt me." I'll never forget how, amidst the awkward silence at dinner, he lunged over vulnerably and gave me a hug, melting the ice around his tender heart, allowing the walls to collapse.
In St. John's gospel we read: Jesus came, although the doors were locked, and stood in their midst and said, "Peace be with you." Jesus is not unfamiliar with the wounds we bear and the resultant walls we hide behind. The Catechism of the Catholic Church states that Jesus "enables us to live in him all that he himself lived, and he lives it in us. By his incarnation, he, the Son of God, has in a certain way united himself with each man. (CCC 521)
Jesus takes on our wounds and desires to transform them in light of his glorious resurrection. Still, we have doubts. We can all relate with the apostle Thomas who says: Unless I see the mark of the nails in his hands and put my finger into the nailmarks and put my hand in his side, I will not believe."
All sin is a lack of trust in God (CCC 397). When we prefer to remain behind the cold, dark walls of our heart rather than trusting in God's divine mercy, we make ourselves miserable.
In his revelation to St. Faustina, Jesus said, "Let the sinner not be afraid to approach Me. The flames of mercy are burning Me clamoring to be spent; I want to pour them out upon these souls —Distrust on the part of these souls is tearing at My insides—despite My inexhaustible love for them they do not trust Me"
In the same way that blood and water poured forth from the heart of Jesus, so too may we let our hearts be pierced with the healing flames of Christ's divine mercy that melts the walls around our hearts. Let us be tenacious in availing ourselves of the life-giving sacraments by which our heavenly Father picks the lock and opens the door to our hearts.
Keith Jiron is Director of the Office for Vocations in the Diocese of Kansas City — St. Joseph.
Daily Scripture Readings
For complete daily Scripture texts, click here.
Monday, May 2
Acts 4:23-31
Psalms 2:1-3, 4-7a, 7b-9
John 3:1-8
Tuesday, May 3
1 Corinthians 15:1-8
Psalms 19:2-3, 4-5
John 14:6-14
Wednesday, May 4
Acts 5:17-26
Psalms 34:2-3, 4-5, 6-7, 8-9
John 3:16-21
Thursday, May 5
Acts 5:27-33
Psalms 34:2 and 9, 17-18, 19-20
John 3:31-36
Friday, May 6
Acts 5:34-42
Psalms 27:1, 4, 13-14
John 6:1-15
Saturday, May 7
Acts 6:1-7
Psalms 33:1-2, 4-5, 18-19
John 6:16-21
Third Sunday of Easter, May 8
Acts 2:14, 22-33
Psalms16:1-2,5,7-11
1 Peter 1:17-21
Luke 24:13-35
The full text of the Scripture readings for this week and next week can be found here:
Click on the "Readings" tab at the top of the page.