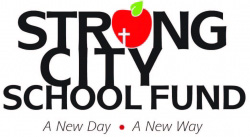 Just when you thought school was almost over for the year, the school bell will ring at 7:30 a.m., May 11, at the Downtown Marriott Hotel for the third annual School Bell Breakfast. One hundred percent of event proceeds will aid the Strong City School Fund to open doors to neighborhood Catholic grade schools for low-income families.
The Strong City School Fund has pledged $979,000 this academic year to keep Catholic school education affordable for families struggling with the cost of education in Kansas City's urban core. The Strong City Schools include Holy Cross, Our Lady of Angels and Our Lady of Guadalupe schools. Committed to carrying forward the tradition of the Central City School Fund, community volunteers and the Catholic Diocese of Kansas City – St. Joseph have helped more than 30,000 children with the cost of education in the past two decades.
"Within the last year, the diocese completed a strategic planning process for its schools," said Kerry Essmann, Executive Director of the Bright Futures Fund. "The plan reaffirmed our commitment to Kansas City's most valuable future resource– its children. Not only is the strategic plan a roadmap for academically excellent, distinctly Catholic, and fiscally stable schools, it also expands our capacity to provide tuition assistance under the new Bright Futures Fund umbrella."
"The Strong City School Fund is partnering with corporations and individuals to create a stronger community, one child at a time," said Essmann. "In addition to this vital inner city school program, Bright Futures Fund also offers Honoring Family Scholarships. Beginning in the fall of 2011, we are providing tuition grants to families of diocesan high school students who also have at least one other child enrolled in a diocesan Catholic school."
To achieve the strategic goal of academic excellence, the diocese has challenged schools to teach in ways that meet the needs of every student. Equipped with more than $100,000 in donated educational software and professional development, the Strong City Schools are participating in a Pearson Digital Learning research and development project that brings personalized and sequential learning right to each student.
Holy Cross, Our Lady of the Angels and Our Lady of Guadalupe students and teachers are using SuccessMaker, a student centered curriculum software. The program individualizes learning for each student – whether they are struggling with a particular concept, working at grade level or advanced. As an added benefit, teachers can retrieve the data and review the last session of a particular student or the cumulative report of an entire class.
Individual tickets are $25. For reservation or table sponsorships, please call (816) 756-1858, ext. 526, or visit www.strongcityschoolfund.org.