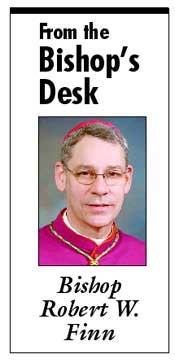 Every generation has the opportunity and the honor to pass the uniqueness of our Catholic identity on to the next generation. How will you and I prepare the generation that will follow us to use the resources of the Diocese of Kansas City – St. Joseph in a generous and responsible way? My vision for our Diocese is multifold, but an important part of that dream is to make a significant and lasting contribution to the work of Catholic education, ensuring that it is firmly positioned to advance our Catholic faith.
We need a strong vision for the Diocese and well thought out plans to implement that vision. Over the last few years, the Diocese has done a commendable job working on a long-range plan. As such, now is the time to gather input from our parishioners and priests to determine if our plan has the consensus behind it to act. The Diocese has embarked upon an extensive feasibility study to determine if now is the proper time to move ahead with a diocesan capital campaign that would enable us to raise funds to solidify Catholic education and strengthen parishes.
We have identified a number of important projects, and we would like to hear your thoughts and opinions about each one to help us decide our future course of action. We need your help. I hope you will take a few minutes to complete the online survey that is available at the Diocesan website (www.diocese-kcsj.org).
A potential capital campaign would also strengthen parishes. We intend to allow each parish to use a portion of the funds they raise for local apostolates, outreach, or capital improvements. What needs does your parish have that this campaign could address?
As I noted, our chief aim is to fortify Catholic education in the Diocese. Our long-range plan includes adding a Catholic high school in Eastern Jackson County, providing funds for Bishop LeBlond and St. Pius High Schools, support of the Bright Futures Fund, and subsidy for our growing seminarian population. If a capital campaign goes forward we would delay the parish assessments for schools to ease the financial burden during this focused effort.
We also have identified needs for additional parking and meeting space at the Cathedral, complementing the earlier successful Cathedral project guided by my predecessor, Bishop Raymond Boland, a decade ago. For more information about our plan and the perceived needs, please see the case for support that accompanies the survey at the above-referenced web link.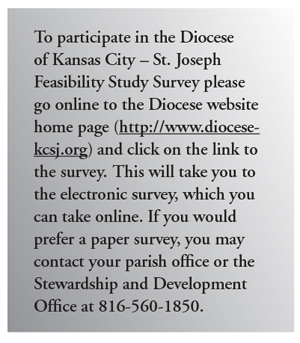 Again, I would greatly appreciate it if you would visit our website to take the online survey. We greatly value your thoughts and opinions in this process which also includes personal interviews with all the priests in the diocese, key supporters, and volunteers. Thank you for your ongoing support of the Catholic faith and the good works of the Church throughout the Diocese.
I commend our efforts to the care of Mary and St. Joseph, and I ask you, also, to pray for the light of the Holy Spirit in all we do.