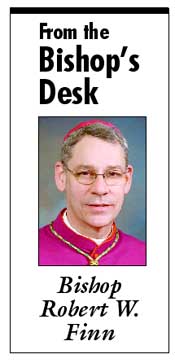 Shortly after arriving in Kansas City-St. Joseph, I was responding to one of many questions about my priorities and plans. While mentioning a number of things that are very important, I said of vocations to the priesthood and religious life: They are a "super-priority."
Why are these vocations so important?
They are vital because without priests there can be no Eucharist, no Sacrifice of the Mass, which the Second Vatican Council described as the font and summit of the life of the Church. Without priests, Jesus Christ's intentions for the supernatural life of the Church cannot be fulfilled.
These priestly and religious vocations are a super-priority because we have experienced a shortage in recognizing, welcoming and fostering these vocations in many regions in the Church.
Vocations to the Priesthood and Religious Life are a super-priority because the discovery and nurturing of these vocations — the establishment of a "culture of vocations" — is something that involves the whole Church.
These vocations are a super-priority because without them the authentic identity of the vocation of the laity is at risk. The vocation to the laity represents God's call to holiness for more than 95 percent of the Church. If we do not more carefully define the vocation to the priesthood, we will miss the true goal of the lay vocation to transform the secular world.
With the exceptions of some religious orders, vocations to consecrated religious life have also become endangered. But there is no doubt in my mind that God is still calling men and women to this community life. They also are a super-priority.
Vocations are a super-priority for us, because for a young man or woman to "miss" their vocation is a super-disaster! We must do even more to help those whom God calls, hear Him and say "yes" with great trust.
I am happy and encouraged with the work of our Diocesan Vocation office and with the fine seminarians we have. Our Office of Consecrated Life is similarly helping raise our awareness of these vocations. We continue to support vocations to the permanent diaconate that more often come at a later point in life.
Please join me in praying for an increase in priests and religious. We must promise our Lord that we will take care of the vocations we receive: making sure that their formation and discernment is the very best it can be.
Such vocations are likely to first be discovered in the family. I pray parents and grandparents will talk to their children about their vocations and support them in whatever vocation God may give them.
Lord, we want and need diocesan priests and deacons, and religious priests, brothers and sisters. We beg You for them, and promise to nurture these vocations faithfully. Blessed Mother, ask Your Son to gives us priests after His own heart.