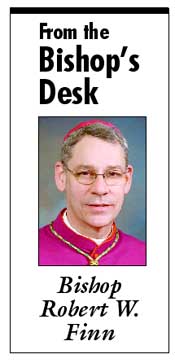 Last weekend I had the occasion to participate in the Commencement Exercises of our two Catholic Universities: Avila and Rockhurst. At Conception Seminary a special Mass similarly marked the completion of the school year and bestowal of degrees in Philosophy. May and early June brings the end of the school year for thousands of our young people. I wish to offer prayerful best wishes to all of our students and school administration, faculty and staff. Congratulations to those who have reached milestones in their education: graduates of 8th grade and high school, college, and the completion of graduate degrees.
With God's help you have persevered in realizing these significant accomplishments, and I pray you will continue to be guided in your next endeavors with a living faith. I commend our school leaders and teachers for the dedication and expertise by which you seek to form our youth. I thank you for regarding our students as holy persons who need and desire your best example and encouragement to grow intellectually, spiritually, and as mature and responsible men and women.
Parents are the first educators and primary teachers of their children. Bringing children into the world and nurturing and teaching them is one of the essential purposes of marriage. The Church also has a vital role in the work of educating children. must assist and guide parents in this primary responsibility. I am grateful for the dedication of many of our parishes with schools and for the constant and significant support they provide for this important work. Many of our other parishes also fulfill pledges of financial support for these schools. They commit large portions of their parish income to prosper the program of Catholic education. They are parishes with the same bills and worries as other parishes. Alongside the parents, who make great sacrifices to keep their children in Catholic schools, these parishes accept heroic commitments to keep our schools going strong. I know it isn't easy. I thank the pastors and contributing parishioners.
I cannot stress strongly enough how the endeavor of Catholic education and the support of parents in the formation of youth is essential to the work of the Church. Without Catholic schools the work of the Church would certainly fall short of fulfilling her mission of evangelization and catechesis. Statistics make clear that students who attend our schools are more likely to be actively engaged in the life of their parishes as adults.
In the last few years we have conducted several studies concerning the mission and work of our schools. We have developed a sound strategic plan for Catholic schools. Recognizing and building on our strengths, we have deepened our commitment to Catholic identity, to academic excellence and the financial stability of all our schools. We have established the Bright Futures Fund to help our Strong City Schools in the urban core, and in the near future, we want to begin offering "Honoring Family Scholarships" to assist multi-child families with students in our Diocesan High Schools. Just recently I have written here about a consultative feasibility study to look at future needs throughout our Diocese, with a strong emphasis on our programs for schools, and the possibility of a new Diocesan Catholic High School. All our parishioners are invited to participate in the on-line SURVEY available on the Diocesan website: www.diocese-kcsj.org.
In addition to completing the SURVEY, I hope you will pray and lend support in every way to the mission of Catholic education in the Diocese of Kansas City-St. Joseph. We will need everyone's generous cooperation to secure a strong future for our schools.
Congratulations to all our graduates! Thanks and best wishes to all those who work in and support our schools. May you enjoy some rest and recreation this summer.