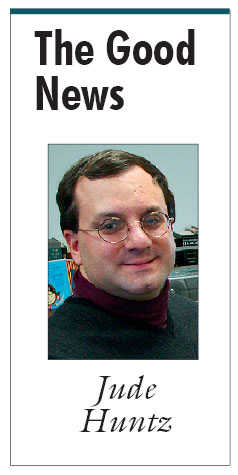 Even in the best of times doubt afflicts the believer. Faith, like all the other virtues, is tested by the struggles and sufferings of life. Courage cannot be tested unless a situation develops where bravery is called for. Temperance exists only in the life of the person who has struggled with their appetites in the various circumstances of life. Faith, too, can only take place when the storms of doubt surround the person and the virtue is required of us. In the life of the Church we find no shortage of tests to our faith, especially here in the diocese of Kansas City-St. Joseph. Scandal cannot but test the faith of every believer, and the readings today provide us with the opportunity to examine our faith in the midst of these trying times.
In the Gospel text we read that the disciples were astonished upon seeing Jesus for the first time after his resurrection. They simultaneously worshipped and doubted, a great consolation for us in these times. Worship does not require perfect faith in order for our act of worship to be efficacious. The disciples doubted because all of their expectations of the Messiah were completely wrong: Jesus was not a political messiah sent to restore the nation of Israel to power and influence. Yet, their object of worship is correct – the Lord Jesus. As long as we fix our attention on Jesus and appropriate his values to our own we will then be freed from our idolatry to power and false images of discipleship.
The first reading provides us with yet another scene where the disciples' attention is focused wrongly. After Jesus ascends into heaven they stand looking at the sky, a posture that receives rebuke from two men dressed in white. Why? Our attention should not be focused on Jesus in heaven, but rather in Jesus among us. We have the promise that Jesus will return and so we have no need to stare at the sky looking for Jesus to be as he was on earth. Jesus calls us to be his presence in the world today, and so our worship is not an end in itself but rather a means to become Christ for others.
This very mission of the Church is precisely the point of Paul's letter to the Ephesians in the second reading. Paul encourages us to know the hope that belongs to the call of Christ we have received. Further on we read that we are the body of Christ and we have received all that he has received from the Father. This identity and mission carries with it an awesome responsibility before the world. Can we say that we have lived as Christ has lived, loved as he loved, served as he served? Our failures in this mission both as individuals and as the collective institution of the Church require us to seek God's forgiveness, to atone for our sins, to resolve to never more offend the living God, and to do penance for these sins.
In the early days of the Church reconciliation was a public event. The penitent stood before the people of God to accuse himself of sin and to be restored to the people of God by the people of God. While we now celebrate this sacrament in a private manner in our own day, it is perhaps necessary in some way for us to celebrate this sacrament publicly when our sins are public and affect the whole body of Christ. The point of such a celebration is not to create a publicity stunt or even to shame sinners. It is rather to experience the catharsis and metanoia of the action of reconciliation. It is also to hold ourselves accountable to one another and to the world – to set an example for others that we intend to live as Christ's disciples and to restore what has been broken.
As we celebrate the ascension of Christ in glory, may we seek to follow the Lord Jesus by walking in his teaching and example. We pray: "Father, send the gift of peace into our hearts. You know our efforts to follow the trail that Jesus has blazed before us. Forgive our weakness and infidelity, so that, reinvigorated by your Spirit of peace, we may resume our journey with greater courage until we reach the home where you wait for us. Amen." (Revelation of Love, by David Turoldo).
Jude Huntz is Director of the Human Rights Office for the Diocese of Kansas City – St. Joseph.
Daily Scripture Readings
For complete daily Scripture texts, click here.
Monday, June 6
Acts 19:1-8
Psalms 68:2-3ab, 4-5acd, 6-7ab
John 16:29-33
Tuesday, June 7
Acts 20:17-27
Psalms 68:10-11, 20-21
John 17:1-11a
Wednesday, June 8
Acts 20:28-38
Psalms 68:29-30, 33-35a, 35bc-36ab
John 17:11b-19
Thursday, June 9
Acts 22:30; 23:6-11
Psalms 16:1-2a and 5, 7-8, 9-10, 11
John 17:20-26
Friday, June 10
Acts 25:13b-21
Psalms 103:1-2, 11-12, 19-20ab
John 21:15-19
Saturday, June 11
Acts 11:21b-26; 12:1-3
Psalms 98:1, 2-3ab, 3cd-4, 5-6
John 21:20-25
Pentecost Sunday, June 12
Acts 2:1-11
Psalms 104:1, 24, 29-30, 31, 34
1 Corinthians 12:3b-7, 12-13
John 20:19-23
Monday, June 13
2 Corinthians 6:1-10
Psalms 98:1, 2b, 3ab, 3cd-4
Matthew 5:38-42
Tuesday June 14
2 Corinthians 8:1-9
Psalms 146:2, 5-6ab, 6c- 7, 8-9a
Matthew 5:38-42
Wednesday, June 15
2 Corinthians 9:6-11
Psalms 112:1bc-2, 3-4, 9
Matthew 6:1-6, 16-18
Thursday, June 16
2 Corinthians 1:1-11
Psalms 111:1b-2, 3-4, 7-8
Matthew 6:7-15
Friday, June 17
2 Corinthians 11:18, 21-30
Psalms 34:2-3, 4-5, 6-7
Matthew 6:19-23
Saturday, June 18
2 Corinthians 12:1-10
Psalms 34:8-9, 10-11, 12-13
Matthew 6:24-34
Solemnity of the Most Holy Trinity, Sunday, June 19
Exodus 34:4b-6, 8-9
Daniel 3:52, 53, 54, 55, 56
2 Corinthians 13:11-13
John 3:16-18
The full text of the Scripture readings for this week and next week can be found here:
Click on the "Readings" tab at the top of the page.
END