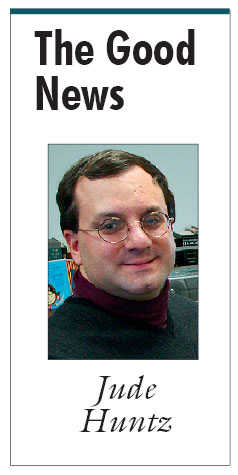 Having young children can often be a great tonic that soothes the wounds inflicted upon us in the world of grown-ups. Young children often make the same mistakes over and over again, and each time they come to us begging forgiveness and promising to do better in the future. We know they mean what they say, and we also know that they will fail again and the scene of begging forgiveness will once more be played out on the stage of our living rooms. The same is true for us adults in our relationship with God. How often have we entered the confessional promising God to do better, only to find ourselves back in the sin bin a few weeks later confessing the same failures. The readings today for Trinity Sunday help us to maintain this perspective we know so well from our own human experience.
In the first reading we find Moses with God in the great theophany on Mount Sinai. God led his people to this place in order to establish the covenant with them. We must remember that prior to this day, the Israelites had been wandering in the desert continually offending God. They longed to return to Egypt and slavery because the desert was a hardship. They continually grumbled against God for their plight. Even at the moment of receiving the covenant they fashioned for themselves a false god to worship. How right was Moses in saying that this is a stiff-necked people, and yet he once again pleads for pardon from God, and God remembers his love and forgives his people once again.
Why does God continually forgive his people? The Hebrew word for love used in the Exodus account here denotes a marital love, an unbreakable bond that exists between two persons. Such a love exists among the persons of the Trinity, and it is this love that God brings to the relationship to which he invites every single person. This love is also the love to which we are called to exemplify in our relations with other people, as Paul notes in the second reading. Paul encourages the people of Corinth to live in harmony and peace, and if we do so the God of love and peace will be with us. Paul uses the word "agape" to denote love in this passage, the Greek term used by Christians to denote the Hebrew notion of love – the love to which we are called in our lives.
We also discover the term "agape" in the Gospel text when Jesus tells Nicodemus about the love God has for the world to such an extent that he sent his only Son not to condemn the world, but rather so that the world might be saved through belief in him. For John, faith is always a verb – to believe means to do the works of Jesus on earth, and so the followers of Jesus are called to live this radical love in every circumstance of life and to every person we meet. Nicodemus comes to realize this love only when he sees Jesus die upon the cross, the ultimate act of radical love.
We saw earlier that the people of Israel were a stiff-necked people. Paul encourages his audience to mend their ways. John records Jesus admonition that unbelief, i.e. failure to love, leads to condemnation. We are well aware of our sins – both our individual sins and our collective sins as the institution of the Church. We have promised to do many things, and we have failed to live up to those promises. We have a responsibility to acknowledge those failures and to accept the human consequences that result from them.
At the same time we once again entrust ourselves to the Triune God who provides us with an example to follow as we look to mend our ways and to live as Jesus himself did while on earth. As Pope John Paul II stated in his first visit to the United States, "Jesus gives us his peace accompanied by his justice. He is peace and justice. He becomes our peace and justice. We are bearers of the peace and justice of God! We are not builders of a peace and justice that are merely human, always wearing out and always fragile. We are primarily the humble beneficiaries of the very life of God, who is justice and peace in the bond of charity. God's justice and peace cry out to bear fruit in human works of justice and peace, in all spheres of actual life." (Homily in New York City, October 1979)
We therefore pray to be God's justice, peace, and charity in the world: "God of love and mercy, you call us to be your people, you gift us with your abundant grace. Make us a holy people, radiating the fullness of your love. Form into us a community, a people who care, expressing your compassion. Remind us day after day of our baptismal call to serve, with joy and courage. Teach us how to grow in wisdom and grace and joy in your presence. Through Jesus and in your Spirit, we make this prayer. Amen. " (USCCB Prayer for the Third Millennium)
Jude Huntz is Director of the Human Rights Office for the Diocese of Kansas City – St. Joseph.
Daily Scripture Readings
For complete daily Scripture texts, click here.
Monday, June 20
Genesis 12:1-9
Psalms 33:12-13, 18-19, 20 and 22
Matthew 7:1-5
Tuesday, June 21
Genesis 13:2, 5-18
Psalms 15:2-3a, 3bc-4ab, 5
Matthew 7:6, 12-14
Wednesday, June 22
Genesis 15:1-12, 17-18
Psalms 105:1-2, 3-4, 6-7, 8-9
Matthew 7:15-20
Thursday, June 23
Genesis 16:1-12, 15-16
or 16:6b-12, 15-16
Psalms 106:1b-2, 3-4a, 4b-5
Matthew 7:21-29
Friday, June 24
Isaiah 49:1-6
Psalms 139:1b-3, 13-14ab, 14c-15
Acts 13:22-26
Luke 1:57-66, 80
Saturday, June 25
Genesis 18:1-15
Luke 1:46-47, 48-49, 50 and 53, 54-55
Matthew 8:5-17
Solemnity of the Most Holy Body and Blood of Christ, Sunday, June 26
Deuteronomy 8:2-3, 14b-16a
Psalms 147:12-13, 14-15, 19-20
1 Corinthians 10:16-17
John 6:51-58
Monday, June 27
Genesis 18:16-33
Psalms103:1b-2, 3-4, 8-9, 10-11
Matthew 8:18-22
Tuesday June 28
Genesis 19:15-29
Psalms 26:2-3, 9-10, 11-12
Matthew 8:23-27
Wednesday, June 29
Acts 12:1-11
Psalms 34:2-3, 4-5, 6-7, 8-9
2 Timothy 4:6-8, 17-18
Matthew 16:13-19
Thursday, June 30
Genesis 22:1b-19
Psalms 115:1-2, 3-4, 5-6, 8-9
Matthew 9:1-8
Friday, July 1
Deuteronomy 7:6-11
Psalms 103:1-2, 3-4, 6-7, 8, 10
1 John 4:7-16
Matthew 11:25-30
Saturday, July 2
Genesis 27:1-5, 15-29
Psalms 135:1b-2, 3-4, 5-6
Luke 2:41-51
Fourteenth Sunday of Ordinary Time, Sunday, July 3
Zechariah 9:9-10
Psalms 145:1-2, 8-9, 10-11, 13-14
Romans 8:9, 11-13
Matthew 11:25-30
The full text of the Scripture readings for this week and next week can be found here:
Click on the "Readings" tab at the top of the page.
END