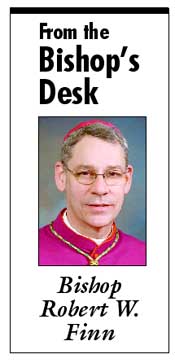 Following is Bishop Finn's homily given for Pentecost given at the Co-Cathedral of St. Joseph on June 11 and at the Cathedral of the Immaculate Conception on June 12:
Dear Friends,
After the death and resurrection of Jesus Christ, the disciples remained uncertain and fearful about the meaning of these greatest mysteries of salvation. The Risen Jesus appeared Easter night to the apostles. There they were gathered; still huddled in the Upper Room. Jesus' message was of Peace, (Jn 20:19) but they did not yet experience peace.
Pentecost marks the completion of the 50 days of Easter. The latter part of these Easter days have not remained so joyful for us. I am well aware of what Catholics and others within our communities have had to read about in the media. These are serious realities. Once again, as bishop I take full responsibility and express again my sorrow for these events. Our faith tells us that the risen Jesus Christ is in our midst, but we are not yet at peace.
Last week we celebrated the Ascension of the Lord, and the Gospel similarly pointed to the truth that though Jesus, risen from the dead, had lived among his followers for 40 days, they did not fully experience the glory that Jesus would have at the right hand of the heavenly Father. The Gospel of the Ascension says that when Christ was ready to ascend to heaven, there was something curious: "They worshiped but they doubted." (Mt 28:17) They wanted to believe. They wanted to rejoice in Jesus' victory over sin, sickness and death, but their doubts remained. Someone asked Jesus, "Lord, will you immediately restore the Kingdom?" (Acts 1:6) They seemed to think that right now things would get better. Though the foundation was laid by Jesus – the foundation for our salvation in His dying and rising – the fruit of this most extraordinary gift was not going to be realized right away. Instead Jesus told them to watch and pray. He promised to send the Holy Spirit. When I send the Holy Spirit, "you will receive power, and you will be my witnesses," (Acts 1:8) to the end of the world.
Watch and pray. Last week I sent a message to our Diocese. There I tried my best to acknowledge the failures and sins that have caused so much hurt these weeks. I also wanted to remind us all – lest we lose our vision and our hope – that the work of the Church is grace-filled; it continues in the tremendous efforts of your good pastors and parishes, and also in the Diocese as a whole. Even though many are hurting and in fear, you nonetheless reach out in generosity every day to people in need in our community – for example, in the support of those just a few hours from here, who lost loved ones and property in devastating storms. These days include many wonderful celebrations – First Communions and Confirmations, graduations and anniversaries. These continue and we mustn't forget that God can give us joy even in darkest times.
In my message, I also asked everyone in the diocese to pray – from the Ascension until this weekend, at Pentecost : for the outpouring of the Gifts of the Holy Spirit upon the Church, on our diocese, on our families and communities, upon each heart watching and waiting for understanding and peace. The Gift of the Holy Spirit changed the early Church. Pentecost and the outpouring of the Spirit was the decisive moment for the apostles. It defined the Church. It was at that moment – not even at the Resurrection itself or the Ascension – that the peoples' fears were relieved. In Pentecost they were renewed with the full love of the Risen Jesus – such that they could go forth and proclaim Good News of salvation. And so we are praying, "Come Holy Spirit. Save us Oh Lord our God; Have mercy on us in these difficult days. Don't let these days of Easter end without granting us the gifts we need."
What gifts do we need?
Dear friends, all of us may have some idea of that. I will say to you now, I am content to allow God to give us anything and everything we need. God knows me and you through and through. He knows our needs. He loves us and knows our hearts – let us never doubt it – let not one of us ever doubt it despite the depths of our hurt or anger, our fear or uncertainty.
I do not believe that apostles fully knew or understood what the Gift of the Holy Spirit would mean for them – though Jesus gave them hints; but their hearts received Him on Pentecost, and they were made new, really for the first time. We also pray for that newness: "Come Holy Spirit, fill the hearts of the faithful; enkindle in us the fire of your love. Send forth your Spirit and we shall be (re)created; and you shall renew the very face of the earth."
I will tell you what I am praying for: I pray first for the outpouring of the Spirit of truth. This may be – yet – a somewhat painful Gift, the truth hurts at times. It can sting. But we need the Holy Spirit of truth. From a human standpoint, this is why I have set up our Plan (in 5 points) to begin an investigation which is objective. It is not the media. It is not carried out by our supporters or by our critics. It goes forward with what must be objectivity and integrity. Come Holy Spirit of truth! And on top of truth, please give us wisdom.
Second: at Pentecost, the disciples were still fearful. They could not understand what all was happening. When that wind and fire came upon them, God cast out their fears and gave them back their joy. I pray to the Holy Spirit that, by His miracle, He will help us separate and put aside any unwarranted fears; that He will give us a dose of Peace. Come Holy Spirit, cast out fear and anxiety.
The Third thing I have been thinking about: One of the Gifts of the Holy Spirit to the Church is unity. From the account of the Tower of Babel in the Old Testament, people had been divided. All too well do we know how our hurts and fears can divide us. Come, Spirit and bring us greater unity.
Concerning unity, at the Last Supper Jesus prayed, "Father I pray that they may all be one." Two thousand years later, sadly Christians remain divided, but Jesus' prayer is still alive and more important than ever, "Father may they all be one." (Jn 17:21) Parents pray for unity in their families. Pastors pray for the continuing resolution of difficulties in their parishes. I pray also that – despite the real and significant, the justified hurts that we experience that – in accord with Jesus' own prayer, we may be One; that we will somehow trust again. This is and must be God's work. It requires the openness of our hearts. It requires docility to the Holy Spirit. But we need to think and pray, "Come Holy Spirit, make us stronger than ever before."
These have been a few of my prayers. You have yours deep within your hearts. In the end you and I blend them all together and yield them completely to God's will. Our simple and powerful prayer is, "Come Holy Spirit Come. Come Holy Spirit of Love, Come."
I thank you friends for letting me be here with you today. There is much work ahead, but I am not afraid. Our God loves us. He still loves us. The Lamb of God came among us to take upon Himself the sins of the world. It is His Spirit who sustains in us lasting hope.
Mary, our Mother, is a protector of our diocese and of each of us. She is the Spouse of the Holy Spirit and I have also been asking her to beg the Spirit to grant us everything, a full measure of grace, mercy, and new life.
Mary, St. Joseph, St. John Francs Regis, all our patrons, intercede for us. Join us in our prayer, at Pentecost and always, "Come Holy Spirit." Amen.