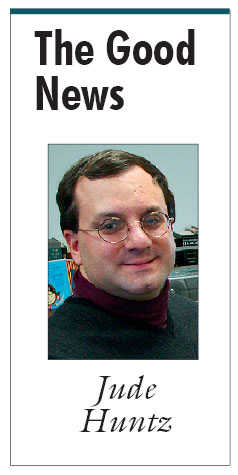 The ancient world clearly understood the connection between the human and divine. Even the pagan world saw human events intertwined within those of the divine. The Trojan War was seen in these terms by the ancient Greeks. The book of Genesis shows how the creation became disordered from the fall of our first parents. Even in more modern times the notion of human frailty causing natural ruin is not a foreign concept. In William Shakespeare's play "A Midsummer Night's Dream," the king and queen of the fairy world, Oberon and Titania, are engaged in a lover's spat, fighting over the rights to an orphaned child. As the argument progresses, Titania reminds her lover that the storms and plagues of the natural world are the result of their arguments. She concludes:
And on old Hiems' thin and icy crown
An odorous chaplet of sweet summer buds
Is, as in mockery, set: the spring, the summer,
The childing autumn, angry winter, change
Their wonted liveries, and the mazed world,
By their increase, now knows not which is which:
And this same progeny of evils comes
From our debate, from our dissension;
We are their parents and original. (Act II, Scene 1)
These same sentiments occur in the biblical texts from today's readings. Paul's letter to the Romans clearly sees the whole created realm as being subject to futility, and that creation is waiting in painful expectation as it waits for the redemption of our bodies. That full redemption will not take place until the eschatological times of fulfillment that remain unknown to us. The sufferings we endure – whether they be physical, moral, spiritual, or mental – are the pains of childbearing as we bring forth the reign of God in our lives. The patience required to endure the pains of labor is the same virtue we need to bring forth works of justice and peace in our lives.
Isaiah the prophet also uses the image of creation to make the same point. The rain and snow have a natural purpose of watering the earth and bringing forth life for the earth. In the same way, God's work is never done in vain. The word of God goes forth to produce the fruits God wills for it. As with the rain and seeds of creation, we need to have patience with ourselves and others in seeing the effects of God's word among us. Our lives, individually and communally, seem to make little progress in the life of the spirit. We struggle with our weaknesses, fall again and again into sin, and continually make the same failures. Yet, we live with the hope that in continuing to follow the promptings of God in our lives we will overcome these failings and succeed in living a life of holiness.
The gospel text too teaches us this same lesson, again within the context of images from creation. The futility of growth amid the imperfect elements of creation is all too evident: growth cannot take place on rocky ground, shallow soil, or in the midst of thorns. Only in the rich soil disposed for growth can we find success in producing fruit. Yet, God continues to sow in areas where we might not think wise. The fact that the word of God fails in these areas is not the fault of God or his word, but rather in the imperfections of the soils that receive them. As cooperators in God's work of creation and redemption, we have the opportunity to make these imperfect soils a fitting place for God's word to take root and produce a great deal of fruit.
If the storms and groanings of creation are the result of human sin and failure, then it follows that only a life of radical holiness and justice will result in the full redemption of creation we all desire. Poor soil can be changed into good soil, and sinful human beings – both individual persons and the community of the Church – can be made into worthy vessels that are fit dwellings for God that bring forth the reign of God on earth. As we seek to follow our common vocation, we pray together with the Church: "Let us pray to be faithful to the light we have received, to the name we bear. Father, let the light of your truth guide us to your kingdom through a world filled with lights contrary to your own. Christian is the name and the gospel we glory in. May your love make us what you have called us to be. We ask this through Christ our Lord. Amen."
Jude Huntz is Director of the Human Rights Office for the Diocese of Kansas City – St. Joseph.
Daily Scripture Readings
For complete daily Scripture texts, click here.
Monday, July 11
Exodus 1:8-14, 22
Psalms 124:1b-3, 4-6, 7-8
Matthew 10:34-11:1
Tuesday, July 12
Exodus 2:1-15a
Psalms 69:3, 14, 30-31, 33-34
Matthew 11:20-24
Wednesday, July 13
Exodus 3:1-6, 9-12
Psalms 103:1b-2, 3-4, 6-7
Matthew 11:25-27
Thursday, July 14
Exodus 3:13-20
Psalms 105:1 and 5, 8-9, 24-25, 26-27
Matthew 11:28-30
Friday, July 15
Exodus 11:10—12:14
Psalms 116:12-13, 15 and 16bc, 17-18
Matthew 12:1-8
Saturday, July 16
Exodus 12:37-42
Psalms 136:1 and 23-24, 10-12, 13-15
Matthew 12:14-21
Sixteenth Sunday in Ordinary Time, July 17
Wisdom 12:13, 16-19
Psalms 86:5-6, 9-10, 15-16
Romans 8:26-27
Matthew 13:24-33
Monday, July 18
Exodus 14:5-18
Exodus 15:1bc-2, 3-4, 5-6
Matthew 12:38-42
Tuesday July 19
Exodus 14:21-15:1
Exodus 15:8-9, 10 and 12, 17
Matthew 12:46-50
Wednesday, July 20
Exodus 16:1-5, 9-15
Psalms 78:18-19, 23-24, 25-26, 27-28
Matthew 13:1-9
Thursday, July 21
Exodus 19:1-2, 9-11, 16-20b
Daniel 3:52, 53, 54, 55, 56
Matthew 13:10-17
Friday, July 22
Exodus 20:1-17
Psalms 19:8, 9, 10, 11
John 20:1-2, 11-18
Saturday, July 23
Exodus 24:3-8
Psalms 50:1b-2, 5-6, 14-15
Matthew 13:24-30
Seventeenth Sunday of Ordinary Time, Sunday, July 24
1 Kings 3:5, 7-12
Psalms 119:57, 72, 76-77, 127-128, 129-130
Romans 8:28-30
Matthew 13:44-52 or 13:44-46
The full text of the Scripture readings for this week and next week can be found here:
Click on the "Readings" tab at the top of the page.
END