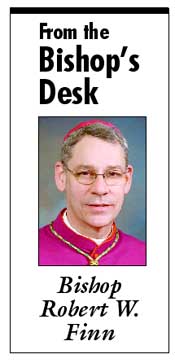 Recently I celebrated the last Confirmation of the season at the Cathedral with a group of adults from nearly twenty parishes throughout the Diocese. Over the last years the last confirmation event has come to represent for me the beginning of summer. As I write – on 4th of July – my thoughts are focused on three special prayer intentions as we move all too quickly toward mid-summer.
First: This past weekend marked a new beginning for a number of our parishes and priests. July 1 was the effective date for most of the new assignments; it meant a move for a number of the priests, and new faces at Mass and around the parish for thousands of the Faithful. These moments, with the changes they bring, are a mix of sadness and hope. We leave behind people and pastors who have given of themselves in faith and friendship. Although these associations will continue in some ways, it is difficult at times – for priests and parishioners alike – to say goodbye to folks who have shared some of the most momentous experiences of our lives. It is a challenge and also a joy to meet the persons with whom we will share our prayer and apostolate for the next years. In my prayers I have been aware of these times of change and I ask God to help them be blessed moments of new hope for all involved.
Second: Summer oftentimes means a change of schedule, especially for our students. While not every family will be able to go away for a vacation, I pray that many will at least have some additional opportunities to be together – either for an extended weekend, or perhaps a barbecue or trip to local sights. When I was growing up in St. Louis, we had cousins in Kansas City – (Gladstone) – and summer often meant either a trip west on I-70 in our station wagon, or a visit from the 'KC cousins.' I hope these months will provide an opportunity for some physical recreation, and some spiritual 're-creation' and renewal. In late July-early August I will get away for my annual summer course, a time of 'R&R' that I always look forward to.
Third: My third prayer intention is that the ongoing and intensive work on our Five-Point Plan will help us to not only heal a bit in regard to the hurts of the last two months, but that we will – with God's grace and mercy – make progress in our commitments to do better in living our plan, to provide a more failsafe program of protection for our families, children and young people. We pray fervently also, for all victims of abuse, for their families and all those affected by abuse. I must admit that this remains primary and constant in my thoughts and prayers. We have some good people in place to help us assess and make corrections. This work still needs everyone's prayers. Come Holy Spirit!
Dear friends, May you have a blessed and safe summer. Let us ask Mary and Joseph to help us strengthen and renew a holy house: in each of our hearts, in our families, our parishes, and our diocese. "Send forth Your Spirit, and we shall be (re)created, and You shall renew the face of the earth."
An upcoming event:
On Saturday, July 23, 2011, we will co-host a special day-long workshop "Being Faithful, Even Unto Death," discussing end of life. (more info and register at the St. Gianna's Physicians Guild info@stgiannasphysicians.org ) The gathering will be held at Savior of the World Pastoral Center in the Archdiocese of Kansas City in Kansas. Speakers will include Cardinal Raymond Burke, Gianna Emanuela Molla, M.D., youngest daughter of the Canonized Saint Gianna Molla, and other experts who will discuss the care of the dying from the aspect of law and medicine, and all within the context of the Church's moral law.
On Sunday, July 24, His Eminence Cardinal Burke will be main celebrant – with Archbishop Joseph Naumann and me, at the 9:00 a.m. Mass at the Cathedral of the Immaculate Conception. All are invited. A reception at the Catholic Center, 20 West 9th Street, with Cardinal Burke and Gianna Emanuela will follow the Cathedral Mass.