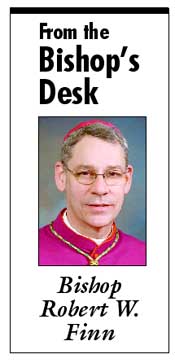 The steamy summer of 2011 is still going strong, but – ready or not – school is around the corner. For our parents and school children, for our pastors, teachers, school administrators and staff: I pray that these months have offered some needed rest and recuperation, some rejuvenating change of pace. I hope that you met God often in prayer and carried Him joyfully to others.
The work of our schools is vital to the mission of the Church because here our young people are formed in knowledge and human maturity, in physical health and grace-filled holiness, in a sacramental communion which keeps them alive in Jesus Christ and in the living organism of the Church, His Body.
Parents are entrusted with this responsibility to form full human persons in love and truth. Our Catholic Schools have the privilege of acting alongside of the parents to accomplish this goal. "Salvation in Jesus Christ," personally experienced in the life of our students, is the target of our efforts.
For this most worthy goal our parishes and our diocese: the faithful – young and old, with and without children – make significant sacrifices. We Catholics pay our taxes in support of public education, and at the same time give up comforts for the sake of acquiring for our children a comprehensive education enriching every dimension of their lives: physical, intellectual, communal, and spiritual. It isn't easy and it cannot happen without the material generosity, the prayers and support of our whole Catholic community.
To see this holy work fulfilled, so many teachers, most of them laity, many with families of their own, devote themselves to lesson plans and paperwork, to hours of listening, teaching, and evaluation. Our schools serve thousands of families of all races and cultures; tens of thousands of young people with a whole wide range of abilities. Our schools help children stay in school, reach their life goals, and achieve extraordinary academic success. For generations our schools have been successful, not because we spend more dollars per child, (Our per-pupil cost is barely 30% of our public school counterparts). We continue to do much more with much less because we have put the care of the child first.
School personnel share with the parents the pride and drive of a vocation to bring children up in love of knowledge and fidelity to God. Our Catholic schools have the blessing of being able to explicitly celebrate faith and to teach what it means to be fully and authentically human. We have the joy of daily prayer, public and private. Lessons include explicit discussions of the moral law and how we live it in response to God's love. The wisdom of two millennia of Church teaching is rightfully a part of the examination of literature, the sociology of family, nation, and global responsibility. Science in our schools is never diverted from the discoverable truth, but remains responsive to the ethics of the human stewardship of the world. What we ought to do is just as important as what we can do.
Because of this heritage of formation and the sense of service nurtured in our students, Catholic school graduates are often found in the leadership of business, the professions, and government. Catholics are rated among the most dependable and capable of employees.
I am very proud of our schools in the Diocese of Kansas City-St. Joseph. Our Bright Futures Fund initiatives are beginning to unfold. Within the next years we hope to press forward with a strong endowment and scholarship opportunities that will help families attend our schools. The Strong City School Fund (formerly Central City School Fund) remains a living example of how Catholic schools build and strengthen neighborhoods. The Bright Futures Fund, indeed all our Catholic Schools, are worthy investments for all who believe in this grace of Catholic school education and its essential place in the work of the Church.
As we begin the new school year in our parish schools of religion, our Catholic schools and education centers, may the Lord Jesus Christ bless our children, our families, teachers, staff, administrators, catechists, pastors, and all those who assist in evangelizing the world with the light of Christ's love and truth.