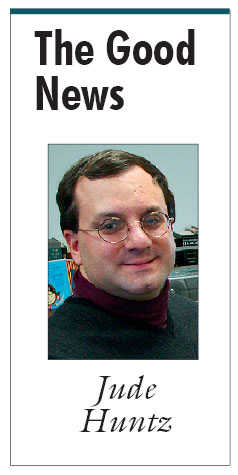 Many of us have had the experience of looking for something familiar to us: our car keys, shoes, a favorite coffee mug, or some other mundane item. After an exhaustive search through the entire house, we find them right in front of our eyes. They were there the entire time, and yet we could not see them. Why? Very often we already have a preconceived idea of where they were, and when the object isn't where we think it should be, we lose our focus and search in vain for the missing item. Discerning the will of God often follows the same pattern; happily, the readings can help us see what is really obvious.
The prophet Jeremiah provides an honest dialogue between Jeremiah and God. The prophet thinks at first that God has duped him into thinking falsely about the will of God for him and the nation of Israel. However, Jeremiah realizes that in reality he duped himself. We all expect to have success in the work God has called us to perform, and when our idea of success is not met, then we blame God. The truth is more difficult to accept: that we have provided ourselves with a false notion of success and our vocation. Jeremiah thought his preaching would convert Israel; that they would return to God and thus overcome their enemies. That outcome didn't happen, and yet God's will was present in that outcome as well as in Jeremiah's work. Fidelity to our vocation is the most important aspect of discerning God's will. Authentic discernment can only exist within a heart that is faithful to God's call.
Paul finds himself in a similar prophetic role. In the second reading we find Paul exhorting the church of Rome not to be conformed to this age, but instead to be renewed by the transformation of our minds. Only through such transformation can we then discern the will of God for us – what is good, pleasing and perfect. The Christian community in Rome faced the difficulty of practicing their faith in the very heart of the Roman Empire. Pressure was mounting for the Christians to acquiesce in accepting the growing cult of the emperor. Rejection of this cult led to loss of status and financial security. Later this rejection of the cult would lead to the loss of their lives, and yet again we find that fidelity is essential to discernment. Worship of one's nation, no matter what form that takes, is always the sin of idolatry and thus the most blatant example of infidelity.
The Gospel text provides us with the ultimate criteria for knowing the will of God. The mission of Jesus is to live and die for others. Peter cannot see this truth because he has already had his own understanding of what the Messiah of God should be. Like most Jews of his day, Peter saw the Messiah as a political leader who would overthrow Roman occupation and lead Israel back to its time of glory before the time of Jeremiah. Peter had conformed himself to his present age, not to the will of God. The mission of Jesus is our mission as well. The entire call of God for us is to imitate Jesus in his fidelity to God and thus live for the sake of others to the point of death.
In the early church martyrdom was the ideal to which the Christian aspired, for it meant imitating Jesus in his death as well as our lives. The modern age has affected the attitude of Christians. Instead of expecting martyrdom as the lot of Christians and not shrinking from it, we find ourselves complaining at the faintest slight against us. Finding acceptance in this world from Constantine to our own age has led us more often than not in conforming ourselves to the age rather than to the will of God and the example of Jesus. Yet in every age the Church has examples of those who did not seek such conformity to the age. We see in their lives the authentic imitation of Jesus that instilled within them the peace that enables us to overcome the hostilities of the world and, sadly enough, even from those within the Church.
As we seek to be faithful to the call of God and the example of Jesus, let us unite ourselves with the liturgy for today in having before our hearts the opening prayer for today. "Let us pray to God who forgives all who call upon him. Lord God of power and might, nothing is good which is against your will, and all is of value which comes from your hand. Place in our hearts a desire to please you and fill our minds with insight into love, so that every thought may grow in wisdom and all our efforts may be filled with your peace. We ask this through Christ our Lord. Amen."
Jude Huntz is Director of the Human Rights Office for the Diocese of Kansas City – St. Joseph.
Daily Scripture Readings
For complete daily Scripture texts, click here.
Monday, August 29
1 Thessalonians 4:13-18
Psalms 96:1 and 3, 4-5, 11-12, 13
Mark 6:17-29
Tuesday, August 30
1 Thessalonians 5:1-6, 9-11
Psalms 27:1, 4, 13-14
Luke 4:31-37
Wednesday, August 31
Colossians 1:1-8
Psalms 52:10, 11
Luke 4:38-44
Thursday, September 1
Colossians 1:9-14
Psalms 98:2-3ab, 3cd-4, 5-6
Luke 5:1-11
Friday, September 2
Colossians 1:15-20
Psalms 100:1b-2, 3, 4, 5
Luke 5:33-39
Saturday, September 3
Colossians 1:21-23
Psalms 54:3-4, 6 and 8
Luke 6:1-5
Twenty-Third Sunday in Ordinary Time, September 4
Ezekiel 33:7-9
Psalms 95:1-2, 6-7, 8-9
Romans 13:8-10
Matthew 18:15-20
Monday, September 5
Colossians 1:24:2:3
Psalms 62:6-7, 9
Luke 6:6-11
Tuesday September 6
Colossians 2:6-15
Psalms 145:1b-2, 8-9, 10-11
Luke 6:12-19
Wednesday, September 7
Colossians 3:1-11
Psalms 145:2-3, 10-11, 12-13ab
Luke 6:20-26
Feast of the Nativity of the Blessed Virgin Mary,
Thursday, September 8
Micah 5:1-4a or
Romans 8:28-30
Isaiah 13:6ab, 6c
Matthew 1:1-16, 18-23
or Matthew 1:18-23
Friday, September 9
1 Timothy 1:1-2, 12-14
Psalms 16:1b-2a and 5, 7-8, 11
Luke 6:39-42
Saturday, September 10
1 Timothy 1:15-17
Psalms 113:1b-2, 3-4, 5 and 6-7
Luke 6:43-49
Twenty-Fourth Sunday
of Ordinary Time, September 11
Sirach 27:30-28:7
Psalms 103:1-2, 3-4, 9-10, 11-12
Romans 14:7-9
Matthew 18:21-35
The full text of the Scripture readings for this week and next week can be found here:
Click on the "Readings" tab at the top of the page.
END