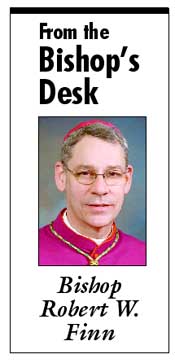 The Diocese of Kansas City-St. Joseph was represented last week at World Youth Day in Madrid, Spain. I wasn't able to attend, but a number of our young people traveled in parish groups. For these young people, "back to school" started with a personal lesson with the Church's #1 Teacher.
What is called World Youth Day is actually a multi-day event which is held usually every three years. Pope Benedict XVI has now participated, as Pope, in three such events. Large crowds – estimated this year at 1.5 million – of bright, enthusiastic (predominantly) young people from every continent once again greeted the Holy Father, who also met with separate groups of seminarians, university professors, and a select international group of young people for lunch and conversation. In addition to the climax of the Days, the celebration of Holy Mass on Sunday, the Pope heard confessions, and led a prayer vigil with Eucharistic adoration, shortened because of rain.
The theme of the 2011 World Youth Day was "Rooted and Built Up in Christ, and Firm in the Faith." (cf. Col 2:7) Pope Benedict talked about our strong foundation in the personal encounter and friendship with Jesus Christ. He said that the terms "rooted, built up and firm" all point to solid foundations on which we can construct our lives.
In the welcome ceremony the Holy Father was greeted by King Juan Carlos and Queen Sofia, other dignitaries, and Church officials. "I have come here to meet thousands of young people from all over the world, Catholics committed to Christ searching for the truth that will give real meaning to their existence. I come as the Successor of Peter, to confirm them all in the faith, with days of intense pastoral activity, proclaiming that Jesus Christ is the way, the truth and the life; … to exhort young people to know Christ personally as a friend and so, rooted in his person, to become faithful followers and valiant witnesses."
Again and again the Holy Father centered His message on this personal encounter and friendship with Christ. He said that, while we hear so many words in the course of our day, the words, "of Jesus … must reach our hearts, take root and bloom there all our lives. "
This message addressed to young people is, of course, for us all. If we are sixteen, or sixty, or ninety-six, Jesus' Word may be received into our hearts. It is a saving Word that can change us – slowly, or sometimes overnight.
The reason it is so powerful is because, according to Pope Benedict, "the Master who speaks teaches, not something learned from others, but that which He himself is." Christ alone, "truly knows the path of man towards God, because He is the one who opened it up for us." He is the Way, and He set this path out for us, "so that we might have authentic lives, lives which are always worth living, in every circumstance, and which not even death can destroy."
The Pope urged the young people, to "use these days to know Christ better." Jesus alone can give us fullness of life. "Let that life grow with divine grace, generously … and "remain steadfast in your aim for holiness."
You can find the texts of The Holy Father's homilies and messages at the Vatican website and many other places. They are good meditation for prayer. The enthusiasm of these "Days," is truly inspiring for all of us who look in hope for the tell tale signs of the Springtime of the New Evangelization.
For those of us who aren't able to participate halfway around the globe, the good news is that Our Lord Jesus Christ is waiting for each of us, even now. May we let His love and His peace take deep root in our heart. May His Word change and renew us as we seek to live more and more for Him, and in accord with His example of self-giving love.
And let us ask Mary, Star of the New Evangelization, to keep our young people and all of us on a safe and true path to Him.
The next WYD is scheduled for Rio de Janeiro, Brazil, in 2013 (a year early to avoid a conflict with the World Cup).