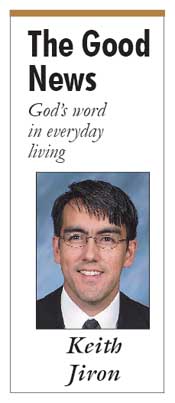 My third son is at the age when everything (almost everything) he does and says is extra cute due to the inflection of his voice and two-year-old charm. It is that wonderful age where he is under the impression that I can fix everything. For the most part, I have managed to keep up this illusion since most things, such as minor injuries or broken toys, are easily mended with a kiss, patience, or superglue. The other day he accidentally tore the piece of paper that came with his fortune cookie. Amidst the tears streaming down his face, he looked across the table and cried, "Daddy pix it?" Feeling the pressure, at first I thought I was going to have to disappoint. But, recalling a scene from "It's a Wonderful Life," in which George Bailey fixes Zuzu's flower by stuffing the broken petals into his pocket, I had an idea. I turned around, took some scissors and simply shortened the piece of paper by cutting off the torn end. Luckily, he didn't even notice and I was able to keep my superhero-like status and help him to stop crying.
Repairing rifts between my five and seven-year-old is another story. Even though everyone tells me that their fighting is "normal," I am still learning to walk the fine line between letting them work things out themselves and preemptively micromanaging their every move in futile attempts to keep peace between them. I am convinced that this is retribution for all the heartache that I caused my own father. My children sometimes remind me of the man in Sunday's Gospel. "He seized him and started to choke him, demanding, 'Pay back what you owe.'" One of the benefits of fatherhood is that the scriptures speak to me in ways I had never before imagined.
As adults we, too, can be like that man in the Gospel. Years ago, I almost lost one of my best friends over something rather trivial, in retrospect. At the time, however, it hurt deeply. Never having experienced anything like it, I was struck by my inability to make reparation. I keenly felt the pain of the loss of a long-time friend, but there was something in my heart that seemed to prefer resentment as opposed to reconciliation. The words from Sunday's first reading relate well my situation at the time. "Could anyone nourish anger against another and expect healing from the LORD?" It is truly a mystery how we sometimes prefer to remain in our misery. The Second Vatican Council's Document, Gaudium et Spes (37), puts it well. "Finding himself in the midst of the battlefield man has to struggle to do what is right, and it is at great cost to himself…"
The Gospel message is one of forgiveness. When Peter asks how often we are supposed to forgive our neighbor, Jesus responds, "I say to you, not seven times, but seventy-seven times." It is inspiring to see how quickly my children absolve one another. For adults, however, the path can be a rocky one.
Because of our fallen nature, many times we are slow in assenting to the good that we know we ought to do. (CCC 405) In one of his homilies, St. John Chrysostom says that as soon as we contract a physical malady, we leave no stone unturned until we are free of its defects. On the other hand, however, when the sickness affects our souls, we respond with vacillation and delay.
A couple of years went by before I was able to reach out to my friend and thereby resume our friendship. I attribute this to divine intervention, to the persistent beckoning of a Father who softened my heart over time.
Scripture tells us that all things are possible with God. Healing can feel painful at first, but the freedom experienced as a result is liberating. Only the Divine Surgeon can get to the roots of our brokenness when we encounter Him in prayer. St. Augustine describes it this way. "Even the operating room of a surgeon shows no trace of blood until he starts to work on the patient. Go, then, to this physician, for now is the time to be healed."
I am continually inspired to deeper love for my children. I won't always be able to superglue what is broken. It is comforting to know that they have a Heavenly Father who has an infinite desire to unite them to Himself eternally, where there will be no more need for fixing.
Keith Jiron, former director of the Vocations Office for the Diocese of Kansas City – St. Joseph, is RCIA Coordinator at St. Michael the Archangel Parish in Leawood.
Daily Scripture Readings
For complete daily Scripture texts, click here.
Monday, September 12
1 Timothy 2:1-8
Psalms 28:2, 7, 8-9
Luke 7:1-10
Tuesday, September 13
1 Timothy 3:1-13
Psalms 101:1b-2ab, 2cd-3ab, 5, 6
Luke 7:11-17
Feast of the Exaltation of the Holy Cross, Wednesday, September 14
Numbers 21:4b-9
Psalms 78:1bc-2, 34-35, 36-37, 38
Philippians 2:6-11
John 3:13-17
Thursday, September 15
1 Timothy 4:12-16
Psalms 111:7-8, 9, 10
John 19:25-27 or
Luke 2:33-35
Friday, September 16
1 Timothy 6:2c-12
Psalms 49:6-7, 8-10, 17-18, 19-20
Luke 8:1-3
Saturday, September 17
1 Timothy 6:13-16
Psalms 100:1b-2, 3, 4, 5
Luke 8:4-15
Twenty-Fifth Sunday in Ordinary Time, September 18
Isaiah 55:6-9
Psalms 145:2-3, 8-9, 17-18
Philippians 1:20c-24, 27a
Matthew 20:1-16a
The full text of the Scripture readings for this week and next week can be found here: www.nccbuscc.org
Click on the "Readings" tab at the top of the page.<P>