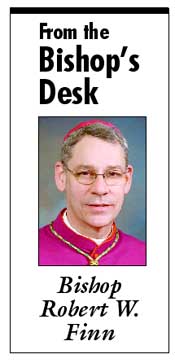 Following is Kansas City – St. Joseph Bishop Robert W. Finn's address to participants at a Sept. 22 banquet benefitting the Wyandotte Pregnancy Clinic:
I am honored this evening to be with you and to have an opportunity to address a few words to you – mainly words of gratitude and admiration – in support of the Wyandotte Pregnancy Clinic. So many here have been involved for a whole generation in the work of supporting human life.
We have attended Marches and prayerful vigils. We have been part of so many initiatives to teach the truth. The Rachel healing ministries have embraced the devastating hurt: physical, emotional, and spiritual, of so many surviving victims of abortion.
Archbishop Naumann and I recently attended the meeting of the Bishops Pro-Life Committee. We were briefed on important legislative initiatives that would extend the costs of contraception and abortion in medical insurance plans to us all, and seriously endanger conscience protections and the free exercise of our religious convictions.
You and I continue to come together in prayer: for reparation and healing, for change of hearts and minds, for the moral integrity of elected officials and ourselves as faithful citizens. We will continue to do these works with God's help. We know that in His determination to choose the weak to shame the strong, He will use us to preserve lives. May He crown all our efforts with a force of love which cannot be conquered and help us always to remember that life will be victorious.
I have a moment to share my thoughts on the specific and precious work for life that we hold up this evening.
It has been more than a year ago that I first visited the Wyandotte Pregnancy Clinic and saw the warm and hospitable place that serves women, welcomes them with dignity and joy, gently offers them guidance and support, and whenever possible introduces them to their babies.
This last reality – the conscious coming together of a mother and child, who have already, for some months, been sharing each other's lives – is one of the most profound acts that takes place at Wyandotte. The ultrasound has proven power to change hearts and lives. Now the mobile unit will extend this wonderful blessing to more people who seek our help.
The ultrasound not only uncovers the miracle of human life; it also makes possible in a new way a coming together of two persons who need each other. This is the miracle of human love in what is perhaps its most primordial form: Mother and Child. The relationship that begins here transcends human planning. When we begin to see the life growing in the womb, we are pointed toward God who has here blessed and gifted a human encounter with grace, hope, and a connection that can never be fully severed.
As I reflected about what brings the women to the door of the Wyandotte Clinic, in addition to God's grace, I thought that, more often than not they come with a mixture of sorrow and joy. The sorrowful side may be experienced as uncertainty, fear, and loneliness. But there is also something good and natural that leaves room for hope. Life is there and the mother knows she will never be the same.
The intuitive sense of something great has caused the woman to search for answers. There may be people around her who are attempting to direct her one way or the other. Or she may feel totally alone with a secret she has to resolve in some way. We know too well that in our culture there is the temptation to seek a "quick fix," and to end the ache and pain.
But our Catholic Christian faith teaches us that sorrow and joy can and do live together. Though one may be more pronounced at any given moment, the human struggle redeemed by Jesus Christ, is this constant dynamic and interchange between suffering and redemption.
Think for a moment of the rosary and the Gospel mysteries that it presents. The poverty of the Christ Child in the Manger is answered with the announcement of angels, shepherds, and the Kings. Later, Mary will receive the message of Simeon and Anna at the Presentation of the Child in the Temple: 'This Son of yours is destined for greatness, but … a sword shall pierce your own heart.' The path of the Cross and Jesus' death gives way to Easter Sunday. There is love and power in each mystery. We experience the commingling of trial and redemption, of petition and saving help, all under the one same banner of the Gospel.
I see the beauty of Wyandotte Clinic precisely because here you hold all these rich realities, sorrow and joy, in such respect. In the mystery of life and love, there are not often "quick solutions." Rather, each of a person's sorrows is acknowledged and reverenced. The hurts will not just go away, and yet at the same time, Wyandotte offers hope. Authentic hope is built on truth. False hope – that solution promised by abortion – takes away one perceived problem, but leaves the surviving mother (and many others) in a swirl of confusion and regret. Instead, at the Wyandotte Clinic the healing arts are generously at the service of the miracle of human life: in the child, and in the heart of the mother and family entrusted with a new gift of life. Wyandotte Clinic cares for the full truth of the human experience redeemed in God's love.
I mentioned that just last week I had attended a meeting of the Bishop's Committee on Pro-Life Activities in Washington, D.C. One of the reports we received at that meeting was about the promulgation of a new little booklet which the body of bishops approved at the June meeting just a few months ago. This document is not about abortion, but rather it treats circumstances at the other end of human life, and in particular it addresses the growing danger of Physician-Assisted Suicide. The booklet is called "To Live Each Day with Dignity."
It offers the witness of truth and the perspective of Faith to its readers as we accompany our brothers and sisters who may be experiencing great human suffering and the prospect of death.
The same fundamental beliefs we have about the inviolable value and beauty of human life apply to every moment from its first beginning until its natural conclusion. There are many insightful points of meditation for us in this brief teaching document and I recommend it to everyone. I want to mention just one portion of "To Live Each Day with Dignity," that I think has an extraordinary parallel in the work of the Wyandotte Pregnancy Clinic.
Physician-assisted suicide, we know, is sought because of the depression and despair that can accompany human suffering. The real crisis which prompts assisted suicide is not just the crippling pain of disease or the diagnosis of terminal illness in a person's life, but the fear, loneliness, and subsequent despair that arise at a certain time in the course of these experiences. It is an ache in the heart that seems unbearable and makes us vulnerable to desperate measures.
One of the profound elements of the apostolate of the Wyandotte Pregnancy Clinic is not just the good medical evaluation the clients receive; not just the amazing proof of another living person revealed by the sonogram images. What Wyandotte does from the first moment on is to accompany its clients – its sisters and brothers in the Lord. The message is: we are with you today and tomorrow.
The solutions which our new document To Live Each Day with Dignity proposes to the crisis at life's end might include changes or safeguards in legislation to make sure medicine is used to cure and help rather than destroy. Another part of the life-giving help for patients could be better palliative care which addresses pain more effectively. But the ultimate "cure" for doctor-assisted suicide is human love; support in friendship and just being there with the person who is otherwise suffering alone, not knowing what might happen next.
Toward the end of To Live Each Day with Dignity we read, "Our society should embrace what Pope John Paul II called 'the way of love and true mercy' – a readiness to surround patients with love, support, and companionship, providing the assistance needed to ease their physical, emotional, and spiritual suffering. This approach must be anchored in unconditional respect for their human dignity, beginning with respect for the inherent value of their lives."
Pregnancy is not a sickness, of course, but the 'cure' for the crisis of an unexpected pregnancy, or one that is unwanted, is first and foremost human love, support in friendship, and just being there with the person who feels alone and afraid; who doesn't know what will happen next.
As I went through Wyandotte, I saw how fear and sorrow could be turned to joy and hope. Here was a living room where questions could be asked and answered, and a chat could comfortably begin. Here was a kitchen where people could share a mug of soup; now a classroom to learn from mentors how a new mom must become a good parent. A room full of necessities and diapers and clothes means you can give your child some of the little things you would like them to have. Photos on the walls told the stories of parents and babies that had not just passed through, but have prospered and returned as lasting friends.
Of the many wonderful things we do to value and defend life, this grace of human support and accompaniment is certainly one of the best I have seen: see how they love one another. The love at Wyandotte Pregnancy Clinic is both good science and good friendship. Good science helps us know and understand the truth. It doesn't pretend that a 'quick fix' can relieve us of our challenges and responsibilities; Good science doesn't lie about the mystery of the human person growing within the womb. Good friendship says, "You can bring your sorrows here. It's OK to feel afraid. And when the time has come and life arrives, you will have someone to celebrate your miracle with, and the tools and support you need to go forward."
We are here tonight because we are proud of the work of the Wyandotte Clinic; we are thankful for all you have accomplished to preserve and prosper the special connection between Mothers, Fathers, and their sons and daughters. I pray that the generosity, participation, and prayers of many friends and benefactors will assure that this home – and many more like it, because the need is real and the numbers are great – will prosper as a testimony to our deep faith and an apostolate which keeps parents and their children together before God.
Mary, Mother of Life and our Mother, make this work in support of life ever more loving and successful. May everything we do make us more worthy of Jesus who came to us in our sorrows and joys, and asked us to share with others His unending mercy and love.
Congratulations to all the staff, volunteers, and benefactors who carry this work forward. Thank you for the outstanding work of Wyandotte Pregnancy Clinic.