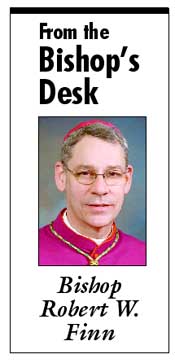 Following is Bishop Robert W. Finn's homily given at Mass on October 16 at the Cathedral of the Immaculate Conception:
"We give thanks to God always for all of you, remembering you in our prayers, unceasingly calling to mind your works of faith and labor of love and endurance in hope of our Lord Jesus Christ." (from the Second Reading, I Thes 1:2-3)
Dear brother priests and deacons, Dear Religious, Friends all in Christ,
I make these words of St. Paul my own as I give thanks for you, for your presence at this Sunday Mass, for your deep faith, for the generous labors of love that have been and remain the hallmark of this Catholic Diocese of Kansas City-St. Joseph. For nearly 150 years the Church in Northwest Missouri has served God's people. We will never stop doing so, and the reason is our faith in Jesus Christ, our dedication to the apostolic mission of His Church, and our love for His people.
When things were unfolding on Friday, I knew I wanted to be with you; to come and celebrate this Holy Sacrifice which is the font and source of our strength; which is the summit and highest expression of our praise. There is not so much that I can say – I know you understand – but it is everything to be with you whom I love. I was assigned here to be bishop; it is my labor of love and my greatest privilege. God called me first to be a priest, unworthy as I am. What a joy it is for me to offer the Holy Sacrifice with you and on your behalf.
We all know well this Gospel we have heard: Render to Caesar what is his; and to God what is God's. Our lives are respectful to both laws; laws of the earth and the Supreme Law of heaven. Tonight we want to give God the praise which is His due. We want to come and entrust ourselves to His care. He is rich in kindness and looks after His people. How we need the assurance of His grace and help in such challenging days. And as we offer the Holy Sacrifice we offer ourselves; we unite our sufferings with those of Jesus Christ – the One pure and holy offering – so that He can take us before the Father, the seat of mercy.
The Old Testament Prophet Isaiah tells us of the mysterious plan of God. The Exile was coming to a conclusion, and God used King Cyrus of Persia to restore Jerusalem and to bring back His chosen people. Cyrus did not know this God, but still the Lord used Him to accomplish something for His beloved people. This is a testimony to Providence; that God takes all the circumstances of our lives and can bring about His own good purpose. In giving ourselves in this Mass we say to God, "Whatever your will is for us, we commend ourselves to you. Strengthen and preserve your holy people, and it will be enough for us."
Every parent looks for and works for the unity of his family. This is an important part of my prayer tonight as a spiritual father. Keep us together as a family, as a diocese, as a local Church. Help us so that we will not give in to discouragement. Too many people count on the wonderful works of the Church. We must be more determined than ever to preach the truth of the Gospel, to safeguard the sanctity of every human person; to protect children; to care for the poor; to support marriage and family; to further the mission of Catholic education and our schools. What renewal we have seen in catechesis; in the work of evangelization among our youth; in the gatherings of our young adults. We know that we live in a world with many challenges and we stand by our brothers and sisters caring for so many daily needs, feeding them spiritually as well as physically, and sharing their burdens. The blessed work of our parishes is the constant care of God's people. Our pastors pour out their lives so that the mysteries of the faith will always be available to us; that our programs of evangelization, education, and spiritual care for people of all ages will never be lacking. The parishes build up our local communities and strengthens our neighborhoods. We seek always to speak and act in justice.
At the same time our eyes are fixed toward a supernatural life. We give God His due. This is the life of the Church which has remained the active image of Jesus in the world: the entire People of God, united in apostolic unity and apostolic service. May God help us to be faithful to this work. We will go forward. With His help we will go forward.
While our Catholic Diocese remains active and committed, we are also aware of and part of a larger Universal Church, a whole Communion of Saints. I'll share with you just one example. Last week I was in Ephesus, Turkey, as we worked again on the Cause for the Beatification of Sr. Marie de Mandat-Grancey. Sr. Marie loved our Lord so much. She gave up a life of nobility and wealth to become a Daughter of Charity serving the poor in Paris. When she heard Pope Leo XIII call for missionaries to the East she went to Turkey. She was soon beloved of the people there; not just the French Catholic community, but also the Muslims. Everyone knew and respected Sr. Marie's holiness, and she convinced the Vincentian priests there to search for and find the House of Mary on the hills overlooking Ephesus.
When I celebrated Mass there at the little stone house each morning I remembered you all, praying through the intercession of Mary Mother of God, for our unity and for our fidelity to Jesus and His Church. At the prayer wall just below Mary's House, standing shoulder to shoulder with Muslim pilgrims, I pressed my little petitions on pieces of white cloth into the wall. Mary has children from so many countries, and she hears us all. Dear friends, I must confess that I am not sure how all the details of my specific prayers have been answered. God always leaves some mysteries for us to ponder. But I know she heard me: Mary, and also Sr. Marie. I thank you Sr. Marie letting us adopt you. I thank you Mary my Mother for bringing my prayer to Jesus, just as you did long ago on behalf of the couple at Cana.
Last Sunday, I celebrated Holy Mass with the Archbishop of Izmir, ancient Smyrna, to commemorate the Council of Ephesus and its proclamation of Mary as Theotokos, Mother of God, in October of the year, 431. It is good for us to realize that the world and the Church is so big; that what happens these days is part of a larger and greater picture of God's love and of His plan. At the same time, He receives our praise and hears our cries for divine help.
This Sunday night, as I celebrate Mass with you, and I am mindful of my union with all the parishes of this diocese, my prayer is simple, asking our Lord to keep us together and on a straight and sure path. Mary, Mother of God and our Mother, keep this house strong. Shelter us under your mantle.
Jesus Christ, protect and renew your Church. Amen.