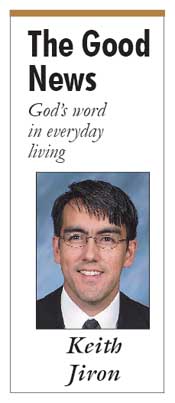 I'll never forget a note that my oldest son, Andrew, gave to me last year. He was in first grade and learning to write in complete sentences. There was no school that day and as I prepared to leave for work, he handed me a folded piece of paper and instructed me not to read it until I got to my office. Inside was his priceless request: "Daddy come home erly." Somehow the misspelled word made it even more special to me.
Whether written or uttered verbally, sometimes words fall short. The old Latin expression, "Cor ad cor loquitur" meaning "heart speaks to heart" explains this phenomenon well. Were a language expert to attempt an analysis of my son's note, he might have determined that some young person was learning to write and, obviously, had not yet mastered the art of spelling. However, the heart of a father would translate it: "Daddy, I love you and miss you when you are gone and I can't wait for you to come home and play with me."
I once heard that the single most important thing that fathers can do to equip their children for life is to play with them – an unspoken, yet rich love language which says that I value you enough to spend time with you. "Parents…are in a way the first representatives of God for man." (CCC 239) By teaching our children how to give and receive love, we are teaching them about the love of God who is "an eternal exchange of love, Father, Son, and Holy Spirit, and he has destined us to share in that exchange." (CCC 221)
We catch glimpses of this heavenly exchange even in this life. The other day when I got home from work, my four young boys were outside with my wife. The two older boys were riding their new skateboards and my third son was riding his scooter. They rushed over to me with delight (this is usually the best part of my day). Our six-month-old, upon hearing my voice and seeing me, gave this timeless look of sheer happiness and love. It was that kind of expression that babies give when they smile with their whole body. The exhilaration in his heart spilled over into mine. I believe moments like this are merely a foretaste of the beatific vision when we see God face to face.
The parable about the wise and foolish virgins has to do with preparing for heaven. Those who work at expanding their heart's capacity to give and receive love are like the virgins whose lamps are full as opposed to the ones whose oil has run out. Spiritual economics don't work the same as worldly wisdom would prescribe. Unlike with worldly wealth, which is accumulated by saving and keeping, spiritual riches come from emptying, by pouring ourselves out in love. Blessed John Paul II said that "we find ourselves when we make a sincere gift of ourselves."
Sometimes I miss being able to "sleep in" on Saturday mornings. Being the father of four children makes this impossible. Bright and early this morning I awoke to my three eldest sons walking down the hall together heading to play in the living room. Stressed out for fear that they would wake our six-month-old, I scurried out of bed in an attempt to preempt any loud outbursts. I had barely taken my first sip of coffee when I was asked to play the card game "Go Fish." Honestly, I was hoping to relax and zone out for another hour while they played by themselves. Sliding down from the couch onto the carpet, I was gratified as I watched my six-year-old proceed to clumsily shuffle and deal the cards with pride.
As I played with him, I was reminded again that although staying connected with those whom we love takes effort, it is unbelievably rewarding. It is work in the school of love. When my life is spent, I know that I will not regret those times that I managed to break free from my initial lazy inclinations and gave of myself in love to my children.
"O God, you are my God whom I seek; for you my flesh pines and my soul thirsts…" St. Therese of Lisieux said, "The world's thy ship and not thy home." At the end of life's journey, we hope to arrive into our heavenly home, where we will hear our Father's voice whose love will be expressed beyond words.
Keith Jiron is RCIA Coordinator at St. Michael the Archangel in Leawood.
Daily Scripture Readings
For complete daily Scripture texts, click here: http://www.usccb.org
Monday, November 7
Wisdom 1:1-7
Psalms 139:1b-3, 4-6, 7-8, 9-10
Luke 17:1-6
Tuesday, November 8
Wisdom 2:23:3:9
Psalms 34:2-3, 16-17, 18-19
Luke 17:7-10
Feast of the Dedication of the Lateran Basilica in Rome
Wednesday, November 9
Ezekiel 47:1-2, 8-9, 12
Psalms 46:2-3, 5-6, 8-9
1 Corinthians 3:9c-11, 16-17
John 2:13-22
Thursday, November 10
Wisdom 7:22b-8:1
Psalms 119:89, 90, 91, 130, 135, 175
Luke 17:20-25
Friday, November 11
Wisdom 13:1-9
Psalms 19:2-3, 4-5ab
Luke 17:26-37
Saturday, November 12
Wisdom 18:14-16; 19:6-9
Psalms 105:2-3, 36-37, 42-43
Luke 18:1-8
Thirty-Third Sunday in Ordinary Time, November 13
Proverbs 31:10-13, 19-20, 30-31
Psalms 128:1-2, 3, 4-5
1 Thessalonians 5:1-6
Matthew 25:14-30
The full text of the Scripture readings for this week and next week can be found here: http://www.usccb.org/
Click on the "Readings" tab at the top of the page.