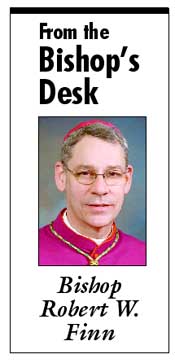 In every Mass after the Consecration we express an affirmation about the power and promise of Jesus. The proclamation of the Mystery of Faith takes different forms, but it is a reminder to us that the profound truth that is taking place at the altar — the death and rising of Jesus truly made present — also tells us to look forward to the Day when we shall see the Lord in glory.
The Holy Sacrifice of the Mass unites us with Jesus and with a Communion of Saints and Souls who have gone before us. Throughout the history of Christian art and architecture some churches have fittingly provided reminders to us of the heavenly goal to which God calls us. Even while the orientation of the church may keep us aware of those with whom we are worshipping, at the same time many of the great churches provide us with images of God in heaven and the saints: They show us the heavenly Jerusalem which is our ultimate home. It is right for us to keep such realities in mind. I have often said that no matter what is going on in our life – sufferings or joys – the most important goal of everything we do is to get ourselves to heaven and bring with us as many as we can.
The month of November begins with the two great celebrations: All Saints day (November 1) and the Commemoration of All Souls (November 2). These feasts celebrate our communion with the "Church triumphant" in heaven, and the "Church suffering" in purgatory.
Near these feast days I have gathered with the priests to celebrate the Purgatorial Mass for all our deceased priests. I hope you also remember your family members, friends and "heavenly heroes" who have gone before us. Those in heaven intercede for us.
To me this is such a natural and beautiful part of our faith: that the saints are alive and they pray with us, just as we might ask a friend to remember our intentions in their prayers. This sense of saintly intercession and patronage has been lost in many Christian traditions, perhaps seeing this practice of turning toward Mary or the saints as a distraction away from Christ. In one of the Prefaces used at Masses for the Holy Men and Women, we acclaim God: "You are glorified in Your saints. In their lives on earth You give us an example. In our communion with them, You give us their friendship. In their prayer for the Church You give us strength and protection." All Saints Day provides us with a special "feast day" when we can celebrate God's power at work, not only among the extraordinary saints canonized or officially recognized by the Church, but also in "our saints;" our Moms and Dads, tiny babies who have died in innocence, and others who were instrumental in helping us know and love God.
The Commemoration of All Souls is likewise a meaningful reminder to us to pray for those who have died who may still need our prayers as they await the Day of the Lord. We know very well that our lives are not always perfect and faithful. We cling too often to selfishness and sin: things that keep us from loving God and our neighbor. In her wisdom and with the Light of the Holy Spirit, the Church teaches clearly about purgatory, that "All who have died in God's grace and friendship, but still imperfectly purified, … after death undergo purification, so as to achieve the holiness necessary to enter the joy of heaven." (Catechism of the Catholic Church, no. 1030).
In the Old Testament Book of Maccabees, we see how the faithful prayed and offered sacrifices for the salvation of those who died (2 Macc 12:46). We should never cease to pray for those who have gone before us. We can be sure that these loving prayers will never be wasted, even if our loved one has already reached heaven.
Throughout November – and indeed at all times in the Church's liturgical year – we can renew our focus on the eternal life to which we are called by Christ. We do not travel alone. We continue to support, pray for, and encourage one another. And we have a host of heavenly friends supporting us on our journey of faith. We often miss having the physical presence of our loved ones with us. It is at the Holy Sacrifice of the Mass when we are very closely united to the faithfully departed, the Church throughout the world, and the saints in heaven.
Mary, Mother of the Church, Queen of All Saints and All Souls, keep us on a safe path to your Son.