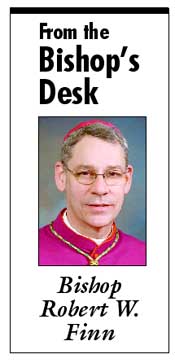 The Bishop's Annual Appeal, a major source of revenue that funds the Diocese of Kansas City-St. Joseph's ministries and agencies, began this past weekend in all 98 parishes and missions under the banner "We, though many, are one body" (1Cor 10:17). This year's goal is $2,150,000, and 100 percent of every dollar contributed will be allocated to fund the dozens of ministries that provide the essential pastoral and human care that thousands of people rely upon each and every day. Contributing to the Appeal represents a meaningful opportunity for Catholics throughout Northwest Missouri to live the faith they profess and share their gifts beyond their own parishes as an ongoing expression of appreciation to God for His blessings.
Year in and year out, the Appeal continues to be the single most effective charitable mechanism on which the Diocese depends to advance three principle components of its ministry and mission: Social Services, Catholic Education, and Pastoral Ministry. Over the next weeks, The Catholic Key will focus on each of these categories. Today let's take a look at the many programs and services that serve the less fortunate among us.
Social Services & Outreach Ministries
Christ taught us that the poor would be with us always and that it is our duty and responsibility to serve these neighbors in faith and love. As the human social service arm of the Diocese, Catholic Charities and the Human Rights Office answer the Gospel call to serve the less fortunate, reaching out to the hungry and homeless.
Last year Catholic Charities provided services of inestimable value, most notably, Emergency Assistance with food, rent and utilities. Gifts to the Bishop's Annual Appeal also made it possible to provide groceries and nutritious meals to more than 136,800 low income men, women and children.
We probably all know of someone, it may even be a family member or neighbor, whose life was changed for the better because of the work of Catholic Charities through its services for pregnant women, adoption service and adoption search, training for foster or adoptive parents, or Foster Care Services for children due to abuse or neglect and Senior Care Services including in-home personal care…..all made possible through your gifts to the Bishop's Annual Appeal.
Over and above the compassionate and human care offered by Catholic Charities, the Diocesan Human Rights Office collaborates with several faith-based charitable initiatives including the Catholic Relief Services, Missouri Catholic Conference, US Conference of Catholic Bishops to address anti-poverty efforts, peace building as well as other social issues both domestic and overseas.
It is also important to note that many parishes affected by limited resources receive financial assistance from the Appeal to support their food pantries and emergency assistance centers, to serve the growing Hispanic needs in their parishes, to provide religious education and formation for their parishioners and many other programs and ministries.This year Morning Glory Café at the Cathedral of Immaculate Conception received a parish based ministry grant funded by the Bishop's Annual Appeal. This ministry serves, on average, 100-150 homeless, disabled and working poor individuals with a hot meal every day. It is truly all about people helping people!
Give Thanks, Live thanks!
Remember, 100% of every Appeal contribution goes directly into services — ministries, community programs, and emergency assistance for neighbors in need.
Goals have been set for each parish, with 50% of all monies collected over those goals to be returned for parish use in the form of rebates. You may contribute directly online at www.diocese-kcsj.org. Checks should be made payable to the Bishop's Annual Appeal, and a credit card gift can be paid online or by pledge card. All gifts will be acknowledged and are tax deductible to the fullest extent of the law. For information, please call the development office: (816) 756-1858, ext. 517.