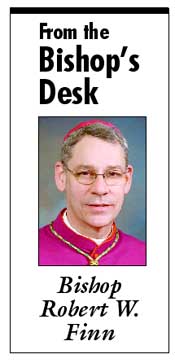 This 2011 Bishop's Annual Appeal is now actively underway throughout the Diocese of Kansas City-St. Joseph. Earlier this month an Appeal mailing and brochure was sent to every registered household seeking their charitable response. The 2011 Appeal theme, "We, though many, are one body" (1Cor 10:17), is a call for Catholics throughout the Diocese to unite through their sacrifice to share in the Lord's work in a personal and lasting way to help those who may be spiritually or materially in need.
This week, the Catholic Key features the Diocese's long and faith-filled history of spreading the Gospel. Integral to that ministry is Catholic Education, especially parish religious education, Catholic schools, and the Bishop Helmsing Institute. Through these important educational efforts the Church continues to proclaim the word of God and prepare our youth and adults to live it out faithfully in their lives.
Education and Faith Formation Ministries
Gifts to the Bishop's Annual Appeal are essential to ensuring that the teachings of the Church will be handed on from one generation to the next. Perhaps the most effective ways to do that is through Catholic Education. At the heart of Catholic Schools is a commitment to share the Faith and to sustain academically faith-based programs that not only provide information but a solid formation.
Last year, the Diocesan School Office served over 9,000 students in our 38 early childhood centers, elementary schools and high schools helping to prepare the students to live the teachings and values of their faith.
Through the Bishop Helmsing Institute, the Diocese offers formation and adult Catholic education as well as a comprehensive program of courses through which laypeople working in parish or diocesan positions can achieve necessary certification credentials. Since its founding in 2006, more then 2,000 students completed one or more courses through the Institute.
The newly formed Bright Futures Fund helps prepare children for their future by providing financial assistance to families who desire quality Catholic education in our diocesan schools. The Fund provides needs-based tuition assistance and operating funds to Strong City Schools (formerly Central City Schools) and scholarships to diocesan high school students that also have another sibling in our Catholic schools. Bright Futures Fund supports three inner city elementary schools and four diocesan high schools that serve more than 1,400 children in our diocese.
All these programs were established to help both children and adults grow in their knowledge of faith and concern for others in need.The youth of today are our hope for tomorrow, and the Appeal is our gift to them.
Give Thanks, Live thanks!
Remember, 100% of every appeal contribution goes directly into services — ministries, community programs, and emergency assistance for neighbors in need.
Goals have been set for each parish, with 50% of all monies collected over those goals to be returned for parish use in the form of rebates. The appeal is planned and coordinated by the diocesan Office of Development and Stewardship.
You may contribute directly online at www.diocese-kcsj.org. Checks should be made payable to the Bishop's Annual Appeal, and a credit card gift can be paid online or by pledge card. All gifts will be acknowledged and are tax deductible to the fullest extent of the law. For information, please call the development office: (816) 756-1858, ext. 517.