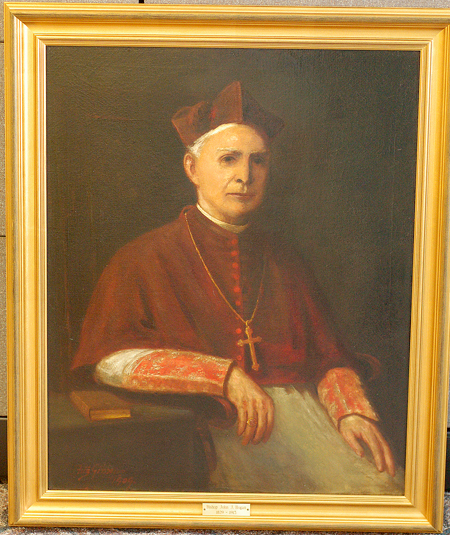 By Marty Denzer
Catholic Key Reporter
KANSAS CITY — Get out your spy glass and put on your thinking caps. There's a mystery to be solved, about a century-old portrait of Bishop John J. Hogan linked to both the Knights of Columbus Bishop Hogan Council and the history of art in Kansas City.
The large oil painting was unearthed last year, stored in an attic of the Redemptorist Senior Center at 211 W. Linwood. The Bishop Hogan Council, the second oldest Knights of Columbus Council in the city, owned a building at 614 E. 33rd Street for a number of years, and used that facility for their meetings. When the building was sold, the council arranged to store Council artifacts at the Senior Center.
Tom Flood joined the Bishop Hogan Council several years ago and found that many of the members were older. Flood recalled a conversation with one of the older members in which the painting of Bishop Hogan was mentioned. According to the older man, the portrait hung on a wall behind the podium in the council's 33rd Street meeting hall for many years. Where was the painting now? The older man didn't know, and other Bishop Hogan Council members said rumors of the painting had floated around for quite a while.
Flood consulted fellow Knight Walt Roseburrough, who contacted the Redemptorist maintenance staff. Roseburrough and one of the staff went to the storage room in the attic of the Center and found the painting lying on the floor behind boxes, almost hidden in shadows. Over the decades, the oil paint had darkened and the ornate gilded wood frame was filthy and damaged. Realizing the significance of their find, the Knights Council had the painting restored by art conservationists at Ward and Ward, 63rd and Oak streets. According to Tim Ward, other than cup rings, there were no distinguishing marks on the stretcher bars or the canvas. Ward and Ward repaired a gouge in the canvas, cleaned it and reframed the portrait.
The Bishop Hogan Council knew only that the painting was completed in 1909 and that their Council's name was chosen because their first chaplain was Father John J. Hogan, the bishop's nephew. Flood and Roseburrough asked The Catholic Key for help.
So, let's take an imaginary trip back in time to 1909 and an artist's studio at Walnut and 5th Street. Bishop John J. Hogan sits quietly in his chair, watching the artist at work. The 80-year-old founding bishop of the dioceses of both St. Joseph and Kansas City is an unassuming man, not quite sure his portrait needed to be painted. There were plenty of photographs, some even hand-tinted. There was also a painting done some years ago. But his nephew and namesake, Father John J. Hogan, has been urging him to do it. So, honoring his nephew's request, he now sat quietly, one arm resting loosely in his lap, the other on a table, touching his breviary, as he watched James L. Fitzgibbon work.
Fitzgibbon was born in 1864 in Ballingarry, County Tipperary, not too far from the bishop's birthplace of Bruff, County Limerick, Ireland. His parents, Michael and Deborah Fitzgibbon, yearned for a better life for their children, all 13 of them. An old Kansas City Times article indicates that in 1872, Michael and Deborah secured passage on a ship bound for Ontario, Canada, and packed up their belongings and 12 of their children. The 13th child appears to have been John, born in 1871. As he didn't arrive in Kansas City until 1894, he appears to been left with relatives in Ireland. Deborah may have feared the weeks on board ship, braving storms and possibly bad food and water, might be too hard on the baby.
There appears to be nothing on record about the family between their departure from Ireland and the early 1880s.
By 1883, James, Cornelius and Thomas had settled in Kansas City, Mo. Joseph, a doctor, seems to have chosen to live in St. Joseph, 50 miles away, as there were already a number of physicians practicing in Kansas City.
James was beginning to make a name for himself as a portrait and landscape artist. He rented rooms in the Deardorf Building at 1120 Main to use as a studio. He probably placed his easel near windows where he could see "the Junction," the intersection of Main, Ninth and Delaware streets where the Catholic Center is today. The subject of one of his early cityscapes was "The Junction," painted in 1883.
Thomas and Cornelius opened a tobacco shop, and were prospering. The three brothers purchased a house at 3704 Bell Street, near the old town of Westport. There are indications that Michael and Deborah Fitzgibbon may have settled in St. Louis for several years before coming to Kansas City in 1890. Although sparse, census and county records show that James, Thomas and Cornelius were living in Kansas City by 1883. Between 1888 and 1890, the rest of the family had arrived in Kansas City and settled into the house on Bell. Jeremiah had died in 1884, and Michael in 1885. According to cemetery records at Mount St. Mary's, where Mary Fitzgibbon paid $78 for a family plot of six graves in 1902, Michael and Jeremiah are listed on the family headstone, but not buried in the cemetery. It is not known if they died in Canada or en route to Missouri.
In 1884, James was still renting rooms on the third floor of the Deardorf Building, then popular artist studio quarters in Kansas City. A colleague, Fred Richardson, who had moved to Kansas City after a number of years with the Fine Arts Institute of Chicago, suggested forming a sketch club to meet in private homes. According to Kansas City historian Carrie Westlake Whitney, writing in 1908, the club was comprised of "laymen and artists, meeting from house to house, to talk over art matters in general, and to judge pictures made by the members in illustration of a subject previously given out."
The "Sketch Club" eventually moved to the Deardorf Building. The first known membership roll from May 1886 included "resident" artists Lawrence S. Brumidi, Lillian Crawford, Emma Richardson, Luella Sims, Fred Richardson, Nellie McCrary and James L. Fitzgibbon. Whitney wrote that "an exhibition of the work of the artist members was given in the Deardorf Building in the spring of 1887, the first of its kind in Kansas City. While it contained no works of great merit," she added, "it was largely attended and served to crystallize public interest." Perhaps one of the pieces exhibited was Fitzgibbon's "The Junction."
Public interest was so enthusiastic that Sketch Club member, C.C. Ripley, suggested the club raise the funds to open and equip the Kansas City Art Association and School of Fine Arts and Design, which was incorporated in July 1887. The School of Fine Arts opened in five rooms of the Bayard Building, 1214 Main Street. Several accounts of Kansas City's history, including Whitney's, list J. L. Fitzgibbon as one of first three instructors, although the Kansas City Art Institute's history shows the early instructor as an F. L. Fitzgibbon. Anne Canfield, KCAI communication director, suggested that it might be an old typographical error that was "unknowingly perpetuated" in a history written in 2005.
James' studio was listed in the Bayard Building tenant directory from 1888-89. He appears to have traveled, painting cityscapes in Chicago, New York and New Orleans, as well as Colorado landscapes between 1889 and 1895. James rented studio quarters in the Temple Block Building, 531 Walnut, sometime after 1895. That building, which probably appealed to the artist because of its many tall arched windows, later became the home of Traders and Merchants Produce Banks. The Temple Block Building, built in 1892, was listed on the National Registry of Historic places in 1985.
In the meantime, the youngest son, John, was growing up in Ireland. He attended All Hallows College in Dublin where he may have become acquainted with young John Hogan, Bishop Hogan's nephew, who studied Theology at All Hallows College before his 1889 ordination at St. John's Cathedral in Limerick. Father Hogan settled in Kansas City in 1889.
John Fitzgibbon was ordained at All Hallows College in June 1894. Three months later, Father Fitzgibbon arrived in Kansas City, and was assigned first to assist the pastor and then named pastor of the Cathedral of the Immaculate Conception. In Sept.1896, Father Fitzgibbon was appointed Bishop Hogan's secretary and chancellor of the Diocese of Kansas City.
The 36-year-old priest died of pneumonia in March 1907. According to the diocesan necrology, his brother Joseph was an attending physician. Older brother James served as one of the pallbearers as Father John Fitzgibbon was buried in the Priest's Circle at Mount St. Mary's Cemetery.
Around 1908, Bishop Hogan apparently gave in to his nephew Father John Hogan's urging and James Fitzgibbon was hired to paint the bishop's portrait. The finished work was quite large, measuring 34 x 40 inches. Bishop Hogan was painted wearing ecclesiastical regalia: scarlet cassock and biretta, lace rochet and scarlet mozetta. A symbol of his office, a gold pectoral cross, presented in 1891 to Bishop Hogan by the priests of the Diocese of St. Joseph, gleamed against the scarlet coat and his Episcopal ring glowed on his right hand. A small book, probably his breviary, lay near his elbow. His white hair was neatly combed, his expression serene.
It is unknown what exactly James Fitzgibbon did with the portrait. At some point it may have been presented to the bishop. In a 1948 Master's thesis by Sister of Charity of Leavenworth Mary Philomena Otis, she gives a fairly detailed description of Bishop Hogan's "big parlor … fitted with old-fashioned furniture, book-filled cases along the wall and an oil painting of the bishop looking down from a large, gilt frame."
After finishing "The Bishop," as the portrait appears to have been titled, in 1909, James continued to paint, producing more than 160 oils and water colors during his career. Art framer and conservator Tim Ward told The Key that when a relaxer was applied to the canvas to keep it from damage during cleaning and repairing, a negative image of the bishop appeared on the reverse side of the painting. This indicated that Fitzgibbon painted the subject of the portrait first, an uncommon method for artists of that time.
James' father had died in 1902, leaving Deborah to manage the house and the five adult children who still lived with her — Catherine, 54, Thomas, 53, James, 38, Mary, 36, and Cornelius, 34. Joseph either moved out of state or had died by 1909. Father John Fitzgibbon, Michael and Jeremiah were dead. No record appears to exist about the other four children. The online immigration rolls for Ontario, Canada, in 1872 show no matches for the Fitzgibbon family.
Deborah died in 1913. Her obituary in the March 12, Kansas City Times, said that the 85-year-old "Mrs. Fitzgibbon was the mother of 13 children, none of whom ever married. Five living still. The youngest is 45 years old. Thomas and Cornelius are in the tobacco business. James is a portrait artist, with a studio in the Temple Block. The other survivors are Miss Catherine and Miss Mary Fitzgibbon. All of the children live at home."
The funeral was held at Our Lady of Good Counsel Church, Washington Street and Schaefer Avenue, now 39th Terrace and Washington. Deborah is buried in the Fitzgibbon plot at Mount St. Mary's.
James was quoted in the obituary "in speaking of the failure of any of the family to marry: In one respect we were not dutiful children," he said. "Mother often urged us to marry, but to no avail."
Bishop Hogan also died in 1913. In his will, he bequeathed all his personal belongings to his successor, Bishop Thomas F. Lillis. Bishop Hogan is buried in the center of Priest's Circle at Mount St. Mary's Cemetery.
Thomas Fitzgibbon died in 1915. He was buried in the family plot at Mount St. Mary's.
James L. Fitzgibbon died of a cerebral hemorrhage at his Bell Street home on Oct. 26, 1929. He was 65. According to the obituary published on Oct. 27 in the Kansas City Star, James was taken from "the residence" to the funeral Mass at Guardian Angels Church on Oct. 28, with interment in the family plot at Mount St. Mary's. "His remains have been entrusted to Quirk and Tobin Undertakers," located at Linwood Blvd. and Main Street.
Cornelius Fitzgibbon died in 1931, and Catherine in 1937. Both were buried in the family plot. Mary Fitzgibbon died in 1952 and, according to cemetery records, is buried in the same grave as her father, Michael, who died in 1902.
Bishop Hogan's nephew, Father John Hogan, is credited with the founding of Holy Cross Parish in 1902. He was appointed Vicar General of the Kansas City Diocese in 1922 by Bishop Lillis. He was named a domestic prelate in 1924. Msgr. Hogan died in 1939, and is buried in Priest's Circle in Mount St. Mary's Cemetery.
Key readers
The Knights of Columbus Bishop Hogan Council seek any additional information on the painting. A lot of loose ends still remain.
They also would like opinions on where the portrait should be displayed. Some suggestions already received include The Catholic Center, the John J. Sullivan Banquet Hall at Redemptorist Parish, or in Our Lady of Perpetual Help (Redemptorist) Church at 3333 Broadway. If you know anything about the portrait or the artist, or if you have an idea where it should be displayed, please email Tom Flood: tflood@kc.rr.com.