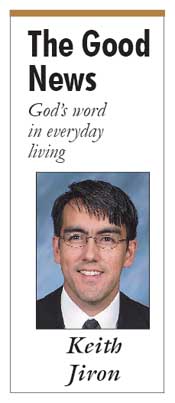 This morning my two-year-old son, sleepy-eyed and a bit grumpy, walked into the living room where everyone else was already awake. I reached out to him for a hug and he snubbed me, heading straight for mom. Not an uncommon occurrence, other things like scraped knees, bruised elbows, and hurt feelings are only a few examples of when I get the cold shoulder. I like to think that I have a good amount of fatherly compassion, but when it boils down to it, they seem to inevitably prefer mom.
Being the father of four young boys has taught me things I never knew about motherhood. From the time my wife was expecting the birth of our first son even until now, she has had a special connection with our children that I do not have. This motherly connection sometimes leaves me in awe. For example, she somehow knows by the different type of cry whether the baby is hungry, tired, or needs a new diaper. More astounding is how she sometimes will know the baby is crying even before the baby monitor registers.
These insights into motherhood give me deeper appreciation for Mary, the mother of Jesus, as we approach the Solemnity of her Immaculate Conception. Prepared in a unique fashion by God, she was conceived "immaculately," which means without the least stain of original sin, by the saintly Anne and Joachim. (CCC 491) God acted in this way so that his Son, the second Divine Person of the Trinity, could be "incarnate of the Virgin Mary." That is to say, Jesus "took flesh" at conception in the womb of the pure-hearted Mary. (CCC 466)
It was her human, motherly heart that literally pumped life-giving blood into the heart, into the flesh, into the body of Jesus. Mary's maternal concern did not end with the death of Jesus' physical body. Scripture tells us that we are members of the mystical body of Christ (1 Cor 6:15). Therefore, in giving birth to Jesus, who is head of the mystical body, Mary also gives birth to the rest of the body, the Church, of which we are members (Col 1:18). It is in this way that we understand Mary to be our spiritual Mother.
In my own life I've experienced Mary's heavenly intercession and spiritual Motherhood in subtle, yet powerful ways. A little over ten years ago, at the age of thirty-three, I finally met the woman who was to become my wife. Because of her goodness and deep love for God, I found within myself a desire to be a better person. At the same time, I believe I received a divinely given grace to experience deep sorrow for the sins of my life. The sorrow was so consuming that I seemed to be carrying a heavy weight for the period of about a week. During this time, I was doing a lot of driving and the one thing that brought me consolation was a piece of instrumental music that I listened to over and over again in the CD player of my car. A couple of years later, I found myself happily married with a newborn son. Early one morning as I was making coffee, I heard the same instrumental music playing on the stereo in our home. In all the times that I had previously heard that tune, I had never recognized that it was a syncopated version of the Ave Maria. I remember the tears streaming down my face upon realizing in that moment how Mary, my spiritual Mother, had been looking out for me all those years without my even knowing it.
The love of a mother goes deep. She is so profoundly connected to her children in her motherly heart that when one of them is suffering, she suffers. My youngest sister has had schizophrenia for over a decade. My other three siblings are healthy and happy for the most part. Nonetheless, my sister's sickness has taken a tremendous toll on my mother. Her heart is continually breaking. She once told me that "a mother is as happy as her saddest child."
There is no shortage of suffering among God's children. In the same way that Mary's heart was pierced as she suffered with her Son at the foot of the cross, so now does she suffer with us amidst "our sighs, mourning, and weeping in this valley of tears." How blessed are we to have in Mary, the Immaculate Conception, a Mother's heart so intimately connected to us that she hears our cries before we even voice them.
Keith Jiron is Coordinator of RCIA and Adult Education at St. Michael the Archangel Parish in Leawood. He formerly directed the Office for Vocations in the Diocese of Kansas City – St. Joseph.
Daily Scripture Readings
For complete daily Scripture texts, click here: http://www.usccb.org
Monday, December 5
Isaiah 35:1-10
Psalms 85:9ab and 10, 11-12, 13-14
Luke 5:17-26
Tuesday, December 6
Isaiah 40:1-11
Psalms 96:1-2, 3, 10ac, 11-12, 13
Matthew 18:12-14
Wednesday, December 7
Isaiah 40:25-31
Psalms 103:1-2, 3-4, 8 and 10
Matthew 11:28-30
Solemnity of the Immaculate Conception of the Blessed Virgin Mary,
Thursday, December 8
Genesis 3:9-15, 20
Psalms 98:1, 2-3ab, 3cd-4
Ephesians 1:3-6, 11-12
Luke 1:26-38
Friday, December 9
Isaiah 48:17-19
Psalms 1:1-2, 3, 4 and 6
Matthew 11:16-19
Saturday, December 10
Sirach 48:1-4, 9-11
Psalms 80:2ac and 3b, 15-16, 18-19
Matthew 17:9a, 10-13
Third Sunday of Advent,
December 11
Isaiah 61:1-2a, 10-11
Luke 1:46-48, 49-50, 53-54
1 Thessalonians 5:16-24
John 1:6-8, 19-28
The full text of the Scripture readings for this week and next week can be found here: http://www.usccb.org/
Click on the "Readings" tab at the top of the page.