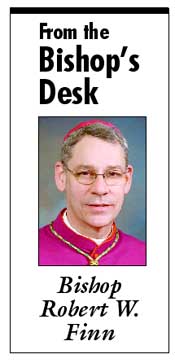 Now entering its fourth week, the 2011 Bishop's Annual Appeal continues to receive commitments from the Catholics of the Diocese who have embraced the theme, "We, though many, are one body" (1Cor 10:17), uniting in their charity to help fund the many good works that depend upon these contributions and improve the quality of life for those most in need.
This third Catholic Key article focuses upon the indispensible role of the pastoral care administered through diocesan agencies and those who offer this guidance and support to young people, and to the troubled or disenfranchised. What a privilege it is to help each other experience God's grace and guidance.
Pastoral Ministries
Ministering to the Church of Kansas City-St. Joseph takes many forms, providing not only life's material essentials, but critical spiritual emotional assistance and guidance. As members of the Body of Christ we are deeply committed to one another: parents, children, young adults, grandparents, parishioners and even members of the communities we live in.
Supporting the Bishop's Annual Appeal makes it possible to continue enhancing the quality of spiritual life for both young and old and individuals and families alike, whether they be in need of comfort, guidance, counseling, inspiration, reflection or reassurance.
The Family Life Office programs and services foster the development of the laity at the parish level in the areas of marriage and remarriage preparation, marriage enrichment; natural family planning; children, adolescent and adult grief support; and troubled marriage counseling. Many of these programs also focus on bringing stability to the lives of children and their families, and increasing individual self-sufficiency.
It is the Respect Life efforts that promote the sanctity of human life from conception to natural death, by addressing issues such as abortion and post-abortion healing, stem cell research, and euthanasia. This office supports a network of parish pro-life coordinators and committees, whose work is crucial to building a culture of life.
Promoting vocations to the priesthood and religious is vital to the future of this local Church and for this, the Diocese relies upon the Vocation Office to reach out to prospective candidates, and assist with their process of discernment through a variety of retreats, special study opportunities and mentoring. Once ordained, Priestly Life and Ministry Support provides continuous support to the growth and well-being of our diocesan priests.
It is the Diaconate Program that facilitates the formation, training and certification of all deacons in our Diocese, currently ministering to 70 deacons in our parishes, while the Office for Consecrated Life reaches out to women considering a vocation to a religious community.
In preparing young people of the Church to be holy and active members of society, the Office of Youth Ministry meets the needs of middle school and high school teens in the parishes, schools and various other youth-serving organizations while the Young Adult and Campus Ministry ensure that a Catholic presence will be available at Central Missouri State, Missouri Western State, Northern Missouri State and University of Missouri at Kansas City for young Catholics living away from home for the first time. The ministry also reaches out to over 200 young adults each month to help them with their ongoing formation.
In attending to the pastoral concerns of many who are new to our country, the Office of Hispanic Ministry reaches out to and initiates programs for this growing population in the Diocese through liturgies and special celebrations in their native language and makes available Spanish catechetical materials.
Above all else, the Bishop's Annual Appeal provides the "lifeline" that supports programs, ministries, services and apostolates committed to serving our sisters and brothers in all of our 98 parishes and mission communities. Every day thousands of these lives are uplifted for the better through Appeal proceeds. You can help make this possible, as the future of these good works depends largely upon the decisions we make today.
Give Thanks, Live thanks!
Goals have been set for each parish, with 50% of all monies collected over those goals to be returned for parish use in the form of rebates. The appeal is planned and coordinated by the diocesan Office of Development and Stewardship.
You may contribute directly online at www.diocese-kcsj.org. Checks should be made payable to the Bishop's Annual Appeal, and a credit card gift can be paid online or by pledge card. All gifts will be acknowledged and are tax deductible to the fullest extent of the law. For information, please call the development office: (816) 756-1858, ext. 517.
Remember, 100% of every appeal contribution goes directly into services — ministries, community programs, and emergency assistance for neighbors in need.