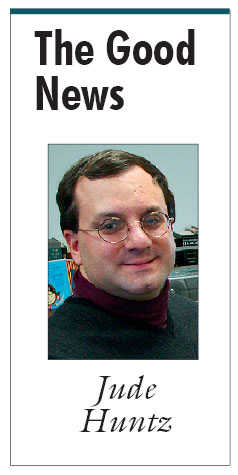 In the past few weeks my eight year old son has begun questioning the cherished legend of Santa Claus. He has barraged us with a flurry of probing questions that expose the incredulity of many aspects of the Santa Claus story: how can Santa deliver all these presents to every child in the world in one night? How can reindeer fly? Why does the Santa at Zona Rosa look different than the Santa at our school holiday pageant? Sooner or later he will arrive at the truth behind the Santa Claus legend, and healthy questioning will lead him to discover the real identity of Santa. Today's readings provide us with a template to follow in our own discovery of the identity of Jesus.
Paul encourages us in the second reading to test everything – to retain what is good and reject what is evil. While such advice seems tautological, the spirit in which we engage in this testing is what we must strive to achieve. Paul exhorts us to rejoice always, to pray without ceasing, and in all things to give thanks. Very often our testing in the world is done with a great deal of cynicism, skepticism, and negativity. And yet Paul provides us with a model of testing that does not seek the personal destruction of individuals or groups of people, but instead we should seek joy and gratitude in a spirit of prayer that seeks the truth of our identities and that of Jesus Christ.
In the Gospel text we see a group of people searching for the identity of John the Baptist. Indirectly this searching for John's identity is linked to the search for Jesus' identity that comes to dominate the Gospel of John. If John is the precursor, the one sent to prepare for the coming Messiah, then the identity of Jesus becomes clear. However, this group searching for John the Baptist's identity cannot arrive at a definitive decision. John's answers confuse them because they have a faulty notion of the identity of the long awaited Messiah. They hoped for a political savior who would liberate Israel from Rome and to restore the nation of Israel. Jesus, however, is not that messiah.
The identity of the Messiah that the Christian community adopts is found in the first reading from the prophet Isaiah. The anointed one (i.e. Messiah) is to bring glad tidings to the poor, heal the brokenhearted, proclaim liberty to captives, release to prisoners, and to bring a year of favor from the Lord. The messiah would be wrapped not in garments of fine cloth or jeweled robes, but rather in deeds of justice that bring salvation to all nations. This image of the Messiah becomes the criteria for testing everything related to the identity of Jesus. In the end, it is Isaiah's description of the Messiah that is the authentic understanding of the role and identity of the Messiah of God. The Lord Jesus fits that description and through his life and ministry we come to salvation.
In our own lives we must test ourselves against this mission of the Messiah, for in becoming followers of Jesus we take on that identity and mission for our own lives. Fundamentally, then, our lives must be centered on acts of justice and charity. Advent is a time of preparation for the coming of the Lord Jesus in the same way Lent prepares us to celebrate the death and resurrection of Jesus. In addition to repentance for our sins and penitential practices, we have many opportunities to perform acts of justice and charity during Advent as we prepare for the coming of Jesus.
Christmas is the celebration of the Incarnation of Jesus among us. Advent prepares us to have Jesus become incarnate in our lives through our words and deeds while at the same time preparing for the second coming of the Lord Jesus. As we continue our preparation, we pray together for the help necessary to be a fitting crib for the Lord: "Let us pray this Advent for joy and hope in the coming Lord. Father of our Lord Jesus Christ, ever faithful to your promises and ever close to your Church; the earth rejoices in hope of the Savior's coming and looks forward with longing to his return at the end of time. Prepare our hearts and remove the sadness that hinders us from feeling the joy and hope that his presence will bestow, for he is Lord forever and ever. Amen."
Jude Huntz is chancery chief of staff and director of the Human Rights Office for the Diocese of Kansas City – St. Joseph.
 Daily Scripture Readings
For complete daily Scripture texts, click here. http://www.usccb.org
Feast of Our Lady of Guadalupe
Monday, December 12
Zechariah 2:14-17 or
Revelation 11:19a; 12:1-6a, 10ab
Judith 13:18bcde, 19
Luke 1:26-38
Tuesday, December 13
Zephaniah 3:1-2, 9-13
Psalms 34:2-3, 6-7, 17-18, 19 and 23
Matthew 21:28-32
Wednesday, December 14
Isaiah 45:6c-8, 18, 21c-25
Psalms 85:9ab and 10, 11-12, 13-14
Luke 7:18b-23
Thursday, December 15
Isaiah 54:1-10
Psalms 30:2 and 4, 5-6, 11-12a and 13b
Luke 7:24-30
Friday, December 16
Isaiah 56:1-3a, 6-8
Psalms 67:2-3, 5, 7-8
John 5:33-36
Saturday, December 17
Genesis 49:2, 8-10
Psalms 72:1-2, 3-4ab, 7-8, 17
Matthew 1:1-17
Fourth Sunday of Advent, December 18
2 Samuel 7:1-5, 8b-12, 14a, 16
Psalms 89:2-3, 4-5, 27, 29
Romans 16:25-27
Luke 1:26-38
The full text of the Scripture readings for this week and next week can be found here: http://www.usccb.org/
Click on the "Readings" tab at the top of the page.