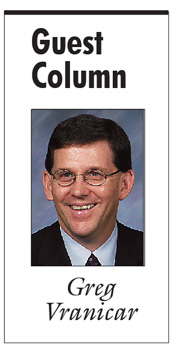 Have you ever been nagged by the question at this time of year, "What did I accomplish?" As we approach the end of 2011, we look back and consider what we have done and what still needs to be done. Particularly in this year when our economy is still sluggish and unemployment is high, one might wonder, "What more do I possibly have to give?"
But there is so much good to be done. God gives us the intelligence to discern the needs of others. We possess an internal desire to meet others' needs, which in turn triggers our innate instinct to give. Each of us is gifted with a capacity to help others to improve their lives with our spiritual and temporal gifts.
At this time of year, we naturally and properly focus first on the giving we can do within our family. But, because the tax law encourages year-end charitable giving, we also consider charitable causes that we want to favor.
The staff of the Stewardship and Development Office spends much of its time teaching and advising those who might wish to make a more long-lasting impact through charitable gifts that "leave a legacy." In the past few weeks, we have visited Our Lady of Coronation and St. Elizabeth Parishes to promote careful planning to protect your family and to think of charity. We have advised dozens of individual donors who seek our guidance. Our Office additionally offers a network of professional advisers to whom we can refer donors on specific financial, tax and legal issues. Many of these advisers offer a free "get acquainted" session to start to assess your needs. We maintain a comprehensive web site at www.diocese-kcsj.org, search for "Planned Giving," and follow the primary reference.
By what specific means may we return God's gifts and "leave a legacy?"
Through a bequest from a will or trust prepared by a professional to ensure your family is taken care of in the future, especially a guardian for your minor children, but also to help the family of humankind. First and foremost, a will or trust is a gift to your family that you think enough of them to have a plan in the event of your death. Additionally, a charitable gift through a will or trust to one's parish, Catholic school or favorite ministry carries on the values of the Church well beyond one's life. Such a gift allows the owner to hold and control funds until death, which is of particular concern to all who face the potential of "outliving one's assets."
Through a designation from a retirement fund like an IRA, 401 (k) or 403 (b) account. The law does not allow withdrawal of these funds without penalty until age 59 and one-half and requires withdrawal of a designated portion of funds after age 70 and one-half. Designation of a gift to charity at the time of one's death from these funds is a particularly useful and taxwise planning device; it does not require the assistance of a professional. Through a "beneficiary designation form" obtained from the fund manager (often on its web site), an owner designates the persons and charities to which the assets of a retirement fund account pass upon the owner's death. Again one ensures his or her family that provision has been made; complete control of the account is maintained during one's lifetime in case the funds are needed.
Through a gift of an appreciated asset, most commonly stock or mutual funds, which allows one to avoid capital gain tax and achieve a fair market value deduction up to generous legal limits. The stock market, though volatile, has gratefully experienced a recovery of share values over the past year. It is time again to check whether a stock or mutual fund gift might make sense for you. We would be happy to discuss such a gift. Though it requires planning, a gift of stock or mutual funds is not too difficult to accomplish.
Through a charitable gift annuity with the Diocese, if you are over 65. This gift may be arranged confidentially in any amount of $5,000 or more, producing income for one's life, an immediate healthy tax deduction, and an enhanced rate of return. A personalized illustration of such a gift to benefit any parish, diocesan school, or ministry may be obtained by contacting the Office of Stewardship and Development.
Through a qualified charitable distribution from an IRA until December 31, 2011, if one is 70 and one-half or over, directly to a charity from one's fund administrator. This type of gift particularly favors the estimated 65% of persons over 70 who take the "standard deduction" on their tax returns. For those who qualify, it is an effective way to "beat Uncle Sam" and it expires, unless renewed, on December 31, 2011. Again there are certain steps that a donor must take immediately to trigger such a gift; we can help.
To undertake any of these gifts, it is wise to consult one's professional legal or financial advisers. One should also consult one's spouse, family members, and others whose opinions are valued. Throughout the process, pray for guidance.
Stewardship is defined as receiving God's gifts gratefully, cherishing them responsibly, sharing them in justice with others, and returning them with increase. The planning necessary to accomplish these suggested gifts is not only good stewardship, but also produces peace of mind which, after all, might be the greatest gift imaginable.
For more information, contact Greg Vranicar, 816-756-1858 ext. 529, vranicar@diocesekcsj.org.