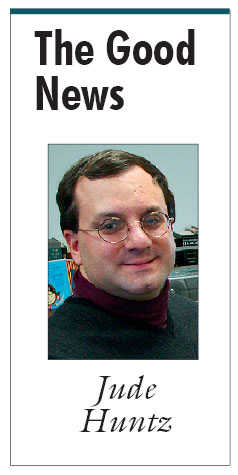 When I was 15 I played for our city's all-star Babe Ruth baseball team, but typically I didn't play much. I was a pitcher and saw clean up work at best. Our team was in the district final of a double elimination tournament that would lead to a berth in the state finals. We were down 8-3 in the 4th inning and I overheard the coaches decide to let me pitch and "We'll get them in the next game." Not exactly a vote of confidence, but I was called upon to pitch in the game. We surrendered no more runs and we came back to win 9-8. While not exactly the calling I would have liked to have had as a player, it was still a call to play nonetheless. The readings today provide us with a similar theme of unexpected callings.
In the first reading we encounter the call of Samuel to be a judge in Israel. Samuel kept hearing his name called in the night, and he assumed that his teacher Eli was the one calling him, unaware of God's voice in his life. Even the master judge Eli did not at first recognize the call of God in Samuel's life, but eventually he did discern that this voice was God calling Samuel. The advice Eli gives to Samuel is one that every good spiritual director gives to their charges: "Speak, Lord, your servant is listening." When God calls us, we cannot lay upon him any conditions; we must be completely open to whatever God calls us to do, no matter how difficult.
The Gospel text also provides us with the theme of following God – this time in the person of Jesus. The call to discipleship, however, comes from some unusual places. First, John the Baptist encourages his two disciples to follow after Jesus, whereupon Jesus encourages them to come and see where he lives. The next calling to follow Jesus comes from Andrew to his brother Simon Peter. In each case the call from God is found in the voice of another person with whom we are familiar – a friend, a brother, a neighbor. Very often God calls us to perform some act of discipleship in this same way, i.e. through an encounter with someone we know. How often are we invited to come and see where the Lord Jesus is living, and in how many different places will we find him: in the poor, a child, a sick friend, a sister or brother in a desperate situation. Wherever love needs to be, it is there that we are called to be Christ for others.
This mission of being Christ for others is the fundamental message in Paul's letter to the Corinthians today. Paul exhorts us to glorify God in our body. We could focus on the other aspect of the passage and think that to glorify God is to avoid immorality, which is certainly true. However, a positive command requires a positive action, not merely an action of avoidance. To glorify God in our body is to offer our entire lives for others just as the Lord Jesus did for us. It means hearing the voice of God calling us in the cries of the poor, in the heartache of our neighbor, in the pain of our children, and the sorrows of our brethren. We cannot be a disciple by merely avoiding that which is evil; we can only be a disciple when we go out of ourselves to serve others as Christ served us.
In our own day we have a clear call from God in our community. A great many people are in pain throughout our diocese as a result of the events of the last year. Many people are poor and in need due to a lagging economy. There are others who are suffering from injustice and oppression right in our community. God is calling us to proclaim good news to those caught in these situations of pain, poverty, and injustice – God calls us to be healing, wealth, justice, and love for others.
At times we feel unworthy of the call to discipleship, or we may wallow in the pain of past events through continued blame and anger. Samuel, Andrew, and Simon Peter were called with no prior distinction of worth. God has called us all to be players in the game. It remains for us to step up and play the game well. As we seek the strength and courage to live out our calling, we pray together: "Let us pray for the gift of peace. Almighty and ever present Father, your watchful care reaches from end to end and orders all things in such power that even the tensions and tragedies of sin cannot frustrate your loving plans. Help us to embrace your will, give us the strength to follow your call, so that your truth may live in our hearts and reflect peace to those who believe in your love. We ask this through Christ our Lord. Amen."
Jude Huntz is Director of the Human Rights Office and chancery chief of staff for the Diocese of Kansas City – St. Joseph.
Daily Scripture Readings
For complete daily Scripture texts, click here. http://www.usccb.org
Monday, January 16
1 Samuel 15:16-23
Psalms 50:8-9, 16bc-17, 21 and 23
Matthew 2:18-22
Tuesday, January 17
1 Samuel 16:1-13
Psalms 89:20, 21-22, 27-28
Mark 2:23-28
Wednesday, January 18
1 Samuel 17:32-33, 37, 40-51
Psalms 144:1b, 2, 9-10
Mark 3:1-6
Thursday, January 19
1 Samuel 18:6-9; 19:1-7
Psalms 56:2-3, 9-10a, 10b-11, 12-13
Mark 3:7-12
Friday, January 20
1 Samuel 24:3-21
Psalms 57:2, 3-4, 6 and 11
Mark 3:13-19
Saturday, January 21
2 Samuel 1:1-4, 11-12, 19, 23-27
Psalms 80:2-3, 5-7
Mark 3:20-21
Third Sunday in Ordinary Time, Sunday January 22
Jonah 3:1-5, 10
Psalms 25:4-5, 6-7, 8-9
1 Corinthians 7:29-31
Mark 1:14-20
The full text of the Scripture readings for this week and next week can be found here: www.usccb.org/
Click on the "Readings" tab at the top of the page.