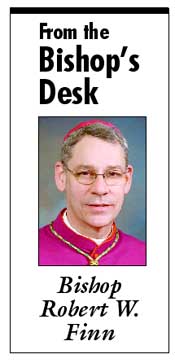 On Saturday, January 6, I traveled to St. Charles Borromeo Parish to participate in the first of what I anticipate will be a dozen or more sessions introducing the Diocesan Team for the important work of Protecting God's Children. Within the next year, it is my hope that we will make similar presentations throughout all the 14 Deaneries of the Diocese.
In 2002 the Bishops of the United States met to address the sexual abuse crisis in our Church. Together, they adopted the Charter for the Protection of Children and Young People. In the preamble to the Charter, the Bishops were resolute and said,
"Let there now be no doubt or confusion on anyone's part: For us, your bishops, our obligation to protect children and young people and to prevent sexual abuse flows from the mission and example given to us by Jesus Christ himself."
In the midst of the circumstances that we face in our own diocese, we now have better procedures and protocols to meet this vital need. In addressing the troubling actions attributed to Shawn Ratigan, I set a five-point plan to collaborate with law enforcement and to pro-actively reorient all our processes in dealing with these challenges. I created the position of Ombudsman to effectively move the 'gatekeeper' function of reporting abuse and suspicious behavior to a person outside of the chancery. Mrs. Jenifer Valenti is uniquely qualified to undertake these investigations in active cooperation with law enforcement, and she has been carrying forward that task diligently.
Another part of the five-point plan involved commissioning a complete and independent investigation into how I and the diocese responded over the last year. This independent report guided us in the creation of the Office of Child and Youth Protection. Mrs. Carrie Cooper was hired as Director of the Diocese's new Office. Mrs. Mary Frances Horton continues as Safe Environment Coordinator, and Mrs. Trish Peters is Victims' Assistance Coordinator. Together, under Carrie, this team is capably accomplishing a more comprehensive oversight. It was a joy for me to present these four women last weekend, and to talk about the work that they will carry out on behalf of us all.
The mission of our Office for Child and Youth Protection is multifold:
• To deliver safe environment awareness programs to our community
• To confirm that members of the clergy, employees and volunteers comply with our training requirements
• To conduct criminal record investigations and background screening of all clergy, employees and volunteers
• To deliver age-appropriate personal safety education to all children in our parish and school programs
• To receive and investigate any report of suspicious or inappropriate behavior that could point to sexual abuse
• To refer – immediately — to law enforcement all suspicions of abuse and neglect.
• To minister to victims of abuse in ways that will bring about psychological and spiritual healing.
In the Catholic Key today, you will read about the particular responsibilities of each member of our Diocesan team. We have made great strides to better assure that this vital work of protecting children is well provided for. I am committed to these goals, and with God's help we will work constantly to restore the bonds of trust that will unite us and lead to the greater protection of children.