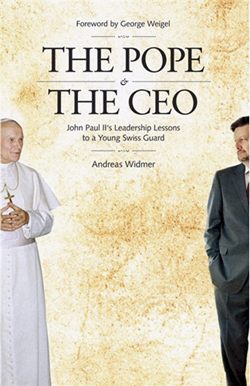 The Pope & the CEO: John Paul II's Leadership Lessons to a Young Swiss Guard
Andreas Widmer, Emmaus Road, $12.95/155 ppg.
By Santiago Ramos
This book is a guide for men and women in business and leadership positions who seek to "integrate faith into all aspects of their lives." It is divided into nine lessons, each with a foundation in some bit of wisdom which Andreas Widmer, a veteran corporate executive and CEO, gleaned from his experiences protecting Pope John Paul II as a Swiss Guard during the late 1980s. Most of the lessons thus have a direct bearing on the practical questions which come with the task of running a company: "Are your HR policies just?" etc. But they are also lessons founded in the personality and unique gifts of our late Polish pope.
I am not—at least at the moment—the target audience of such a book. But I found something valuable in it which would interest even the non-business type, and which deserves a closer look and, perhaps, a longer book. This would be Mr. Widmer's life story, which he relates in the introduction of the book and which explains why, among other things, John Paul II has had such an important impact on his life. This is a book where a CEO reflects on the value of poverty, and on the ultimate ends of business, without bromides but with a depth born of experience and suffering.
Widmer was certain quite early on that he wanted to devote his life to business, but in his late teens he was not ready to give himself over to that vocation just yet. He craved adventure. As a Swiss Catholic male, he had one door open for him which most of us don't have: he was eligible to join the Swiss Guard, the elite bodyguard service of the Roman Pontiff. After a year of mandatory military service in Switzerland, he began his stint serving in Rome. There he met John Paul II, and many seeds were planted which came to yield fruit many years later, in a time when Widmer desperately needed them.
After his years as a Swiss Guard, Widmer moved to Massachusetts in order to live closer to the woman he fell in love with and would eventually marry. While he majored in business at MIT he also worked in a startup company which would, in a short time, have a global impact: FTP Software, which created the Internet Protocol (IP) that makes it possible for personal computers to plug into the internet. "From unpaid intern to vice president in three short years," Widmer became a successful businessman crisscrossing the globe and living in a luxury penthouse in Munich. But then his first crisis came: he was working "seven days a week, 365 days a year," and was no longer happy. He barely had time to spend Christmas with his family.
His next move was to a smaller company which was equally innovative: Dragon Systems, which aimed to create a product that would allow computers to become receptive to human speech. The time with this company was also financially prosperous. But it was during this time that Widmer made his most significant mistake—though perhaps mistake is no longer the right word. Instead of selling his shares in Dragon Systems before selling the company, Widmer chose to cash in a nest-egg's amount of money, and keep most of his shares. His wife asked him, "How much money do we really need? Look at how the price is dropping?" But Widmer chose to keep the shares. A few months later, the Wall Street Journal broke the story: the company that Dragon Systems was sold to was fraudulent and Widmer's shares evaporated into thin air.
This happened during the late 90s, but it's clear how useful Widmer's reflection on his experience is for us today. After crashing out of the internet business, Widmer went into a dark period of frustration, resentment, and questioning. What is the purpose of business? Is capitalism a just system? He found consolation in a strange place: television. It was 2000, the Jubilee Year, and John Paul II was traveling the globe and appearing regularly in the nightly news. Widmer recalled the dramatic presence of the man whom he had protected during his happy period in Rome. And then he started paying attention to the speeches that that man was making.
In one speech the pope spoke about the "spirituality of work," and Widmer's interest was piqued. "Man is more valuable for what he is," the pope said. "I couldn't let go of those words," Widmer comments. "I started to realize that it's the person, every specific human person, who counts in business."
There is more to that, of course, but it would not fit into this review. What is more telling, however, is what Widmer did after hearing them: he concentrated on consulting projects for helping small and middle-sized business in the Third World. Business is useful for humanity if it gets people out of poverty. Helping businesses in places which have been ravaged by war and social decay turned out to make Widmer much happier than he had ever been before. Eventually, he came to found the Social Equity Venture Fund (SEVEN Fund), a foundation aimed at finding "enterprise-based" approaches to tackling poverty.
That free enterprise, free markets, and free trade have lead to the greatest creation of wealth the world has ever seen is a lesson that the 2008 crash, Bernie Madoff, and the crumbling Euro will not make us unlearn. But the questions that people have today are not so much about the effectiveness of capitalism, or even about those regulatory policies which would alleviate some of the social imbalances that have been forming in countries which have been capitalist for a long time (like the US).
The deeper questions today are closer to those which Widmer was asking himself during his dark period after his stocks evaporated: What is all this wealth for? We see that wealth misdirected can have terrible effects on culture. All around the world, local customs and culture gives way to the corporate, streamlined, artificial culture of multinational corporations. In the United States, such vulgarization of culture has already been around for decades.
How can we make wealth serve humanity, instead of coarsening its institutions? The late Vaclav Havel, after a lifetime spent fighting Communism, did not hesitate to comment on those same corrosive effects during his post-Cold War political career. If capitalism can have such a corrosive force, then perhaps we are better off poor. There is enough in this book to get such a discussion going.
Santiago Ramos writes from Boston.