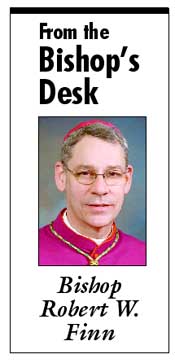 This year again I am proud that four busloads of parishioners and other faithful of the Diocese of Kansas City-St. Joseph will make the long trek to Washington D.C. to participate in the annual March for Life. I also plan to go, though scheduling has made it impossible for me to travel this year by bus. I will see some of our group at the Vigil Mass scheduled for the Basilica of the National Shrine of the Immaculate Conception on Sunday Night, January 22. The next day we will celebrate Holy Mass, attend the rally, and make the march up Constitution Avenue together. Bill Francis, Director of our Diocesan Respect Life Office, with the help of our parish coordinators, has organized a pilgrimage which is devotional and educational for the participants. The age-range of those traveling is between 8 and 80 years. We anticipate that another huge crowd will be in the Capitol from all parts of the United States, to make this peaceful and prayerful witness to the sanctity of human life.
In these columns, I have had the opportunity to address many important issues that all take their meaning in the Life and Dignity of the Human Person. This innate value comes, not from man or even a human law. It flows from God's gift of life and the destiny He has established for His sons and daughters.
Man-made law does not, of itself, establish right and wrong. God grants His graces, including the inestimable gift of human life. Law must work to safeguard and protect this life, and to establish norms for the good order of society. If law does not honor the primacy of human life, we as citizens must work to change and improve these structures in a manner that secures man's most basic protections. There is a hierarchy of values in law — the right to life being among those that are inviolable — and we must make reasoned judgments in choosing leaders who keep this precious priority in its proper place.
January 22, 2012, draws attention to a particularly destructive moment in our nation's history: the 39th anniversary of the U.S. Supreme Court decisions: Roe v. Wade and Doe v. Bolton, which legalized abortion in almost any circumstance and at any moment in a pregnancy. More than 60 million surgical abortions have been recorded in the United States since then — the most horrendous taking of human life in history. The numbers of abortions worldwide are certainly greater as other nations have "followed our lead." We mustn't stop working peacefully, prayerfully, and within the legal structures of law to end abortion in our country. It is too monumental a disgrace to neglect or forget.
Critics will sometimes suggest that "Pro-Lifers" only care for people before they are born. The record shows that this is not true. Our own Catholic agencies — and so many of our parishes — care for people at every moment, "from the womb to the tomb." There is, in fact, no other private institution that does as much to aid people in need than the Catholic Church; Period. As Catholics we also support with our taxes the many governmental interventions that assist people. No one has more soup kitchens and food banks; no private organization provides more counseling, or has more senior housing, or has more adoption centers; None. We train people for worthy employment; we aid released prisoners in getting a new start; we serve the urban core and the furthest rural communities. We look to the legal, physical and spiritual needs of migrants. In our Catholic hospitals we have never stopped caring for the sick and the dying. In our schools we form young people, in faith, for service and authentic leadership. And yes, we are among the most persistent champions of human life from its first moment until natural death.
Join me in prayerfully supporting those who March in Washington next Monday, and all who speak and act, peacefully and prayerfully, in defense of the unborn. No elected official or appointed judge is worthy of our support, if among their many acts of just advocacy they will not support the most vulnerable of our human race.
We commend our efforts to our two most powerful patrons: Mary, Mother of Life and St. Joseph, Protector of the Family. Holy Mary our Hope; St. Joseph: Pray for us!