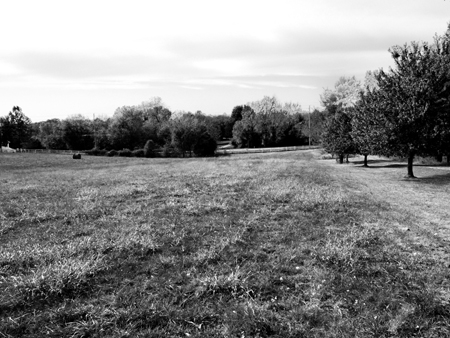 By Kevin Kelly
Catholic Key Associate Editor
KANSAS CITY — The Diocese of Kansas City-St. Joseph announced the purchase and donation of an 80-acre tract of land in western Lee's Summit that could be, if plans fall into place, the site of a new $30 million Catholic high school.
Steve Hilliard, diocesan director of strategic planning, said the site is near the intersection of Lee's Summit Road and Strother Road (83rd Street), just south of Lee's Summit Airport, and straddles the border between Lee's Summit and Kansas City.
Consultants are also expected to finish work in February on a feasibility study for a diocesan capital campaign that would raise at least half the costs of construction of the new school, with the other half to be borrowed against revenues of the school.
If everything works out, Hilliard said, the new school with a capacity for 600 students would be open by the fall of 2015.
But it would also mean the closing of both St. Mary's High School in Independence and Archbishop O'Hara High School in southeast Kansas City in that school year.
Diocesan Schools Superintendent Dr. Dan Peters said that even though two long chapters of diocesan high school education will close, excitement is already growing over a new chapter beginning.
"People are already excited," he said. "I've heard from many parents who said they are looking forward to this."
Peters said that diocesan school officials will have an opportunity to build a high school suited for education in the 21st Century.
"The traditions of both St. Mary and Archbishop O'Hara have been honored in the planning," he said. "Both have provided a great deal to the education of children in this diocese for a number of years.
"But we will be building a building that will be better suited to 21st Century education in an area that has the greatest potential for enrollment," he said.
Hilliard praised the boards and the parent communities of both St. Mary and Archbishop O'Hara who have been involved in the planning for the new school.
"We couldn't do it without them," Hilliard said. "We are still going to involve these two school communities in every step of the process, and we are going to involve the Catholic community in that area (eastern Jackson County) to plan for the best possible Catholic high school."
The need for a new Catholic high school to serve rapidly growing eastern Jackson County, western Lafayette County and northern Cass County has long been recognized, but it was re-emphasized in a 2010 study by the firm of O'Meara, Ferguson, Whelan and Conway, which recommended a location with access to the I-470, M-291 and U.S. 350 highway corridors.
The diocese in 2003 had purchased property in northeastern Independence, north of I-70 along M-291, that was to be the location for a proposed new St. Mary's High School.
But Hilliard said that the Lee's Summit site will provide even better access and a more central location to projected population growth patterns than the Independence site.
Hilliard stressed that no one should read into plans to close St. Mary's and Archbishop O'Hara into a single school as a sign that either school is failing.
Quite the opposite, he said.
"They are the foundation we will build on," Hilliard said. "The only way we could even conceive of offering this project is because of the dedication and commitment of past and present staff, board members, students and parents of those two schools. We are building a new high school because both schools are doing a great job, and we are looking to continue the work being done by St. Mary's and Archbishop O'Hara."
Hilliard also said that parents of this year's eighth-graders should not hesitate this fall to enroll their children at either Archbishop O'Hara or St. Mary's high schools. In fact, they will be part of history, if plans go well.
"They will be the first graduating class at the new school," Hilliard said.
Hilliard also said the land purchased for the new St. Mary's High School would eventually be sold when the real estate market picks up, with the proceeds benefiting the new school.
He said that a buyer's market in real estate allowed the diocese to purchase the 80-acre Lee's Summit site, with an additional donation of land from the seller, for $2.6 million.
"It's a beautiful piece of land," he said, that also includes a spring-fed 7.5-acre pond, rolling hills and natural drainage.
He also said that the new site would be within a 25-minute drive of residential and growing areas of Jackson, Cass and Lafayette counties.
"This property is right where the O'Meara study said it should be," he said.
Hilliard said that it will take the work of many people forming as broad a concensus as possible to build the kind of high school worthy of the brand of Catholic education.
"It takes time to plan a new high school and we will involve more people as we go along," he said.
But he did promise that the new high school would be first rate, serving students academically, spiritually and physically.
"We are working to make this the best possible facility we can," Hilliard said.