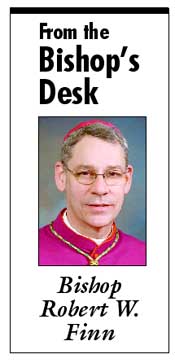 This is Catholic Schools Week! With Catholic schools across the country, we are focused this week on the work and accomplishments of our Catholic schools. There are activities in nearly all our schools: celebrating our faith, highlighting the great work of teachers and students, and saying thanks to you, our benefactors and friends. For generations we have been dedicated to successfully forming students in faith, academics and service.
What makes our Catholic schools exceptional?
• Children in our Catholic schools are formed in faith: students learn the truths of our Catholic faith, and they also live their faith as a relationship with God. The opportunity for daily prayer, frequent Holy Mass, and an environment rich with symbols and reminders of our Catholic life are things we may take for granted. They are woven into everything we do.
• Our students excel in academics. Our schools are accredited and the quality of the education is second to none. Academics are not watered down, but at the same time lots of individual attention provides for the particular needs of each individual student. Teachers teach, and students learn in a safe and nurturing environment where each student can reach his or her potential.
• Our students are engaged in service – offering their time, their talents and efforts to help others – as a sign of both living faith and good citizenship. Statistics show clearly that students who attend our schools are more likely to be engaged actively in the life of their parishes and their community when they reach adulthood.
Catholic schools are anchors for our neighborhoods. The parents of our students, and our whole Catholic community makes a significant investment that will pay dividends for generations to come. Why do we make such a commitment? Because children need and deserve an educational experience that supports them in mind, body, and spirit, and ultimately leads them to God. For generations we have done an amazing job with a fraction of the money consumed by our public school counterparts. I know we can continue to count on you for your support. And you know your money will be used responsibly and well.
I ask all of you to join me in expressing heartfelt appreciation to the many teachers, staff, administrators, and volunteers that serve and support our Catholic Schools. Today, and every day, we give thanks for the vital work they do on behalf of our most valued resource – our children.