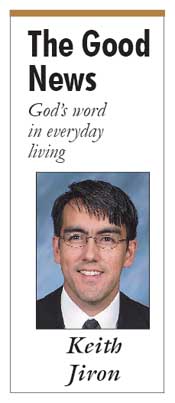 The day after the feast of the Baptism of the Lord, my wife and I took down our Christmas tree and decorations. Because the job would be easier without him, we waited until our two-year-old son was asleep. However, the effect that this had was that he didn't really have time to process the fact that it was no longer Christmas. The next morning, when he walked into the living room, he noticed the missing tree and asked, "Is Tristmas over?"
Christmas was really rather magical around the Jiron house this year. My wife and I enjoyed watching three of our four boys look forward to whether Santa would bring what they asked for. We loved sharing with them some classic Christmas movies, watching their little hearts experience these things for the first time. Possibly the most special was receiving from them homemade presents whose value far outweighed any store-bought gift. Yes, it was one of those remarkable episodes in which, as the saying goes, "Life is not measured in moments of time, but in timeless moments."
Fast forward a few weeks to "Ordinary Time" in the Liturgical year and I found myself feeling a bit disillusioned with life. Perhaps this was the inevitable low after having some time off for the Holidays and heading into the long, dreary months of January and February. Regardless, every once in a while, almost unexpectedly, I find myself feeling this way. I'm not sure if it's a mild form of mid-life crisis, or if it's just what I call the "George Bailey syndrome."
George Bailey, the main character from Frank Capra's classic, "It's a Wonderful Life," is a bit of a dreamer who longs to go off and see the world. He has no desire to remain in his home town because he wants to "do something big" by building things and designing modern cities. His father runs a small building and loan company which, as it turns out, is the last line of defense against the town being overrun by a greedy, heartless, power monger. Through an odd twist of fate George ends up begrudgingly stuck running the family business. Day after day he grinds it out, somewhat resentful. The responsibilities of providing for his growing family amidst the pressures set before him at work take their toll and his dreams of greatness all but fade from his heart.
Many of us can identify with his plight as we experience or have experienced the reality of unfulfilled aspirations of grandeur. Whether it's the monotony of constantly having to remind the kids to pick up their clothes and toys along with endless other demands, or the daily toil of seemingly insignificant tasks at work, it is easy to lose sight of the forest for the trees. We find resonance in the scripture passage from Job: "Is not man's life on earth a drudgery?"
When I told my wife how I was feeling, she shared with me a story which she had just read about a priest who was pastor to a small, out-of-the way parish in the middle of the country. Despite numerous attempts by a demon to trip him up, he remained quite faithful and happy. The demon complains to Satan of his failed attempts to lure the priest away. Satan then advises the novice tempter to go and inform him that his brother, who was also a priest, had just been made a bishop. This tactic proved effective as the priest became discouraged and eventually fell away.
As my wife finished relating that story to me, I felt the burden lifting from my shoulders with the insight that the call to greatness at this point in my life consists in being faithful to whatever it is that God sets before me, however mundane or miniscule. The tempter's ploy to appeal to my vain desires to go off and do something big was dismantled. If there is one great thing that I have already done in this life, it was marrying the right woman.
Blessed Theresa of Calcutta once said, "If you want to bring about world peace, go home and love your family." The divine Word, Jesus, entered the world through the Holy Family as a tiny baby. In St. Paul's letter to the Corinthians, he says, "To the weak I became weak, to win over the weak." When we make ourselves small, God can work more powerfully through us.
While the Incarnation took place at a certain point in time, the reality of it goes beyond time. May we continually strive to allow its saving power to give birth to great things in our families and in our hearts.
Keith Jiron is RCIA coordinator at St. Michael the Archangel Parish in Leawood.
Daily Scripture Readings
For complete daily Scripture texts, click here.
http://www.usccb.org
Monday, February 6
1 Kings 8:1-7, 9-13
Psalms 132:6-7, 8-10
Mark 6:53-56
Tuesday, February 7
1 Kings 8:22-23, 27-30
Psalms 84:3, 4, 5 and 10, 11
Mark 7:1-13
Wednesday, February 8
1 Kings 10:1-10
Psalms 37:5-6, 30-31, 39-40
Mark 7:14-23
Thursday, February 9
1 Kings 11:4-13
Psalms 106:3-4, 35-36, 37 and 40
Mark 7:24-30
Friday, February 10
1 Kings 11:29-32; 12:19
Psalms 81:10-11ab, 12-13, 14-15
Mark 7:31-37
Saturday, February 11
1 Kings 12:26-32; 13:33-34
Psalms 106:6-7ab, 19-20, 21-22
Mark 8:1-10
Sixth Sunday in Ordinary Time, Sunday February 12
Leviticus 13:1-2, 44-46
Psalms 32:1-2, 5, 11
1 Corinthians 10:31-11:1
Mark 1:40-45
The full text of the Scripture readings for this week and next week
can be found here: http://www.usccb.org/
Click on the "Readings" tab at the top of the page.