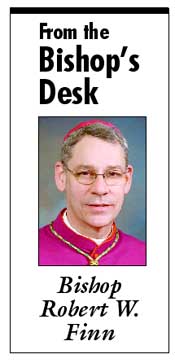 We will observe World Marriage Day in the Diocese on Sunday, February 12, 2012. In the name of Jesus Christ, the Church invites us to live her sacramental life. Opportunities abound for us to experience the presence and the power of Christ through sacramental moments. This is especially true when we stop to reflect and celebrate the gift of Matrimony to our Church and Society.
Marriage is that special grace given to a man and a woman who freely pledge their life-long, exclusive and life-giving love to one another. In marriage they walk hand in hand with God in bringing life, stability and hope to the world. Each nuptial relationship between man and woman is a grace-filled encounter with Christ. God comes close to us on earth when married couples connect, commit and contend with the gifts and complexities of life together.
On Sunday, February 12, the Diocese of Kansas City-St. Joseph and the Archdiocese of Kansas City in Kansas will join hands in prayer to offer praise and thanks for the gift and blessing of marriage and family life. Archbishop Naumann and I will concelebrate this World Marriage Day Mass to petition the Father for a deeper realization that marriage is a unique communion of persons.
From the Rite of Marriage, comes this nuptial blessing for married couples:
"Father, by your plan man and woman are united, and married life has been established as the one blessing that was not forfeited by original sin or washed away by the flood."(No. 33)
Through the ways in which she prays, Holy Mother Church reminds us of the great blessing that marriage is, not only for man and woman, but also for their family and for the good of society as well. The marital bond between man and woman is not just a sign of their mutual love, "this union is an image of the relationship between Christ and his Church" (Marriage: Love and Life in the Divine Plan).
We come to know who we are as members of the Body of Christ when we visualize the marvelous relationship of love, charity, respect and fidelity that marriage summons from the husband and his wife. Each has a responsibility to love the other — to cherish, forgive and reconcile whenever necessary. One's sacrifice blesses the other. One's commitment encourages the other and they pursue "the vocation of married life faithfully, fruitfully and joyfully" (Marriage: Love and Life in the Divine Plan, USCCB, November 17, 2009).
The prayer of the Church helps us to hear and understand how marvelous God's love is. Immerse ourselves in the prayer of the Holy Eucharist, we pray for God's blessings, so marriages might abound with love and life.
As bishop of the diocese, I invite you to join us for the 3:00 p.m. Eucharistic Liturgy at St. Therese Parish, North. Come and share in the mystery that is Christ's love revealed through the joys, sorrows, pain, and triumphs of the nuptial bond between man and woman. Take advantage of this opportunity to celebrate the great sacrament of Matrimony; renew your commitment and fidelity to God and to each other. Let the sacred, marital bond bring healing, hope and wholeness to you and your spouse.