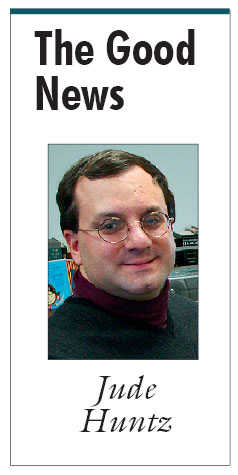 Growing up in Buffalo, NY during the 1970's and 80's meant one thing: you were accustomed to long, hard winters and your sports teams were predictably horrid. Year after year brought the same news: snow in the weather forecast, losing in the sports broadcast. Nothing ever changed and there is a certain comfort in predictability, unless of course the status quo is nothing but misery. How happy we Buffalonians were when the Bills became very good and made it to the Super Bowl: this was something new! And boy did we like it. The readings for today's liturgy present the theme of God doing something new, something the people embraced with great joy.
Isaiah was one of the greatest prophets in the history of Israel, and like most prophets his message to the people was initially dire. God remembers your sins and he will punish the nation for those sins. That message was the standard boilerplate message of prophets in Israel. And the usual way to atone for sin was for the people to repent and offer sacrifice to God. However, the passage for today's liturgy represents a shift: God comes to the people and initiates the reconciliation. God announces forgiveness to the people without the usual conditions of repentance and ritual sacrifice. The initiative on God's part would hopefully lead to a profound response on the part of the people of Israel. For a time the message was successful, but like anything else on this earth we people grow accustomed to the "new" thing God has done and we fall back into our wayward paths.
Paul's message to the Corinthians in today's second reading carries a similar message as the prophet Isaiah. For Paul, ritual observance of the law could in no way atone for sins. Only the redemptive act of Jesus and our faith in this redemptive act can take away sins. No work of the law can accomplish what only God alone can bring about. Jesus is the ultimate revelation of God who brings to us the definitive message of God's forgiveness. Jesus is the yes that overcomes the no we continually make in our lives through sin. Only by faith in the yes of Jesus can we overcome the no of our sins.
In the Gospel text we find Jesus proclaiming the forgiveness of God through an unusual set of circumstances. Four friends help their crippled friend see Jesus by removing the tiles of roof so that they might lower him down to Jesus. What astonishing faith did these men have! Immediately Jesus announces forgiveness of sins to the crippled man, although the original intent of the men was to have Jesus heal the man of his physical infirmity. Ritual action was not a prerequisite for Jesus to announce forgiveness to the man. Jesus said, "Your sins are forgiven" – there was no condition to the forgiveness.
We must continually remind ourselves that the Christian vocation is to carry on the reconciliation of Christ to the whole world. Thus, we must forgive as Jesus did: not in setting preconditions upon that forgiveness, not in holding to the mistaken idea that ritual brings forgiveness, but rather in loving without limit all whom God has brought into our lives. God has extended his hand of friendship to us – how will we respond in our lives? To whom do we need to extend the hand of friendship and forgiveness – the convicted felon in prison, the politician or business owner who has broken our trust, the priest or prelate who has failed in their vocation, the spouse or family member who has hurt us?
As we reflect upon these challenging questions, we seek God's help in being faithful to our Christian vocation of carrying out Jesus' ministry of reconciliation. "Let us pray to the God of power and might, for his mercy is our hope. Almighty God, Father of our Lord Jesus Christ, faith in your word is the way to wisdom, and to ponder your divine plan is to grow in the truth. Open our eyes to your deeds, our ears to the sound of your call, so that our every act may increase our sharing in the life you have offered us. Grant this through Christ our Lord. Amen."
Jude Huntz is director of the Human Rights Office and chancery chief of staff for the Diocese of Kansas City – St. Joseph.
Daily Scripture Readings
For complete daily Scripture texts, click here. http://www.usccb.org/
Monday, February 20
James 3:13-18
Psalms 19:8, 9, 10, 15
Mark 9:14-29
Tuesday, February 21
James 4:1-10
Psalms 55:7-8, 9-10a, 10b-11a, 23
Mark 9:30-37
Ash Wednesday, February 22
Joel 2:12-18
Psalms 51:3-4, 5-6ab, 12-13, 14 and 17
2 Corinthians 5:20-6:2
Matthew 6:1-6, 16-18
Thursday, February 23
Deuteronomy 30:15-20
Psalms 1:1-2, 3, 4 and 6
Luke 9:22-25
Friday, February 24
Isaiah 58:1-9a
Psalms 51:3-4, 5-6ab, 18-19
Matthew 9:14-15
Saturday, February 25
Isaiah 58:9b-14
Psalms 86:1-2, 3-4, 5-6
Luke 5:27-32
First Sunday of Lent,February 26
Genesis 9:8-15
Psalms 25:4-5, 6-7, 8-9
1 Peter 3:18-22
Mark 1:12-15
The full text of the Scripture readings for this week and next week can be found here: http://www.usccb.org/
Click on the "Readings" tab at the top of the page.