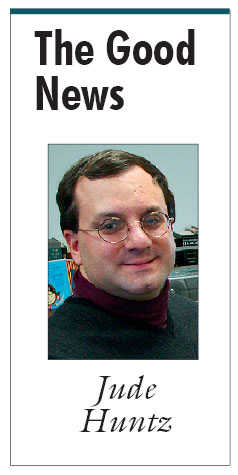 Graduation day is ordinarily a happy one, but it was not for Joseph, a student of mine some years back in Pennsylvania. While taking a walk on the campus I found him in the middle of the soccer field sitting down, looking dejected. I approached Joseph and asked him why he was so glum. He replied that he regretted not getting more involved in activities and making more friends while in high school. He focused so much on academics, and Joseph was an excellent student, but he wished he had taken advantage of the other opportunities in high school. My advice to him was simple: you can't go back and change what has happened. You can only learn from it and make sure you don't have the same regret in college. Joseph took my advice: he had a great college career and he is now a successful teacher at a prestigious academy in Washington, D.C.
Sin is ultimately the greatest regret we can have – failing to do what we ought, or doing what we ought not to have done. Repentance and renewal can transform our spiritual regrets into great deeds for the greater glory of God, as the readings today suggest.
In the first reading we find God's covenant with Noah. The time in the ark was a period of great transition and trial. The flood occurred because of human sin, and Moses and his family had the opportunity to reflect on how the world might be different once this period of tribulation was over. The time in the ark was no picnic: being cramped with the same people and all those animals for forty days was certainly a trial. At the end, God did not promise Noah there would not be storms – only that God would be present in the midst of our storms and keep us safe. Noah came out of the ark with resolutions to help future generations avoid the sins of the past.
Jesus himself is not exempt from the trials of the devil, as the Gospel text relates in brief detail the temptations he suffered in the wilderness. Again we find God showing that we are not alone in the midst of our own trials, for angels came to minister to Jesus while in the midst of his time in the desert. That time in the desert is Jesus' preparation for public ministry, a ministry that begins with the message of repentance and renewal. Our sins have caused us great harm, both personally and collectively, and yet we have the opportunity to turn away from those sins and to participate in the ministry of Jesus so that we might do great things for God and others.
St. Paul provides us with the spiritual sense of these two events of Noah and Jesus in relating them both to baptism. The waters of the flood are a foreshadowing of the waters of baptism that cleanse us from sin, and the time of temptation in the desert followed after Jesus was baptized by John. Lent is our time to recommit ourselves to our baptismal vows, which we will renew at Easter. Baptism, however, is not a magic ritual – it is a ritual whereby we continually seek a clear conscience by continually reliving the death and resurrection of Jesus in our lives. The Paschal mystery is the ultimate test and promise of God: the trials of Noah and the temptation of Jesus foreshadowed the ultimate test and promise of God in the death and resurrection of Jesus.
Now is the time. We no longer wait for the fulfillment of the promise of God. The kingdom of God is now and baptism brings us into the kingdom now. There is an apostolic dimension to Jesus' words, too. We should not wait to begin that new apostolic venture – let's do it now. Many people need to hear the good news, to be relieved of poverty and injustice, and to be raised up to the light of God's loving presence. Now we can transform the regrets of our sinful past into new ventures of fruitful activity for the kingdom of God.
As we begin our Lenten disciplines, we seek to repent and to be renewed in order to serve God and others with greater love. We therefore seek God's help. "Let us pray at the beginning of Lent for the spirit of repentance. Lord our God, you formed man from the clay of the earth and breathed into him the spirit of life, but he turned from your face and sinned. In this time of repentance we call out for your mercy. Bring us back to you and to the life your Son won for us by his death on the cross, for he lives and reigns for ever and ever. Amen."
Jude Huntz is director of the human rights office and chancery chief of staff for the Diocese of Kansas City – St. Joseph.
Daily Scripture Readings
For complete daily Scripture texts, click here.
http://www.usccb.org
Monday, February 27
Leviticus 19:1-2, 11-18
Psalms 19:8, 9, 10, 15
Matthew 25:31-46
Tuesday, February 28
Isaiah 55:10-11
Psalms 34:4-5, 6-7, 16-17, 18-19
Matthew 6:7-15
Wednesday, February 29
Jonah 3:1-10
Psalms 51:3-4, 12-13, 18-19
Luke 11:29-32
Thursday, March 1
Esther C:12, 14-16, 23-25
Psalms 138:1-2ab, 2cde-3, 7c-8
Matthew 7:7-12
Friday, March 2
Ezekiel 18:21-28
Psalms 130:1-2, 3-4, 5-7a, 7bc-8
Matthew 5:20-26
Saturday, March 3
Deuteronomy 26:16-19
Psalms 119:1-2, 4-5, 7-8
Matthew 5:43-48
Second Sunday of Lent, March 4
Genesis 22:1-2, 9a, 10-13, 15-18
Psalms 116:10, 15, 16-17, 18-19
Romans 8:31b-34
Mark 9:2-10
The full text of the Scripture readings for this week and next week can be found here: http://www.usccb.org/
Click on the "Readings" tab at the top of the page.