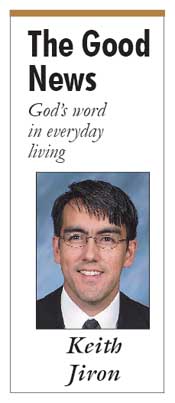 One of the deepest fears of a parent is that of losing a child. When my wife and I were expecting the birth of our fourth son who is now eleven months old, a number of times we found ourselves at the doctor's office due to some troubling symptoms she was having. We were terrified because the scenario was not unfamiliar to us. We had suffered the grief of miscarriage before and knew how heart-wrenchingly painful it was.
On the day my wife found out she was pregnant, she went to daily Mass and was so profoundly moved by the scripture readings that she printed them off, underlined the passages that struck her, and put them in our son's baby book. Some excerpts are as follows: "Before I formed you in your mother's womb I knew you, Before you were born I protected you." (Jeremiah 1) Then from Psalm 71: "Be my rock of refuge, a stronghold to give me safety, for you are my rock and my fortress…On you I depend from birth; from my mother's womb you are my strength." My wife said that during the rough moments in the pregnancy, whenever there was an indication causing another disconcerting trip to the doctor, she had this deep sense of peace, knowing that God was protecting the baby.
Often times, God gives us glimmers of hope in the midst of, or even prior to, our suffering. In this Sunday's gospel account of the Transfiguration, "Jesus took Peter, James, and John and led them up a high mountain apart by themselves. And he was transfigured before them, and his clothes became dazzling white…" Some scripture scholars propose that Jesus gave his apostles this glimpse of his heavenly glory as a grace to help them endure the sufferings that lay ahead.
It is difficult to fathom the trials undergone by the early Christians for whom affirming their belief in Jesus Christ sometimes meant persecution and even death. They were certainly armed with an eternal vision, not a mere earthly one.
I recently read about a modern-day missionary priest in Africa who had undergone great trials amidst the political and religious unrest there. He witnessed the demolition of his and other mission Churches. He saw people whose limbs were hacked off, whose eyes were gouged out, and many other atrocities. Having lived through the horror, he was reassigned to the relative comfort of ministry in the United States. Reflecting on his current situation, he stated that it is far easier to be heroic in the face of death than to be faithful amidst the day-in and day-out of everyday life.
Persecution doesn't only come with threats of physical violence. It can also show up in more subtle form. A couple of Saturdays ago, I took my young sons to our favorite hole-in-the wall donut shop. The guy who was behind us in line, upon realizing that I had four young boys, told me that I was insane. Apparently four offspring was beyond his threshold of what is acceptable. However, I wonder when it became acceptable to tell a man right in front of his highly perceptive children that he must be crazy to have so many of them?
This weekend's first reading describes the account where God promises to bless Abraham: "I swear by myself, declares the LORD, that because you acted as you did in not withholding from me your beloved son, I will bless you abundantly and make your descendants as countless as the stars…" God desires that we withhold nothing from him, including our fertility.
I am a better human being because of my children. Saint Catherine of Siena, when talking about the way God draws the lost sheep out of their sorry state, describes how he does not use wrath or war to entice us away from our misery. Rather, "he finds a delightful way – the most sweet and loving way possible; for he sees that the human heart is drawn by love as by nothing else, since it is made of love…and in love father and mother conceive and bring forth children…" Saint John Vianney put it this way: "The saints love everyone…their hearts inflamed with divine love are dilated in proportion to the number of souls God puts in their way."
It is said that one of the best gifts you can give your children is a sibling. This rings true for me as I cannot imagine life without any of my brother or sisters. The way my sons look out for and shower love upon their baby brother is truly amazing. I give thanks to God for these young souls in my life and I find great consolation in the scripture that says: "and in your descendants all the nations of the earth shall find blessing – all this because you obeyed my command."
Keith Jiron is Coordinator of RCIA and Adult Education at St. Michael the Archangel Parish in Leawood.
Daily Scripture Readings
For complete daily Scripture texts, click here. http://www.usccb.org
Monday, March 5
Daniel 9:4b-10
Psalms 79:8, 9, 11 and 13
Luke 6:36-38
Tuesday, March 6
Isaiah 1:10, 16-20
Psalms 50:8-9, 16bc-17, 21 and 23
Matthew 23:1-12
Wednesday, March 7
Jeremiah 18:18-20
Psalms 31:5-6, 14, 15-16
Matthew 20:17-28
Thursday, March 8
Jeremiah 17:5-10
Psalms 1:1-2, 3, 4 and 6
Luke 16:19-31
Friday, March 9
Genesis 37:3-4, 12-13a, 17b-28a
Psalms 105:16-17, 18-19, 20-21
Matthew 21:33-43, 45-46
Saturday, March 10
Micah 7:14-15, 18-20
Psalms 103:1-2, 3-4, 9-10, 11-12
Luke 15:1-3, 11-32
Third Sunday of Lent, March 11
Exodus 20:1-17 or
Exodus 20:1-3, 7-8, 12-17
Psalms 19:8, 9, 10, 11
1 Corinthians 1:22-25
John 2:13-25
The full text of the Scripture readings for this week and next week can be found here: http://www.usccb.org/
Click on the "Readings" tab at the top of the page.