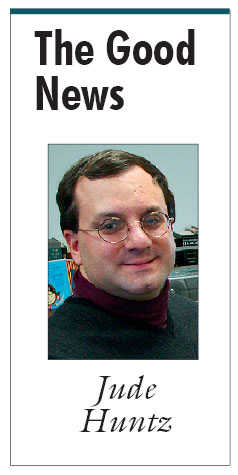 The image of the prophet in most people's minds is not entirely accurate or flattering. Very often we picture a man in tattered clothes, long hair and beard, and a wild look in his eyes. He brings a message of doom unless the people change their ways. Many people in the modern age who would like to don the prophet's mantle carry about a dour message of doom: economic collapse, environmental disaster, catastrophic social ills. Such folks often carry an element of truth in their message, but most people ignore the truth contained therein because the packaging is so unappealing. Today the readings provide us with a more complete picture of the prophet that contains hope and joy.
The first and second book of Chronicles are both historical books in the Old Testament, but even in their pages we find the historical record of the words and deeds of prophets. In this particular passage we find the reasons for the Babylonian captivity: the people of Israel worshipped idols and they committed gross injustices against the poor. God sent prophets, but the people mocked them and continued in their profligate living. The time of captivity was not pleasant, and no one knew how long it would last or how it would end. Odds makers of the day would have been hard pressed to predict that King Cyrus, the ruthless leader of Persia, would be the instrument God would use to liberate the chosen people of Israel and to rebuild the Temple of Jerusalem. It takes great imagination and faith to see salvation and restoration can come from unlikely sources.
Paul provides another glimpse into the prophetic imagination by stressing the point that our salvation does not come from our own efforts but rather it comes from the action of God. In our prayers we may say to God that we have faith that God can and should liberate us from our sins and injustices, but in reality we place a great deal of stock on our own efforts to accomplish that feat. We convince ourselves that it is our action of contrition that brings about God's mercy, or that our project will free us from oppression and injustice. The prophetic imagination leads us to see God at work in the midst of his people – all of his people, not just some – and that God is the initiator of the work, not us. We are merely instruments in the hand of God.
We often expect great religious leaders to be the ones who would see God's will and enact it in their lives and the lives of their people. However, the Gospel text shows Nicodemus, a leader within the Sanhedrin, was unable to see God present in the life and ministry of Jesus. Jesus' words to Nicodemus are a shock to the religious leader: God doesn't come to bring condemnation to the world – God's message is one of salvation for all people! Prophets may indeed condemn, and sometimes such is necessary. However, if the prophet does not ultimately have a message of hope and salvation, then the prophet is not fulfilling his vocation. At this point in the Gospel, Nicodemus comes to Jesus at night, and so he is unable to see the ultimate truth of Jesus the Lord. However, Nicodemus will eventually obtain the prophetic imagination, for he will come to faith when it matters most – at the cross.
This past week I had the privilege of experiencing a session of SPRED – Special Religious Development. This program is religious formation for young people and adults with special developmental needs. Most of these kids are outcasts in their schools. They often complain of being bullied for being different, but at church they feel safe, welcomed, accepted, and loved. We talked about confirmation in the session, as some of them are preparing to receive the sacrament this year. We practiced the ritual, felt the oil, and shared the symbols of our faith. Many in our culture would consider these kids as unproductive and a drain on our economy and resources. Some in our culture would think it better that they not have been born. And yet the people of God proclaim in word and deed that these young people are children of God who have much to offer. Indeed, they are a vehicle of salvation for us: the love and joy within these young people can enkindle within us the prophetic imagination that leads us to see the dignity of each and every human person.
As we seek to become authentic prophets in fulfilling our baptismal call, we seek the help of God to develop the prophetic imagination that enables us to see God among us in word, sacrament, and one another. "Let us pray that by growing in love this Lenten season we may bring the peace of Christ to our world. God our Father, your Word, Jesus Christ, spoke peace to a sinful world and brought mankind the gift of reconciliation by the suffering and death he endured. Teach us, the people who bear his name, to follow the example he gave us: may our faith, hope, and charity turn hatred to love, conflict to peace, death to eternal life. We ask this through Christ our Lord. Amen."
Jude Huntz is Director of the Human Rights Office and chancery chief of staff for the Diocese of Kansas City – St. Jospeph.
Daily Scripture Readings
For complete daily Scripture texts, click here.
http://www.usccb.org
Solemnity of St. Joseph
Monday, March 19
2 Samuel 7:4-5a, 12-14a, 16
Psalms 89:2-3, 4-5, 27 and 29
Romans 4:13, 16-18, 22
Matthew 1:16, 18-21, 24a
or Luke 2:41-51a
Tuesday, March 20
Ezekiel 47:1-9, 12
Psalms 46:2-3, 5-6, 8-9
John 5:1-16
Wednesday, March 21
Isaiah 49:8-15
Psalms 145:8-9, 13cd-14, 17-18
John 5:17-30
Thursday, March 22
Exodus 32:7-14
Psalms 106:19-20, 21-22, 23
John 5:31-47
Friday, March 23
Wisdom 2:1a, 12-22
Psalms 34:17-18, 19-20, 21 and 23
John 7:1-2, 10, 25-30
Saturday, March 24
Jeremiah 11:18-20
Psalms 7:2-3, 9bc-10, 11-12
John 7:40-53
Fifth Sunday of Lent, March 25
Jeremiah 31:31-34
Psalms 51:3-4, 12-13, 14-15
Hebrews 5:7-9
John 12:20-33
The full text of the Scripture readings for this week and next week can be found here: http://www.usccb.org/
Click on the "Readings" tab at the top of the page.